Shares of OPKO Health (OPK) continued their plunge on December 13. During the day, the company's share price fell more than 10% as investors sold off the name due to a negatively-detailed report released by Lakewood Capital. OPKO Health is a development-stage company actively engaged in the discovery and development of novel pharmaceutical and diagnostics technologies.
Over the past 5 days alone, OPKO has fallen over 22% as investors remained hesitant of what to make of the 46-page report. Yet despite the substantial decline, one investor continuing to buy remains the company's CEO himself. Dr. Phillip Frost significantly increased his purchases on December 11 following the release of Lakewood's coordinated attack which was paired with its article found here.
OPK data by YCharts
Detailed, But Accurate?
While Lakewood's report raises a number of inflammatory accusations, the question remains whether the accuracy is found in the details or the rationale behind the points raised. For the casual reader, the large amount of references made by Lakewood appear damning upon first glance. However a more intricate look at some of the points raised spark questions themselves.
For example, in one instance Lakewood attacks Frost's character by looking at his role in Protalix BioTherapeutics (PLX). In the report, Lakewood noted that Frost was associated with a stock which had "$2.07 billion in market value" wiped out by raising $50 million in a capital raise at $5/share. While technically accurate, the story itself fails to correctly assess the situation.
Protalix had undergone a 1:10 reverse split in the months prior and the average daily trading volume had been reduced to less than 10,000 shares a day. As for Frost himself, his options (originally in Orthodontix) were exercised at $1.38/share. He then continued to buy shares in Protalix in March 2008 and October 2008. Frost ultimately began to exit his position in 2009. His last recorded transaction was for a price of $7.47, recording a gain of more than 400%. At that time, he still owned 7.6 million shares of Protalix.
Lakewood's report continues to add numerous facts that fail to represent the correct situation. Asserting that the company was obsessed with its stock price, Lakewood points out a "bizarre press release" issued on February 8 explaining a recent stock sale. While factual, the details neglects the context. The press release was due to the fact that another detailed bearish report had placed the issue front and center into an assault on OPKO.
The capital management firm even attempts to portray Dr. Frost's insider purchases as an expression of bearish sentiment. The report states that Dr. Frost is buying because he is "pot committed" and that he has no rational reason to buy shares every day. Yet to this, I would assert that Dr. Frost has a very important reason. As I wrote in my article found here, Frost is able to multiply the effect of his purchasing power by utilizing OPKO as a public entity.
Such bearish assertions continue to permeate throughout the report. While negatively biased and questionably spun, the report does appear to stretch for conclusions. Lakewood states the following: "It is our belief that OPKO will never report a profit, which would render an ultimate price for the stock of $0 per share."
The Show Must Go On
Regardless of whether or not Lakewood's prediction comes to pass, the one fact that remains is that Frost continues aggressively support OPKO's share price. On December 11, Frost purchased 72,500 shares for $722,759. On December 12, he purchased another 50,000 shares for $472,196. As seen in the transaction table found below, this marks a significant uptick in his latest buying.

Click to enlarge
(Click to enlarge)
Is Frost communicating to shareholders through his insider purchases? There can be little doubt about this. Frost has utilized the rising share price to leverage his ability to piece together a company filled with long-term potential. The strong price support has allowed for OPKO to make numerous acquisitions through cost-effective means. Frost's near-daily purchases of OPKO have significantly strengthened the company's price support. In turn, the strong share price was utilized to consolidate larger holdings under the wings of OPKO as seen in the chart found below.
OPK data by YCharts
Based on the latest Form 4 filed here, Frost now controls 152,817,205 shares of OPKO common stock. Based on 408 million shares outstanding, this represents a full 37% ownership in OPKO Health. Above all, Frost's holdings in OPKO represent a total worth of $1.28 billion. Far from being a "daily trading vehicle" as Lakewood's report might suggest, OPKO represents over 40% of the billionaire's fortune based on his estimated net worth.
A Short Target
One factor that should continue to weigh on the minds of investors is the heavy ongoing short interest now plaguing OPKO Health. As of November 29, OPKO Health had a short interest of 40.85 million shares. This represents over 26% of the share float available on the public market. This remains particularly interesting given the aggressive buying by the CEO. Such artificial selling pressure will ultimately have to be reconciled as short sellers take profits or cover.
Additionally, there are numerous catalysts which could further provoke a sudden reversal in trading direction. CEO purchasing power aside, the company also has a long list of products at various stages of the pipeline which could produce positive developments. Four of these products are already in Phase 3 clinical trials. OPKO's product, Rolapitant, is already expecting its Phase 3 results between Q4 2013 and Q1 2014.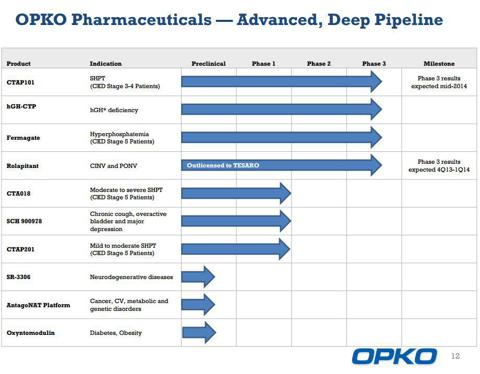 Click to enlarge
(Click to enlarge)
Now trading with a market capitalization of $3.6 billion, OPKO represents a pre-commercial phase company that has yet had a chance to accurately reflect its future potential. The company trades with a large price-to-book ratio of 4.4 and carries total assets of $1.38 billion. Nevertheless, it remains armed with an impressive pipeline of products approaching commercial production. The company remains well-capitalized with total current assets of $241.28 million.
Final Thoughts
While the latest price swing serves as a reminder of the volatility one faces in the pre-commercial phase of pharmaceutical companies, it remains a dangerous affair for short investors to believe that the Lakewood report represents a new opportunity to profit in OPKO's demise. While Lakewood may believe in a $0 valuation of OPKO, a 46-page report filled with speculative accusations is unlikely to change the fundamental reality of the current situation.
OPKO Health remains a promising company filled with numerous drug candidates addressing multiple billion-dollar markets with unmet needs. The primary investor is the lead officer who also happens to be a billionaire willing to buy shares of OPKO stock on a near-daily basis. Above all, his holding in OPKO represents almost half of his entire net worth. To further compound this fact is the existence of a large short interest that continues grow and spur on artificial selling pressure. In my opinion, it appears unrealistic to expect OPKO to fall much further.
Disclosure: I am long OPK. I wrote this article myself, and it expresses my own opinions. I am not receiving compensation for it (other than from Seeking Alpha). I have no business relationship with any company whose stock is mentioned in this article.