The bulls should be more than happy with last week's results. Stocks were up about 3%, on average, and it was the second positive week in a row. In fact, the market has wiped away more than half of the pullback we've experienced since the latter half of January. Before the celebration begins though, let's see if there's any longevity to the trend.
First up, however, is a look back and look ahead and our key economic data.
Economic Calendar:

Overall, the economic data supported the market's gain last week. Housing starts and building permits were both stronger than anticipated. The same goes for capacity utilization and industrial production – both were up, and a hair higher than the prior readings.
On the flipside, new and continuing unemployment claims were both up, and/or higher than expected. One week does not make a trend, but we've now seen stagnation for both sets of data over the last several weeks. Could the prior downtrends for each be at an end?
Inflation-wise, we saw mostly what we wanted to see…. moderation. Producer prices were up a little more than hoped, while core consumer inflation (which excludes food and energy costs) was actually down a tad. All told though, the inflation picture remains steady, which is all the economy really needs to continue strengthening.
Looking ahead on the real estate front, Tuesday's Case-Schiller Home Price Index should stir the pot, new home sales should do the same on Wednesday, while Friday's existing home sales data will round out the real estate picture. All are expected to come in lower than their prior readings.
In terms of consumer confidence, it will also be a busy week. The 'Consumer Confidence' reading is slated for a Tuesday release, while the Michigan Sentiment Index will be updated on Friday. Both are assumed to be higher, and both are poised to be dangerous letdowns if they fall short of expectations (which is a distinct possibility).
Last quarter's final GDP reading will be unveiled on Friday, though as long as it's close to the preliminary readings, it should be a non-issue.
Last week: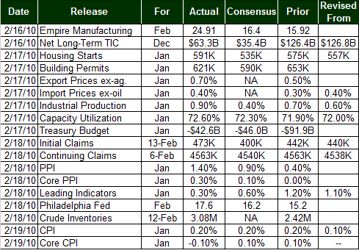 This week: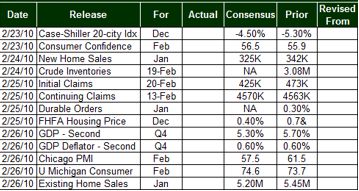 NASDAQ Composite:

Read more below:

The week was clearly a productive one for the market, but there are a couple of potential worry spots for the bulls … particularly for the NASDAQ Composite (COMP) (OTC).

For starters, the pace of the rebound tapered off all week. Friday's advance of 0.1% pales in comparison to Tuesday's gain of 1.4%. And, the gains were incrementally smaller each day of the week. It's a likely hint of a fading buying effort.
To that end, though it wouldn't be fair to say the buying volume was evidence of that fading buying interest, there was certainly no growth in volume as the rally pressed on. More bulls are going to need to participate if this move higher is to be sustained.
Another potential red flag is being waved by the CBOE's NASDAQ Volatility Index (VXN). Much like its S&P 500 counterpart, significant short-term tops and bottom have been marked by points where the VXN has reached extreme levels, as indicated by its Bollinger bands.
Well, with Friday's mild market gains and accompanying drop in the VXN, that lower band (see chart below) has been brushed. Even more alarming… the VXN actually pushed upward late in the day on Friday, hinting of a reversal effort even though the NASDAQ itself didn't follow suit. Given the history of market reversals – up and down – signaled by the VXN over the last several months, the bulls should not get too complacent here.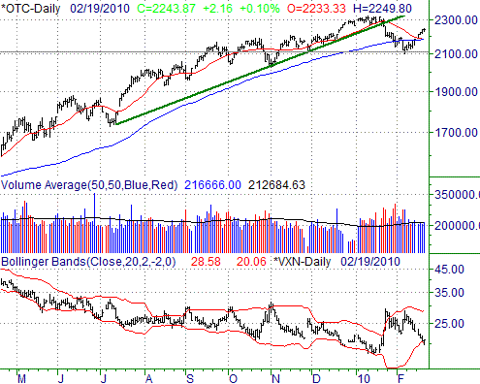 Sector Performance:

The Basic Materials stocks were the big winners for the second week in a row, followed by the Industrial names, then the Financials.
The basic materials leadership is nothing new – just an extension of the trend that's been in place since last March. As long as the economy continues to walk the tight rope balanced between stifling inflation and deflation, the group should remain a hot spot. The other two (financial and the industrials) turned in solid numbers, but are nothing special at this point.
Though only fourth in last week's performance ranking, the Utilities sector may actually be one of the market's better opportunities right now. After months of sub-par results followed up by last week's new strength, we may finally be seeing the beginning of rotation into this undervalued group.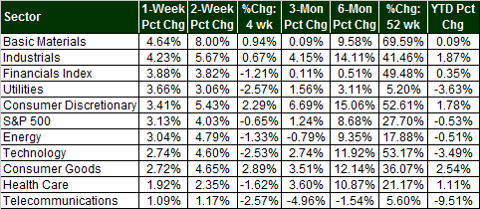 Industry Performance:

Drilling deeper into the sectors to find which industry's stocks were creating the leadership (or laggardship), we find a few interesting data nuggets.
For instance, the week's two biggest losers (Consumer Electronics and Leisure Facilities) also happened to be among the prior week's biggest winners… evidence that you don't blindly jump on something that put up big numbers. Both should fall farther before resuming any uptrend.
On the bullish side of the industry table, Steel, Retail REITs, and Commercial Printing all have massive amounts of room to recover despite big jumps last week. Any or all could be looked to for a longer-term holding now that the cat's starting to come out of the bag.

Earnings Calendar:
And finally, the coming week's major earnings announcements…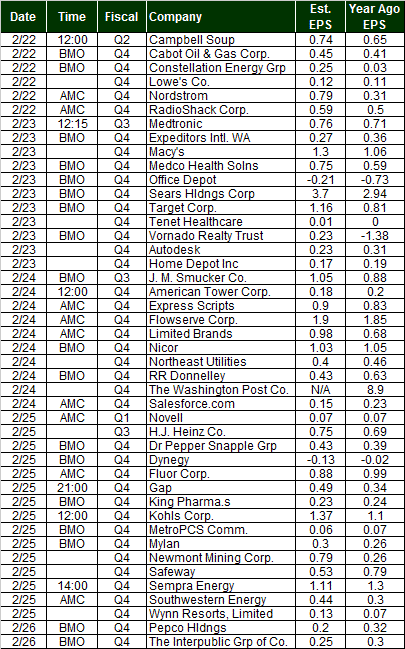 Disclosure: No positions.