Dividend-paying equities benefit an income portfolio due to the following reasons:
Income through a diversified stream of dividends.
Increasing dividends over time that improves total income and yield on capital invested.
Upside on share price through continued, long-term earnings growth.
A diversified portfolio of multiple asset classes, such as equities, bonds, real estate, commodities and cash, lowers overall risk.
Dividend-paying equities are already focused on returning cash to shareholders, which increases the likelihood of future dividends.
Dividend-paying equities are generally stable cash-flow generators with mature business plans and lower risk versus other equities.
Finding Consistent, Dividend Growing U.S. Equities
There are many dividend stocks that income investors have grown to love. David Fish ranks companies on the longevity of yearly dividend increases, which helps investors determine which investments are likely to net higher yields over time.
The Fish list is a spreadsheet named Dividend Champions, Contenders and Challengers, which is also referred to as the Dividend Champions List and the CCC List. While this spreadsheet hosts a wealth of knowledge and is an excellent starting point for dividend growth investments, current income investors may want to take the additional step in measuring dividend-paying equity investments in the name of capital safety.
Measuring Capital Risk Of Dividend Achievers
Most investors would agree that the CCC List is one of the greatest starting points available to find safe and growing domestic dividend paying stocks. The CCC List is a side-by-side analysis of companies that have consistently paid out higher dividends per year over a set amount of time. The key is to use this information as a starting point only, as simple list inclusion does not take into account the safety of the initial investment.
For example, one great historical performer on the list is Target Corporation (NYSE:TGT), the discount retailer that has increased its quarterly dividend annually for 46 years. This makes Target a Dividend Champion, one of only 105 companies that have raised their dividend for 25+ years. As such, Target would appear to be a top contender to earn a placement in the domestic equity portion of an income portfolio.
Since mid-July, Target shares have retaliated against the S&P 500 with a drop of 13%. In terms of the market, as measured by the SPDR S&P 500 Index ETF (NYSEARCA:SPY), Target has disappointed on the year.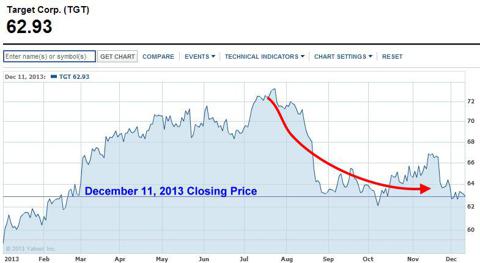 Click to enlarge
In terms of the S&P 500, as measured by the SPDR S&P 500 Index ETF, the market rose 5.9% in the same time period.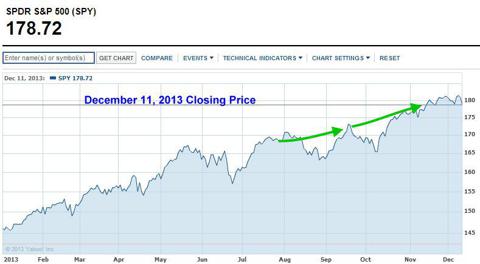 Click to enlarge
Versus Wal-Mart Stores, Inc. (NYSE:WMT), a very similar retailer, Target also disappointed as WMT advanced through the year alongside the S&P 500.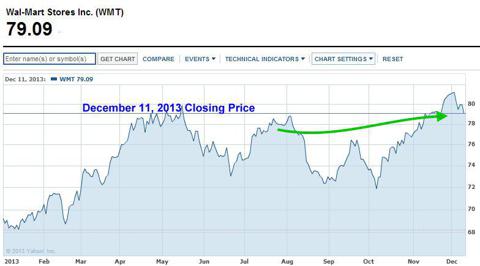 Click to enlarge
To further compare Target, below is the chart of Vanguard Consumer Staples ETF (NYSEARCA:VDC), which is a barometer of defensive, dividend paying U.S. stocks. The fund's top five holdings in order are Procter & Gamble (NYSE:PG), The Coca-Cola Company (NYSE:KO), Philip Morris International (NYSE:PM), WMT and Pepsico Inc. (NYSE:PEP).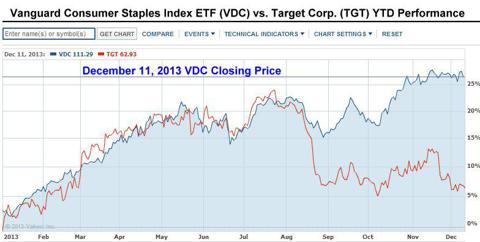 Click to enlarge
As noted in the chart above, Target performed in-line with the consumer staples index until August, then underperformed on the year.
In our mock July 15, 2013 to December 11, 2013 time period, these four securities provided the following return (including dividends):
Date
The Market
Defensive ETF
Wal-Mart
Target
SPY
VDC
WMT
TGT
11-Dec-13
178.72
111.29
79.08
62.98
15-Jul-13
167.33
106.7
76.12
71.43
RETURN
6.81%
4.30%
3.89%
-11.83%
Using a less biased form of return, the YTD performance of these selections are as follows: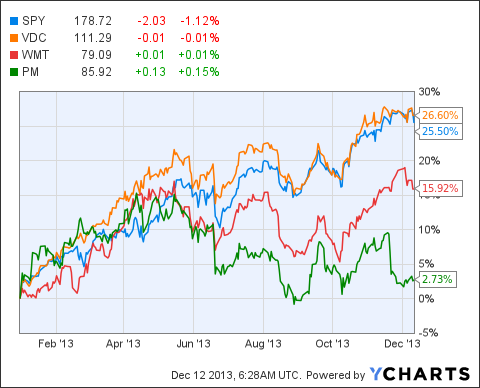 As income investors are concerned with distributions, the annual yield percentage of these four selections are as follows. Please note that the VDC yield is annual while the others are quarterly.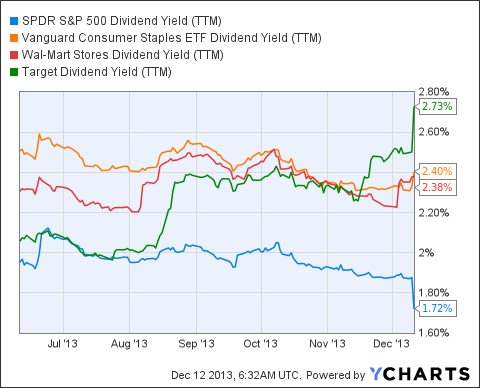 A Top-Ranked, Diversified U.S. Consumer Staples Solution
Investors looking at VDC will see a fund that has excellent management, liquidity and a low expense ratio that comes out to 0.14% on an annual basis. As an ETF with adequate liquidity, the fund trades daily and is easy to buy and sell.
The only drawback to VDC is the dividend policy of only providing one distribution per year, which comes in December. Income investors taking monthly or quarterly distributions are warned to stay away from this fund, as such a policy is unappealing for two major reasons:
First, the accumulation of excess cash in the portfolio at year-end leads to cash management inefficiency. Efficient cash management of the income portfolio would hold about a 3-4x monthly distribution coverage ratio, or a 1.5-2x ratio for quarterly distributions.
Secondly, dividends in stocks held for less than 60 days of the 121-day time period prior to the securities ex-dividend date are not qualified dividends - they are classified as ordinary dividends and as such are taxed at the higher income tax rate. Investors who purchase annual dividend stocks less than 60 days prior to the ex-dividend date are paying the higher dividend tax on a annual distribution, thus making the investment less profitable.
A solution to these two problems facing income investors interested in VDC can be solved by purchasing a similar fund that distributes quarterly. Such an alternative solution is the iShares Consumer Goods ETF (NYSEARCA:IYK), which holds a similar basket of stocks. Also, IYK has outperformed VDC over the recent 5-year period.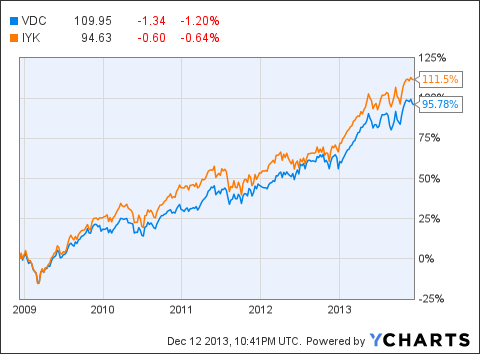 The only drawback from this fund is that as a consumer goods fund, not a consumer staples fund, the yield is lower. As such, IYK is not as much of a defensive play as VDC. The fund has an excellent dividend growth track record however, increasing dividends on a TTM basis at a 4-year compound annual growth rate of 8.12%.
IYR Distribution Analysis
Dist. Date
Dividend
TTM Dividend
YOY DGR
24-Sep-13
0.448
1.750
8.16%
26-Jun-13
0.431
1.749
19.63%
25-Mar-13
0.332
1.705
20.49%
19-Dec-12
0.539
1.677
16.22%
25-Sep-12
0.447
1.618
14.59%
19-Jun-12
0.387
1.462
4.21%
26-Mar-12
0.304
1.415
-0.21%
22-Dec-11
0.480
1.443
4.04%
23-Sep-11
0.291
1.412
4.28%
24-Jun-11
0.340
1.403
4.47%
25-Mar-11
0.332
1.418
7.83%
22-Dec-10
0.449
1.387
3.58%
23-Sep-10
0.282
1.354
5.78%
24-Jun-10
0.355
1.343
25-Mar-10
0.301
1.315
23-Dec-09
0.416
1.339
22-Sep-09
0.271
1.280
24-Jun-09
0.327
25-Mar-09
0.325
23-Dec-08
0.357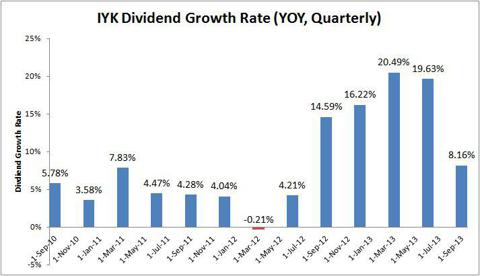 Click to enlarge
The fund has a management fee of 0.18%, which is slightly higher than VDC's rate of 0.14%. This equates to an extra $4 per $10,000 invested, however with a more efficient dividend structure, income investors who take monthly or quarterly distributions may find the extra few dollars as money well spent.
Conclusion
While the CCC List provides an excellent starting point to find stocks that are likely candidates for dividend growth, a diversified portfolio of dividend stocks will hedge downside risk. In the event of Target's 2013 performance, the stock tumbled while competitor Wal-Mart advanced, as did the S&P 500 and VDC, which is a good proxy for the consumer staples investment theme. In this regard, individual names that are more defensive are suggested to hedge downside risk in the diversified equity portion of the income investor's portfolio.
In our example with Target Corp., the company has weak international growth and the stock has slid due to poor growth execution in Canada. Target also targets (no pun intended) the middle to middle-upper class, as well as some upper class, while Wal-Mart targets the middle and lower class. As such, Wal-Mart holds a defensive advantage over Target and for the income investor, WMT may be the better long-term, risk-adjusted discount retailer to own.
While VDC is an excellent fund for a defensive dividend stock play, the annual dividend makes this option a poor candidate for income investors. Instead investors may choose to own a similar fund by iShares, which pays quarterly dividends that have improved an average of 8.13% per year since September 2009.
For income investors who do enjoy holding individual stocks in their long-term portfolio, the risk is higher and in this regard, strong names in defensive sectors are recommended.
A Few Defensive Suggestions For Dividend Income Growth
Below are a few of my absolute favorite defensive dividend growth stocks that either hold major advantages over their rivals or in the case of the real estate investment trusts (REITs) selected, they manage a healthy, diversified property portfolio with efficient debt levels and excellent management.
2013 earnings and FFO estimates are used for EPS, FFO and P/E, P/FFO. Also, each stock appears on David Fish's CCC List except for Philip Morris International .
PM was spun-off in 2008 from Altria Group Inc. (NYSE:MO), which is a current dividend champion on the CCC List. PM has raised the annual dividend since inception and has a 5-year dividend compound annual growth rate of 11.72%.
5 Dividend Growth Stocks For The Diversified Income Investor
Company
Sym.
Price
Div.
Yield
EPS*
P/E*
The Coca-Cola Company
KO
$39.21
$1.12
2.86%
$2.09
18.76
Philip Morris International
PM
$85.32
$3.76
4.41%
$5.37
15.89
Wal-Mart Stores, Inc.
WMT
$78.50
$1.88
2.39%
$5.20
15.10
HCP, Inc.**
(NYSE:HCP)
$35.66
$2.10
5.89%
$3.00
11.89
Realty Income Corp.**
(NYSE:O)
$37.18
$2.18
5.87%
$2.40
15.49
Averages
4.28%
15.42
*FFO Reported In Place Of EPS For REITs
**Real Estate Investment Trust (REIT)
Disclosure: I have no positions in any stocks mentioned, and no plans to initiate any positions within the next 72 hours. I wrote this article myself, and it expresses my own opinions. I am not receiving compensation for it (other than from Seeking Alpha). I have no business relationship with any company whose stock is mentioned in this article.