Mining stocks such as Freeport-McMoRan (NYSE:FCX) and Southern Copper (PCU) have had fabulous runs in large part due to the rapid rise in copper prices. However, the fundamentals in the copper market indicate that should change soon.
Over the last year, both copper prices and inventory have more than doubled. I want you to read that again: despite the supply of copper doubling, the cost of purchasing copper is more than twice last year's price.
You've got to ask: have the laws of supply and demand been thrown out the window in the commodity markets? Copper inventories at the London Metal Exchange are about to take out their 5 year high. Yet, copper pricing has shown little sign of slowing its year long climb despite rising supplies seeming to outpace demand.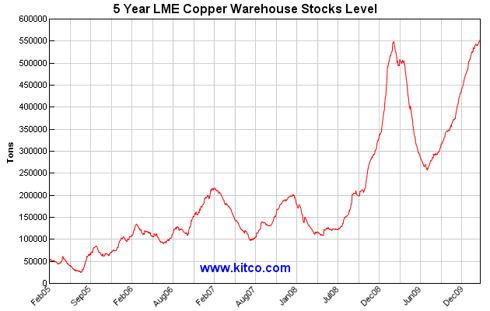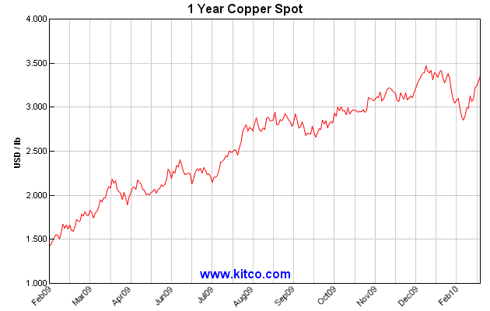 The conundrum becomes clearer when directly comparing copper prices and inventories over the last 10 years.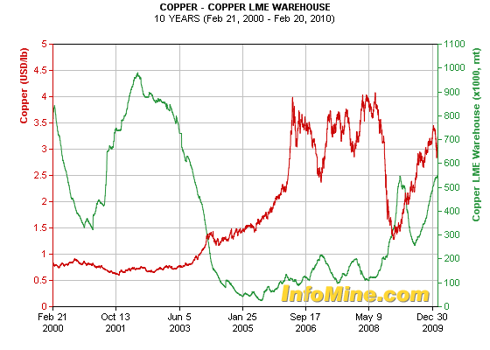 Usually pricing follows an inverse pattern to that of supply. It makes sense. If supply is ever increasing, buyers can negotiate better prices. The pattern is not perfect; it breaks down from time to time. However, that can go on for only so long before the laws of supply and demand take over.
The current pattern seems unsustainable. Eventually, either warehouse inventory or prices must drop. You cannot have both for long. The dramatic move this year in both inventory and price represents an anomaly in normal copper trading. A voracious appetite for copper should eat through inventories. That has not happened. Mines appear to have built up supply, thus, the rising stockpiles. Expect supply to grow and a copper glut to overwhelm pricing.
Disclosure: No positions