By Carla Fried
For all the hand wringing over softer-than-desired Black Friday sales, it's not as if consumers are on strike. The Federal Reserve Bank of New York reported a $127 billion increase in consumer debt in the third quarter, the largest increase since the third quarter of 2008. Outstanding consumer credit is up nearly 5% this year.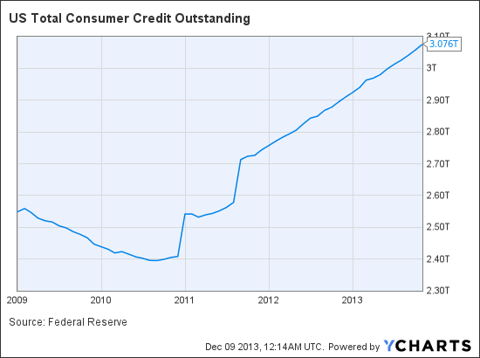 US Total Consumer Credit Outstanding data by YCharts
While the mid-year rise in rates slammed the brakes on mortgage refinancing, today's still-low rates and strong home price appreciation is spurring growth in home purchases. The dollar volume for mortgages used for new purchases is forecast to be 9% higher this year and next, according to the Mortgage Bankers Association.
Meanwhile, auto loan originations hit $97 billion in the third quarter, the highest level since 2007. That trend will likely continue given the recent report that November auto sales spiked nearly 9% to an annualized pace of 16.4 million. And Equifax (NYSE:EFX) reports that from January through August 24.6 million new credit cards were issued, a near 9% increase from a year earlier and the highest level since 2008.
Some of the biggest beneficiaries of this uptick in consumer spending are the middlemen who provide the background financial data to credit card issuers and lenders. Equifax is the leading credit bureau in the U.S. Experian (OTCQX:EXPGY) and TransUnion are the other credit bureaus. And for anyone who has ever applied for a loan, it's no news that your fate is tied to the algorithms of Fair Isaac (NYSE:FICO), which is the dominant credit-score supplier to financial institutions.
Whether you're approved for a loan or credit card is irrelevant to both companies, they make money simply on the application/offer as financial institutions pay up for data to vet their marketing offers and consumer loan applications. That's a nice business in an environment where businesses want to lend more and consumers are willing to borrow more.
Sure, you can buy the credit issuers themselves -- big banks with huge credit card portfolios like JPMorgan (NYSE:JPM), Bank of America (NYSE:BAC) and Wells Fargo (NYSE:WFC). Or specialty banking concerns more concentrated in the card card business: Capital One (NYSE:COF), Discover Financial (NYSE:DFS) and American Express (NYSE:AXP). The first group, however, includes such giant companies that the consumer credit component won't always dominate stock performance. The latter group is more fully exposed, and thus its performance will be based not only in growth of consumer credit but how well each company chooses its borrowers.
The data crunches, meanwhile, profit on mere growth of credit and credit activity. You can unleash financial advisor tools on any of the stocks. And while the broad market has been hard-pressed to generate revenue growth above 3%, the consumer data crunchers are well above that pace: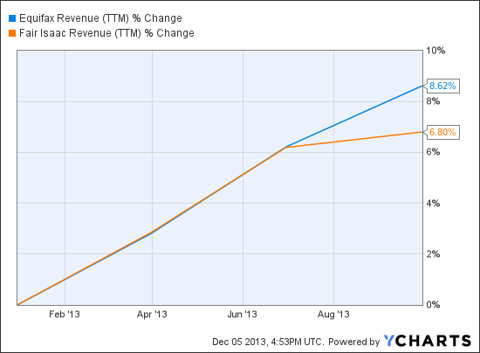 EFX Revenue (NYSE:TTM) data by YCharts
Equifax has ridden that to 17% jump in earnings per share over the past year; Fair Isaac's EPS is up just 4%. Both have rebounded strongly as credit demand and availability has slowly improved since financial crisis: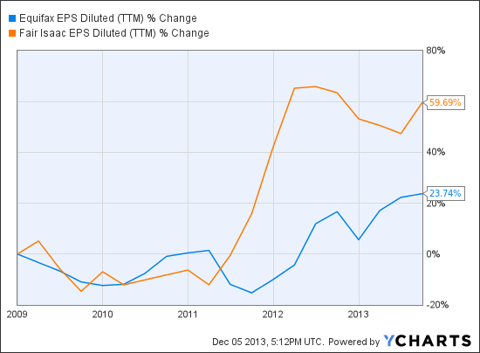 EFX EPS Diluted (TTM) data by YCharts
No surprise, neither stock is cheap. Analyst average expectations of 7.5% EPS growth for Equifax delivers a more moderate valuation based on forward PE ratio: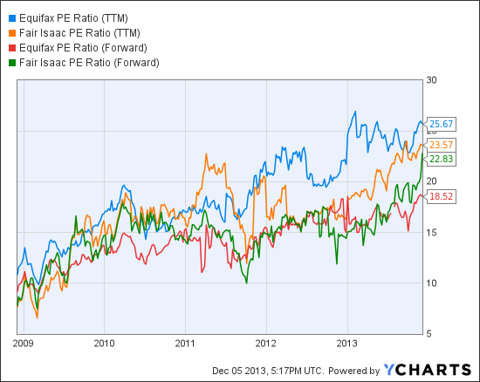 EFX PE Ratio (TTM) data by YCharts
If we get an extended pullback as the prospect of tapering gathers steam, that would create a more compelling entry point for both stocks; especially when you consider the longer term implications of the taper. We only get the taper if there's finally consensus that the economy is strong enough and forward signals are encouraging enough that it can continue to grow with less stimulus. That's an environment where consumer spending and consumer credit demand is likely to keep growing.
Carla Fried, a senior contributing editor at ycharts.com, has covered investing for more than 25 years. Her work appears in The New York Times, Bloomberg.com and Money Magazine.