Research-based drug manufacturers offer some of the most compelling margins available to an investor. Once a compound is proven to work against a certain disease, the product is shielded from competition via a patent. The patent offers the holder a virtual monopoly on the compound, shielding it from further competition until the term of the patent ends. Once the patent expires, the fall off is quite swift, as generic versions of the once novel compound flood the marketplace.
Teva (NASDAQ:TEVA) sent out a notice yesterday while not unexpected, should cause a tear to roll down the cheek of Lilly (NYSE:LLY) shareholders. LLY's best selling compound Cymbalta (Duloxetine) is now available in a generic alternative. The notice implored pharmacies to stock up on the product which will hasten LLY revenue demise for the next few quarters. The article below will discuss the safety of LLY dividend in light of the pending revenue loss.
Revenue Highlights

(Dollars in millions)

Third Quarter

% Change
Over/(Under)

Year-to-Date

% Change
Over/(Under)

2013

2012

2012

2013

2012

2012

Cymbalta

$1,375.8

$1,235.8

11%

$4,201.2

$3,573.7

18%

Alimta

690.5

643.6

7%

1,976.8

1,909.9

4%

Humalog

616.0

575.8

7%

1,877.4

1,779.5

6%

Cialis®

526.7

482.1

9%

1,571.1

1,413.4

11%

Humulin®

307.0

285.4

8%

946.3

896.1

6%

Forteo

306.7

288.7

6%

885.2

836.4

6%

Zyprexa

278.7

374.5

(26)%

846.7

1,316.6

(36)%

Evista

255.3

247.0

3%

774.6

769.2

1%

Strattera®

173.2

145.6

19%

508.1

457.5

11%

Effient®

124.9

109.7

14%

378.1

336.6

12%

Animal Health

530.3

479.4

11%

1,573.1

1,482.4

6%

Total Revenue

$5,772.6

$5,443.3

6%

$17,304.3

$16,646.0

4%
Table taken from 3rd quarter earnings release.
I added the above table from LLY most recent earnings announcement to demonstrate the difficult position LLY finds itself in. Cymbalta sales constitute roughly 25% of LLY's overall sales for 2013, by far its biggest seller. Granted, the sales of Cymbalta won't go to zero, a 50% drop is more than likely an optimistic number.
LLY is on track to report at least $22 billion in sales for 2013 for a net profit of over $4 billion. The company has roughly 1.1 billion shares outstanding, which are eligible to receive a dividend of $1.96 per share. The dividend payment is more than covered by profits even when factoring an overall sales decline of 15%. The key issue for shareholders is when will the company return to growth?
The key for LLY going forward will be the new compounds they are able to discover in their labs. LLY currently has 5 products in regulatory review which should help ease some of the loss incurred from Cymbalta. LLY pipeline seems to have some interesting candidates; however, nothing at this time has the blockbuster potential exhibited by Cymbalta.
LLY has an outstanding diabetes franchise highlighted by its Humalog and Humulin brands of insulin. I view the demand for insulin to be inelastic, giving LLY a franchise with stable, predictable sales and revenue. As shown in the link above, two of the five products in regulatory review are products that would augment LLY current franchise. I view this as excellent news for shareholders over the long term.
Over the short term, there isn't a whole lot to be excited about. LLY does offer a roughly 4% dividend rate, some of its peers namely European research based pharmaceutical companies offer a higher rate. For me to consider an investment in LLY, I would need a dividend comparable to what Glaxo (NYSE:GSK) and AstraZeneca (NYSE:AZN) offer. For that to occur we would have to see a roughly 5% dividend rate, which would equate to a share price of roughly $40 per share. Based on its current quote that is certainly a long way off.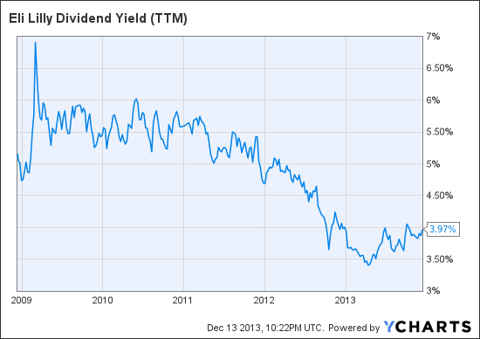 LLY Dividend Yield (TTM) data by YCharts
For an income seeking investor with an appetite for a well run, low risk company may I offer GSK instead? I wrote about GSK in depth previously, I would just like to highlight two points in contrast to LLY. GSK's current dividend yield is roughly 1% higher and similar to LLY has paid quarterly. GSK has quite a few more products in regulatory review along with no major patent expirations for the next few years.
In summary, LLY is a well run company with a world class insulin franchise. The company has unfortunately hit a rough patch with its recent patent expiration. I have no doubt the company will be able to make up the loss in time, however, I don't find the current stock quotation to hold any appeal. I will be watching the shares closely for any further positive developments.
Disclosure: I am long GSK. I wrote this article myself, and it expresses my own opinions. I am not receiving compensation for it (other than from Seeking Alpha). I have no business relationship with any company whose stock is mentioned in this article.
Disclaimer: Investors are always reminded that before making any investment, you should do your own proper due diligence on any name directly or indirectly mentioned in this article. Investors should also consider seeking advice from a broker or financial adviser before making any investment decisions. Any material in this article should be considered general information, and not relied on as a formal investment recommendation.