As an investor who is always on the lookout for a sustainable mid-to-higher yielding MLP play, I've decided to shift my focus to the international drybulk shipping sector and highlight several of the reasons behind my decision to remain bullish on shares of Navios Maritime Partners (NYSE:NMM).
#1: Recent Performance & Trend Behavior
On Thursday, shares of NMM, which currently possess a market cap of $1.19 billion, a forward P/E ratio of 26.14, and a dividend yield of 10.02% ($1.77), settled at a price of $17.67/share.
Based on their closing price of $17.67/share, shares of NMM are trading 6.12% above their 20-day simple moving average, 13.00% above their 50-day simple moving average, and 24.82% above their 200-day simple moving average. These numbers indicate a short-term, mid-term, and long-term uptrend for the stock which generally translates into a moderate buying mode for both near-term traders and longer-term investors.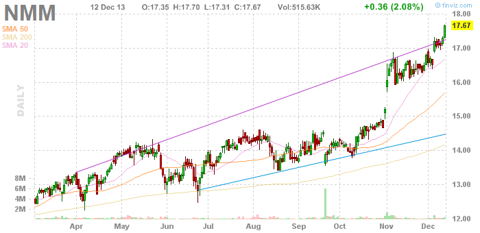 Click to enlarge
#2: 5-Year Dividend Behavior
Since May 1, 2008, the company has increased its quarterly distribution nine times over the last five years (representing an average increase of $0.01/share each time), with the most recent increase having taken place in May of last year. The company's forward yield of 10.02% ($1.77) coupled with its ability to maintain its quarterly distribution over last five years, make this particular MLP play a highly considerable option, especially for those who may be in the market for a higher-yielding stream of quarterly income.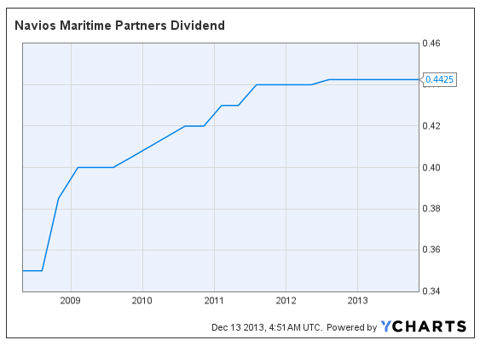 Click to enlarge
#3: Comparable Dividend Growth
Not only does the company's 10.02% dividend yield and 5-years dividend behavior make this particular stock a highly attractive option for most income-driven investors, its dividend growth over the last five years versus one of its sector-based peers is also something investors should almost certainly consider. From a comparable standpoint, MMP's dividend has grown a solid 26.43% over the past five years whereas the dividend growth of Nordic American Tankers (NYSE:NAT) has actually fallen 86.44% over the same period.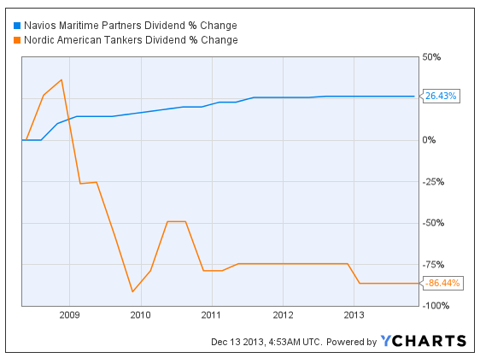 Click to enlarge
#4: Looking Ahead to Q4 Earnings
On Thursday, October 31, Navios Maritime reported EPS of $0.19/share and revenue of $46.58 million for the third quarter. It should be noted that the partnership's net income results had surpassed analysts' EPS estimates by a margin of $0.06/share and its revenue figures had surpassed estimates by a margin of $1.5 million. Some of the more positive notes to come out of the company's earnings announcement included but were not limited to a 58% increase in average charter duration to 3.8 years and a $1.5 million increase in EBITDA for the nine month period ending September 30, 2013.
Looking ahead to the company's Q4 results, in which analysts are calling for NMM to earn $0.14/share in terms of EPS (which is $0.05/share lower than the company had reported during Q3) and $51 million in terms of revenue (which is $4.42 million higher than the company had reported during Q3), I think that if the company can demonstrate increases in its average charter duration(to a range of at least 4.0 to 4.4 years), its EBITDA (to a full-year increase of least $2.2-to-$2.6 million), and revenue (to a range of $53.5 to $56.0 million), I see no reason why such estimates can't be met or even exceeded by a considerable amount.
Risk Factors (Most Recent 20-F)
#1 - The cyclical nature of the international drybulk shipping industry may lead to decreases in long-term charter rates and lower vessel values
The shipping business, including the dry cargo market, is cyclical in varying degrees, experiencing severe fluctuations in charter rates, profitability and, consequently, vessel values. For example, during the period from January 1, 2011 to December 31, 2012, the Baltic Exchange's Panamax time charter average daily rates experienced a low of $3,336 and a high of $17,115.
Additionally, during the period from January 1, 2011 to December 31, 2012, the Baltic Exchange's Capesize time charter average daily rates experienced a low of $2,644 and a high of $32,889 and the Baltic Dry Index experienced a low of 647 points and a high of 2,173 points. The partnership anticipates that the future demand for its drybulk carriers and its drybulk charter rates will be dependent upon demand for imported commodities, economic growth in the emerging markets, including the Asia Pacific region, India, Brazil and Russia and the rest of the world, seasonal and regional changes in demand and changes to the capacity of the world fleet.
#2 - Navios Maritime Partners depends on Navios Holdings and its affiliates to assist the partnership from an operational and expansion-based standpoint
Pursuant to a management agreement between Navios Maritime Partners and its previously designated Manager, the Manager will provide to the partnership various commercial and technical management services (including the commercial and technical management of its vessels, vessel maintenance and crewing, purchasing and insurance and shipyard supervision).
In addition, and pursuant to an administrative services agreement between the partnership and the Manager, the Manager provides to the partnership significant administrative, financial and other support services. The partnerships operational success and ability to execute its growth strategy depends significantly upon the Manager's satisfactory performance of these services. The partnerships business will be harmed if the Manager fails to perform these services in a manner that is considered to satisfactory, and if the Manager cancels either of these agreements, or if the Manager stops providing these services to us, results have the potential to be negatively impacted.
Conclusion
For those of you who may be considering a position in Navios Maritime Partners I'd keep a watchful eye on a number of things over the next 12-24 months as each could play a role in both the company's near-term and long-term growth. For example, near-term investors should focus on the recent performance and trend behavior of the company while longer-term investors should focus on how well the company is able to demonstrate continued earnings growth as well as maintain its dividend over the next 12-24 months.
Disclosure: I have no positions in any stocks mentioned, but may initiate a long position in NMM over the next 72 hours. I wrote this article myself, and it expresses my own opinions. I am not receiving compensation for it (other than from Seeking Alpha). I have no business relationship with any company whose stock is mentioned in this article.