By Bryan McCormick
US stock index futures are moderately higher this morning after strong trading in most Asian markets, with the exception of mainland China, and a mixed session in the eurozone and UK markets.
MarketWatch reported that Marc Faber, popularly known as "Doctor Doom", suggested that Japan offered an investment opportunity, calling it a "neglected market." The Nikkei finished higher by nearly 3 percent.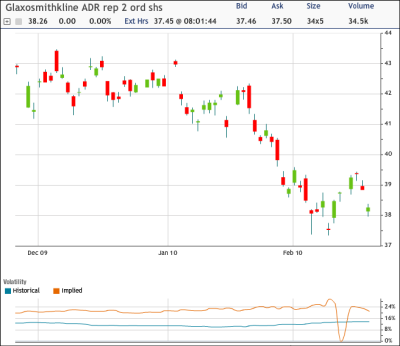 (Click to enlarge)
The situation in Europe is not as bullish. GlaxoSmithKline (GSK) and other drug makers fell after its diabetes drug, Avandia, came under renewed criticism. Metals and crude pricing were firmer on a slightly weaker dollar, and UK banking stocks were broadly higher with Lloyd's (LYG), Royal Bank of Scotland (RBS), and Barclays (BCS) up an average of 3 percent.
This morning may also see renewed attention to the prospect of mergers and acquisitions after Smith International (SII) agreed to be acquired by Schlumberger (SLB) in a deal valued at $11.34 billion.
Sell-side research is active this morning, but so far with more downgrades than upgrades. Viacom (VIA.B) was upgraded to "buy" at Deutsche Bank (DB). Oppenheimer (OPY) upgraded Shire (SHPGY) to "outperform" but downgraded H&R Block (HRB) to "perform."
Wells Fargo (WFC) downgraded Lifepoint Hospitals (LPNT) to "market perform." Barclays Capital downgraded Yingli Green Energy (YGE) to "equal weight." Brigantine downgraded NetLogic (NETL) to "hold."
With S&P 500 (SPY) earnings tomorrow, retail stocks will be in focus. The following companies report earnings tomorrow: Macy's (M), Sears Holdings (SHLD), Home Depot (HD), Office Depot (ODP), Medco Health Solutions (MHS), Watson Pharmaceuticals (WPI), Tenet Healthcare (THC), Medtronic (MDT), Autodesk (ADSK), Expeditor's International (EXPD), and Vornado Realty Trust (VNO).
Disclosure: No positions