I'm going to add a little more to the discussion of Apple (NASDAQ:AAPL) and China Mobile (NYSE:CHL) deal. I know I already provided a forecast, but there's more to this story! SA contributor Michael Blair wrote this article. While I respect Michael, I have to disagree with his analysis. I don't mean this in a negative way, I mean this positively because it's always good to have multiple perspectives. Through this article, I hope to address some of the shortcomings in Michael Blair's arguments with regards to Apple's partnership with China Mobile.
Market share flaw
I'm not questioning his intelligence, but I'm questioning his thesis with regards to Apple.
Michael Blair:
Even with the new iPhones available in China for 5 weeks by the end of October 2013, Apple's share of the Chinese market remained below 2012 levels according to Kantar World Panel data, while Android OS based devices continued to expand share to reach 78.1%.
As I have said, market share doesn't mean anything, because in this specific instance, Apple can earn profit even if it sells a lower number of phones. Apple generates higher ASPs even in an economy that has below average per capita household income. This implies that anyone who pulls out the market share argument is clearly running out of ways to bash the company.
It's a convenient data point to mention. Apple losing market share doesn't mean it's because Apple is shipping lower volumes into the region. Apple doesn't sell phones for $300, which means that the low-end is open to other competitors. Competing on price is a race to the bottom of the barrel with diminishing profitability over time.
Telecomm argument flaw
Michael Blair:
Rather, I believe that those Chinese who wanted an iPhone for its prestige value and exceptional features simply walked over to competing China Unicom and China Telecom and bought one. As I understand it, Chinese customers are not tied to their carrier by any contract terms and have a lot of freedom to move.
I guess Michael forgot that people prefer certain carriers! Advertising works, and the last time I checked, telecoms are fairly inelastic implying that consumer preference isn't really driven by a price differential. I mention this fact because telecoms generally win customers based on network quality or amount of coverage. With China Mobile having a bigger coverage map, it's likely that the driver for demand doesn't come from just the smartphone device alone! You need a network that allows you to make phone calls as well.
Below is a coverage map of China. For the most part, southeast China has a ton of cell towers. However, rural parts of China have near non-existent coverage. China Mobile has better coverage in terms of square miles (area) when compared to other mobile carriers; hence it has more mobile subscribers. The map below isn't a coverage map for China Mobile by itself, it's a coverage map of all cell carriers in China. I show this map because it shows how much larger the coverage map could become, and how much potential China Mobile offers to those who live in regions that want an iPhone but also need China Mobile. Also, China Mobile cell coverage can reach 97% of the population.
Perhaps it's not ridiculous to imagine a rich person in a tier 3 city not wanting to go to other Chinese networks because they will have slow data speeds in the area. I mean, what's the point in buying a smartphone if you can't make phone calls or surf the web because of poor network quality? It's almost equivalent to buying a $650 computer and hooking it up to Dial-Up internet connection.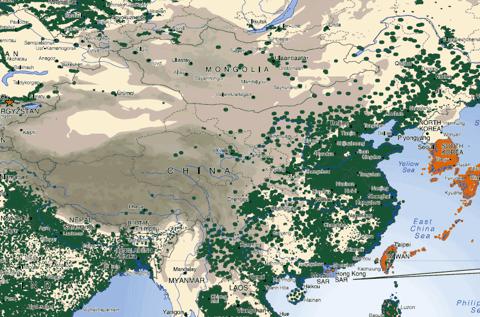 Click to enlarge
I remember people buying unlocked iPhones and dragging them over to Verizon (NYSE:VZ) over here in the United States back in 2008. Perhaps, some people don't want to jump carriers over network quality issues.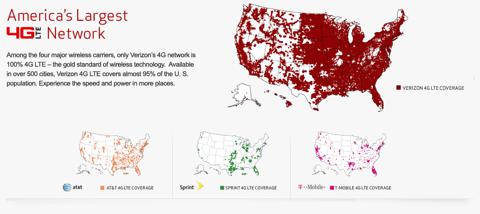 Click to enlargeSome wanted to stay with the faster Verizon network despite the superior functionality of the iPhone. Others decided to buy an unlocked iPhone and then went with Verizon. Of course, nowadays an iPhone can be bought at any telecom carrier on a post paid plan, but in the past it wasn't like that. People had to make sacrifices on network quality in order to buy an iPhone.
This can be further substantiated with consumer surveys. So in a sense, arguing that people will buy a phone regardless of network quality is pretty fallacious.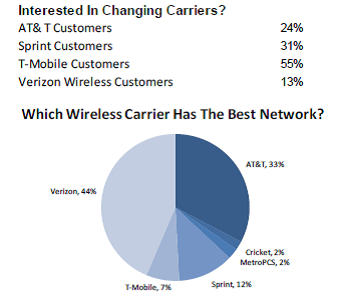 Source: PiperJaffray
According to the PiperJaffray semiannual survey, consumers can be very loyal to their mobile network regardless of the phones being offered on the network. Sure, we could argue that China Mobile subscribers could simply jump over to China Telecom (NYSE:CHA) or China Unicom (NYSE:CHU), and buy an iPhone. But we can also argue that people who are willing to buy an iPhone will also want China Mobile's network, so they may not have bought an iPhone yet. Therefore, when iPhone is finally released to China Mobile subscribers, the iPhone 5S will generate a large volume of sales. I expect Apple's revenue from the China segment to grow by an incremental $10 billion in 2014.
Let's not forget that China Mobile does offer postpaid plans, so being able to pay for a $650 phone over the duration of a contract is another sticking point that investors should not ignore.
Apple is too weak to competition somehow?
Michael Blair:
At the same time, the competitive offerings from Lenovo, Samsung, LG, Xiaomi and others give consumers a lot of options and the relentless competition will mute the iOS advance in my view.
Doesn't Apple also make the most profit from smartphones in general? Sure, we can argue that Apple can't sell cheap, but how Michael rationalizes how that could be bad to Apple falls short of any fundamental logic. I don't really follow it. But here's a quick chart that defines the situation a little better.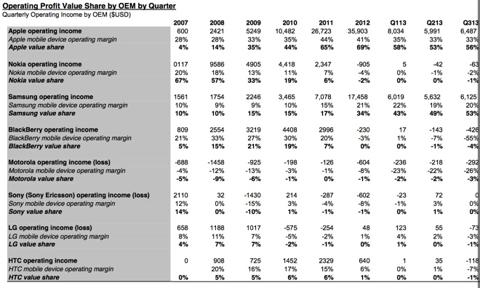 Click to enlarge
Source: Canaccord Genuity
Apple has 56% value share. What that means is that it earns more profit when compared to other companies in the phone space. Also, another point to mention, on a pure profit basis, Apple makes more profit than Samsung based on audited statements by a narrow margin. Look below to see.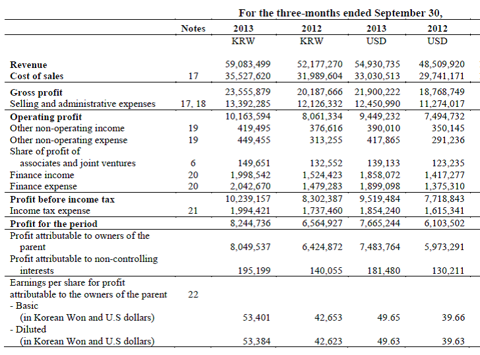 Click to enlargeSource: Samsung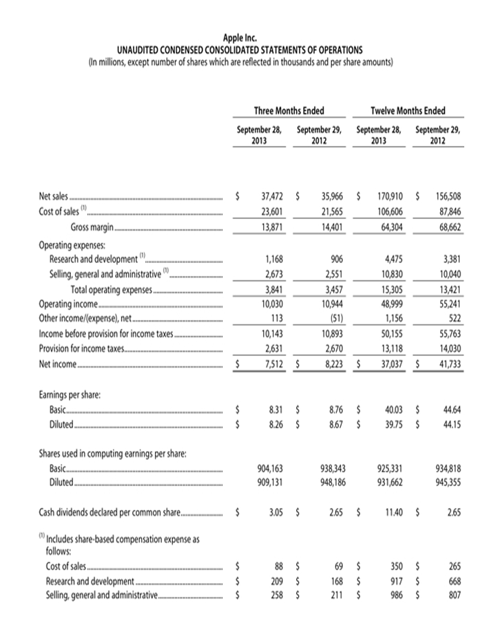 Click to enlarge
Source: Apple
So I know I'm comparing consolidated results rather than smart phone segment to segment comparisons (hence we should refer to the data from Canaccord Genuity). But looking specifically at the amount of profit generated by Apple in the 3rd Quarter (calendar year), it was about $7.5 billion in comparison to Samsung's $7.45 billion. So in a sense both companies are fairly comparable to each other. Higher market share hasn't resulted in more profit for Samsung in comparison to Apple. Yet Samsung has 3 times the market share of Apple at 32.1% share. For Samsung to grow its net profit against Apple, it would probably require it to sell 3 times as many phones at a lower profit margin, while at the same time continue to increase shipment volume. In a sense some of the growth will be organic, but Apple is also likely to realize the same benefit from organic growth in the smartphone industry.
The real question is whether Samsung will be able to sustain its market share figure. For now, Samsung has been able to steal share from other Android vendors. But it's not likely that Apple users will end up defecting to Android/Samsung. It's more likely that Android/Samsung users will defect to iOS. So the risk to reward still leans heavily in favor of Apple, both in China and in the United States.
Conclusion
Apple's win with China Mobile is humongous for Apple shareholders. The segment should be able to sustain above average growth due to macro growth of the Chinese economy. Therefore, it's not the short-term that really matters, it's the long-term. Plus, consumers tend to stay more loyal to iOS than Android. So shareholders really shouldn't worry about market share figures, or competition, because Apple is likely to retain its premium position in the market. In other words, there's no reason to discount Apple's growth prospects or temper expectations at the current moment.
Disclosure: I have no positions in any stocks mentioned, and no plans to initiate any positions within the next 72 hours. I wrote this article myself, and it expresses my own opinions. I am not receiving compensation for it (other than from Seeking Alpha). I have no business relationship with any company whose stock is mentioned in this article.