Sometimes when looking behind the scenes, promising potential investments can be found. ITT Corporation (NYSE:ITT) is a behind the scenes small-cap company that produces essential engineered products for various growing industries. The company's products are vital for the energy, transportation, aerospace, and industrial markets. ITT has the potential to be a solid long-term investment.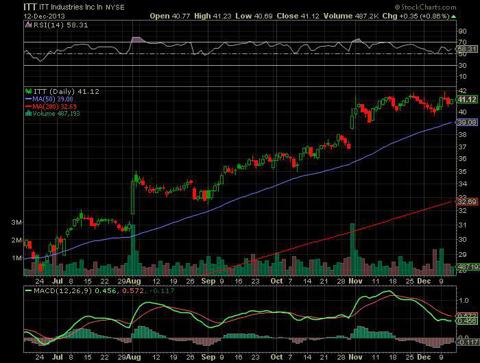 ITT's business is divided into four segments:
The Industrial Process segment comprises 44% of total revenue and manufactures engineered fluid process equipment for industries that include: oil and gas, power generation, mining, chemical, etc. ITT's largest segment has grown revenue 16% year-over-year for the first nine months of 2013. The boom in the oil and gas industry should provide an ongoing boost for this segment. For the first nine months of 2013, ITT's oil and gas industrial pump business rose 40%. The demand for ITT's pumps should continue as energy companies increase oil and gas production from unconventional sources (shale, tar sands, etc.). ITT's acquisition of Bornemann Pumps has an expertise in unconventional processing. So, this portion of ITT's business should drive growth for the Industrial Process segment.
Motion Technologies in the second largest business segment which comprises 29% of ITT's revenue. This segment's revenue increased 11% year-over-year for the first nine months of 2013. This segment has recently experienced strength in global OEM and a 19% Q3 increase in aftermarket sales. The rise in aftermarket sales was driven by pent-up demand from Europe's tough economic situation. Now that Europe is recovering, the Motion Tech segment should continue to grow organically from a Eurozone economic boost. This segment also benefited from a 50% 2013 increase in the auto brake pad business in China. As China continues to increase its use of autos, the brake pad business should continue to see strong sales.
The Interconnect Solutions segment comprises about 16% of ITT's total revenue. This segment offers specialized connector products for transferring signal and power in electronic devices used in aerospace, defense, industrial, and oil & gas markets. The segment achieved double-digit gains in gross margin for Q3 2013. ITT plans on continuing margin growth for the segment via revenue growth and restructuring to reduce overhead costs. However, there is some uncertainty regarding the defense portion of the segment as government cutbacks are a possibility.
The Control Technologies segment comprises about 11% of total revenue. This segment manufactures specialized equipment such as actuators, valves, switches, regulators, etc. for the aerospace, defense, and industrial markets. This has been the worst performing segment thus far for 2013 as its growth was nearly flat at 0.1% for the period from January through September. The good news is that this segment is also the smallest and has the least impact on the company. The defense portion of the segment was weak due to the sequestration. There is some opportunity for growth in the industrial portion of the Control segment with a focus on energy absorption markets. ITT is looking for strategic acquisitions and the industrial portion of this segment could receive a significant boost from one that fits.
Valuation
ITT is undervalued as compared to its competitors, Flowserve (NYSE:FLS) and IDEX (NYSE:IEX). Here are some key valuation metrics comparing these three companies.
| | | | |
| --- | --- | --- | --- |
|   | ITT | Flowserve | IDEX |
| Trailing PE | 7.47 | 21.5 | 84 |
| Forward PE | 17.7 | 18 | 20.8 |
| PEG | 1.6 | 1.4 | 1.6 |
| Price to Book | 3.29 | 5.5 | 3.8 |
| Price to Sales | 1.54 | 2.06 | 2.84 |
| EV/EBITDA | 9.46 | 13.24 | 13.26 |
Although the PEG's of these companies are similar, ITT's valuation stands out on PE, price to book, price to sales, and EV/EBITDA. ITT is a smaller company than these two competitors, but it produces a higher EPS. The trailing twelve month EPS for ITT is $5.50 as compared to $3.36 for Flowserve and $0.83 for IDEX. ITT's ability to produce high earnings is one reason for its more attractive valuation. Another reason is ITT's strong balance sheet as reflected in its lower price to book ratio. ITT is priced better in terms of the asset to liability ratio. Flowserve and IDEX are also attractive investments, but ITT is currently priced more attractively. Flowserve and IDEX have higher 5-year expected annual earnings growth rates of 14% and 15% respectively as compared to ITT's 12.6%. Therefore, it is possible that Flowserve and IDEX's valuations could become more attractive over time. Currently, ITT has the better overall valuation for investors. ITT presents the better entry point for investors.
Growth Catalysts
ITT has set goals for itself to achieve annual revenue growth of 5% to 7%, EPS growth of 10% - 15%, operating margin expansion of 50 - 70 basis points, and to achieve an adjusted free cash flow conversion rate of at least 105%. The company is likely to achieve this by leveraging its niche market positions, by continuing its global expansion, and by producing new products. The company's continuous improvement process creates strong customer relationships which helps strengthen its business in niche markets. The fact that ITT's Goulds Pumps have been ranked as Reader's Choice #1 in chemical pumps by Chemical Processing magazine is an example that shows how the company fosters solid customer relationships. This ranking was attributed to ITT's efforts to work closely with customers and create products that fit their needs and by delivering them reliably, in a timely manner.
The company is set to continue its global expansion with half of its manufacturing facilities located outside of the U.S. ITT derived 61% of 2012 revenue from international markets. The overseas facilities allow the company to lower costs and to be strategically located close to its international customers. With these facilities in place, ITT is well positioned to increase its market share and international sales.
Acquisitions are another way for ITT to grow globally. ITT targets companies in the $15 million to $50 million range. However, the company could find something outside this range as it did with the $200 million Bornemann acquisition. Acquisitions in ITT's pump business for oil and gas, aerospace, and the industrial portion of Control Technologies all present good potential areas for growth. The right acquisitions can add significant revenue for ITT.
ITT has a strong reputation for application engineering. The reason for this is because most of its products operate in harsh environments. Tough conditions such as the high pressure of the ocean floor or the extreme cold of outer space present challenges for the companies that operate in these environments. ITT solves these challenges by producing products that can operate under the high pressure of the ocean floor for the oil and gas industry and by producing electrical connectors that are built specifically to service satellites in space. ITT's strong engineering team works diligently in research and development to create new products that are designed to effectively solve its customer's problems and needs. These customer-specific designs allow customers to improve productivity and reduce costs. As ITT's reputation grows in the industry as a go-to problem solver, its revenue also grows through new customers and new products.
The Risks
ITT, just like its competitors, is exposed to ongoing asbestos claims. Lawsuits are filed by those who may have been exposed to and injured by ITT's products that could have contained asbestos. ITT does its best to estimate these claims as part of doing business, but the company may not always be accurate. Significant deviations from estimates could negatively affect ITT's revenue and earnings.
Competition is also a risk for ITT. The company must continually remain on top of its game by working with customers and producing what they need in a timely manner. Otherwise, competitors such as Flowserve and IDEX will take away market share.
Conclusion
ITT has a knack for producing the innovative products that its customers need for operating in harsh conditions. The stock is currently trading at levels that are more attractive than its competitors. The company's above average expected earnings growth is likely to be achieved through global expansion and new product innovation. ITT looks good as a long-term investment which is tied to growing industries such as oil and gas, automotive, and aerospace. With 5-year expected earnings growth higher than the S&P 500, ITT is likely to outperform the market over the long-term.
Disclosure: I have no positions in any stocks mentioned, and no plans to initiate any positions within the next 72 hours. I wrote this article myself, and it expresses my own opinions. I am not receiving compensation for it (other than from Seeking Alpha). I have no business relationship with any company whose stock is mentioned in this article.