For a while now, Phillips 66 (NYSE:PSX) has been one of my higher conviction positions as the company is well poised to profit from the increased energy production in North America. Phillips 66 knows this and has been investing heavily, especially in its chemicals and midstream operations. These investments have not stopped the company from rewarding shareholders via both higher dividends and large share repurchases. Since its 2012 spin off from ConocoPhillips (NYSE:COP), Phillips 66 is up over 125% not including dividends. Even with this move, I would argue that the stock still has more upside potential.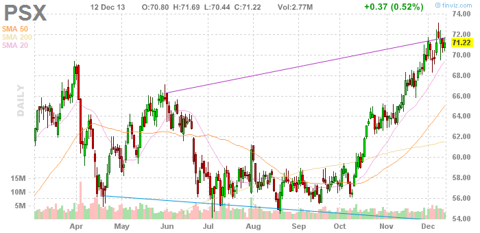 2014 Capex budget: Massive investments into midstream and chemicals
On December 6, Phillips 66 announced its 2014 capital program. Below is a breakdown of the proposed capex spending by segment:

Excluding the affiliated companies' capex programs, Phillips 66's capital budget for 2014 is roughly $2.7B, a 40% increase from 2013. The majority of the spending is to be focused on midstream investments, most notably in natural gas liquids, or NGLs, infrastructure.
In 2014, the company plans to begin construction of a 100,000 BBL per day NGL fractionator along with a 4.4M BBL per month liquefied petroleum gas export terminal on the Gulf Coast. These are major projects for Phillips 66 and are expected to add about $400M to $500M to annual EBITDA once completed in 2 to 3 years.
Also note that DCP Midstream (NYSE:DPM), Phillips 66's 50/50 joint venture with Spectra Energy, is also slated to greatly expand its existing NGL infrastructure. For 2014, DCP will continue to grow its natural gas gathering and processing, operating in the Permian and other regions. Phillips 66's share of DCP's 2014 planned capital expenditures is about $750M.
For its refining operations, Phillips 66 plans about $1.0B in direct capital spending, with the majority mostly being sustaining capital. Along with the normal maintenance expenses, the company has several environmental projects which should help it comply with the more stringent Tier 3 emission standards. The remainder of the refining capex is to be used for high IRR projects, mostly related to gaining better access to price advantaged crude feedstock.
Also note the $140M spending for Phillips 66's Marketing and Specialties segment. Phillips 66 is using these funds to greatly expand its retail footprint in Europe, with over 200 new retail sites planned over the next five years. While this segment is tiny considering the size of Phillips 66, it does offer nearly 25% estimated returns. In addition, it enhances returns from other segments, especially refining.
Due to low energy prices, the US now has an advantage in chemicals production
For chemicals, CPChem, Phillips 66's 50/50 joint venture with Chevron (NYSE:CVX), has some major investments in store for 2014. CPChem is hoping to take advantage of the significant price advantaged energy sources along the US Gulf Coast by boosting domestic chemicals production. In its press release, Phillips 66 noted three particular projects, namely a 3.3B pound per year ethane cracker, two 1.1B pond per year polyethylene facilities, and a 550M pound per year 1-hexene plant. Phillips 66's share of CPChem's 2014 capital expenditures is estimated to be roughly $1.0B. CPChem has plans to spend between $6B to $8B in capital projects by 2017, with annual EBITDA of nearly $1.50B once the projects are online.
In an interesting article from the Financial Times, the shale gas boom has made the US Gulf Coast's chemical production extremely competitive, with energy prices comparable to prices in Saudi Arabia. Ethane prices are now down nearly 75% from 2011 levels averaging only $0.26 per gallon. The US became a net exporter of chemicals in 2011. By 2018, it is estimated that the US will be exporting chemicals worth nearly $30B.
More share buybacks to the tune of $2.0B announced
Lastly, let us discuss Phillips 66's share repurchases. On December 6, alongside its capital budget, the company announced a new $2.0B share repurchase program. This would mark a total of $5.0B in authorized share repurchases since Q3 2012. While some may argue that share buybacks are just a way of wasting money on inflated shares prices, they do have an impact, especially concerning the size of Phillips 66. Since its spinoff from ConocoPhillips, Phillips 66 has repurchased about $2.0B of its shares, reduced its shares outstanding by 250M, and nearly doubled its quarterly dividend from $0.20 per share to $0.39 per share.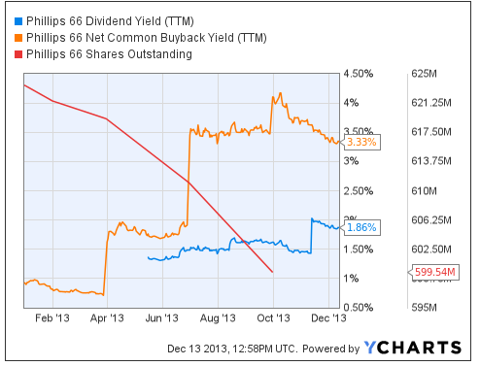 Final Thoughts and Conclusion
As fellow SA author Michael Fitzsimmons has noted, Phillips 66 is one of the biggest beneficiaries of higher shale oil and gas production in the US. In addition, as crude oil differentials have drifted higher, Phillips 66's core refining operations are likely to remain very profitable.
Given its significant growth prospects, Phillips 66 is clearly a stock worth considering. Its dividend yield and share buybacks are likely to prop up the stock during periods of weakness, such as Q3 2013. For these reasons, it's very easy to be bullish Phillips 66.
Disclaimer: The opinions in this article are for informational purposes only and should not be construed as a recommendation to buy or sell the stocks mentioned. Please do your own due diligence before making any investment decision.
Disclosure: I am long PSX, COP. I wrote this article myself, and it expresses my own opinions. I am not receiving compensation for it (other than from Seeking Alpha). I have no business relationship with any company whose stock is mentioned in this article.