Red Hat (NYSE:RHT) is an Open Source company, and constituent of the S&P 500, that competes with proprietary software firms. It is scheduled to report earnings after the close on Thursday, December 19th. Jim Cramer likes the stock enough to make it a holding of his charitable trust. optionMONSTER is reporting a trade betting that the share price will move substantially higher by next Friday (5,200 December 48/52.50 call spreads at a debit of $1.05). There has been an announcement of a new cloud infrastructure agreement with Dell, and it could be a chief reason for the sanguine viewpoints on the stock.
The deal may not be important to Wall Street. UBS maintains a Neutral rating on the equity, in place since the conclusion of 2011, when shares traded at $52. It reiterates its view in a September 23rd report entitled "Secular Winner but Cyclical Challenges." Yet, the Swiss firm's current $56 price target, based on 20.2x Free Cash Flow projected to be $2.80 per share over the next twelve months, implies approximately 20% upside from the current $46.35.
However, summary data from Thompson Reuters can show the stock to be expensive. Consensus 2014E EPS is $1.38 and the five year growth rate is 15.5%. While analysts mean recommendation of 2.2 out of 5 indicates a buy recommendation, their projections are underwhelming.
Further, Red Hat pays no dividend. It buys back some stock, but the amounts have been paltry. Here is a graphic that provides illustration: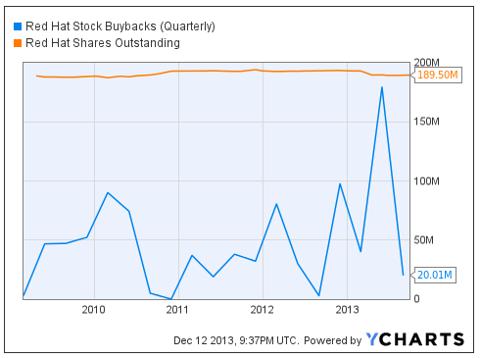 Click to enlarge
The new agreement between Red Hat and Dell may have implications throughout the cloud infrastructure industry. It should strengthen Red Hat's standing amongst substantial competition. The Open Source firm may now be a threat to Hewlett-Packard (NYSE:HPQ) and IBM in particular. Amazon.com's (NASDAQ:AMZN) Web Services is dominant in the space; and it is another enterprise that is gaining nothing obvious.
Rackspace Hosting, Inc. (NYSE:RAX), a supporter of the OpenStack technology, is up on the news. It has been underperforming this year, leading to questions about whether or not the stock has bottomed. According to a recent article, Google's entry into Infrastructure as a service ("IaaS") is yet another consideration. Further, there has been intensive insider selling of Rackspace preceding Red Hat's IaaS agreement with Dell.
There are several billionaires who have gotten behind RHT. Perhaps the best known names are Ray Dalio, of Bridgewater Associates, and Andreas Halvorsen, of Viking Global Investors. George Soros is also recorded as a shareholder; but though his wealth is said to be self-managed, his results have not been comparable to what they were in decades past. However, there are no records indicating that it is a large part of their portfolios or that a substantial percentage of the float is no longer for sale. There does not seem to be any likelihood of Warren Buffett buying nearly 1% of the company as he has recently done with Exxon Mobil (NYSE:XOM), for example.
Regarding the event next week, a framework for anticipating earnings-related price movements has been discussed at detail by Seeking Alpha's Dr. Terry Allen. Anyone who has paid attention during the past year is aware that his system led to a series of remarkably profitable trades. He uses information presented in the follow charts, amongst other data: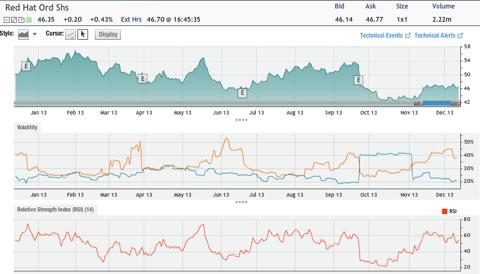 Click to enlarge
Before attempting to apply his framework to RHT, it is relevant to discuss Implied Volatility ("IV") of options, which is up moderately at close to 40%. It could make sense to use a skew tactic in order to sell the IV. However, in order to do so, an indication of which way the stock's price might move is relevant.
Let's run through Dr. Allen's check list and try to apply it:
1) Stock price action in recent weeks: At nearly $46 for most of this month, and up slightly from its 52 week low, it is not easy to reach any conclusion.
2) Whisper numbers vs. analyst estimates: the whisper number is $0.37 compared to consensus of $0.35, indicating that expectations are high and the stock could go lower.
3) Recent post earnings price changes compared to earnings results:
| | | | | |
| --- | --- | --- | --- | --- |
| | Consensus Estimate | Reported EPS | Percentage Difference | One Day Price Movement |
| December, 2012 | $0.29 | $0.29 | 0 % | 4.52% |
| March, 2013 | $0.30 | $0.36 | 20 % | 1.18% |
| June, 2013 | $0.31 | $0.32 | 3.2% | -0.73% |
| September, 2013 | $0.33 | $0.35 | 6.06% | -11.89% |
While RHT has consistently meet or beaten earnings estimates, its overall tendency is to sell off after earnings. The history, similar to the whisper numbers, goes against the large trade reported by optionMONSTER anticipating a 6%+ move to over $49.05.
4) Current RSI levels: we can see the orange line in the lowest of the three charts above, indicating that the stock is neither overbought nor oversold.
5) Overwhelming positive (or negative) comments on various blog posts: here again, there has been little activity and nothing conclusive.
Using available information, an analyst report from one of the world's largest banks, and an options trading system that has been on target at times, there currently is no obvious reason to bet on Red Hat ahead of its earnings announcement next week. However, there may be cause for concern to owners of Hewlett-Packard, IBM, or Amazon.com. If the deal with Dell is a boon to any publicly traded company, the market indicates that it is Rackspace, another firm with questionable investment prospects.
Disclosure: I have no positions in any stocks mentioned, and no plans to initiate any positions within the next 72 hours. I wrote this article myself, and it expresses my own opinions. I am not receiving compensation for it (other than from Seeking Alpha). I have no business relationship with any company whose stock is mentioned in this article.