In a previous article I wrote about how Delta and US Airways were the best airline stocks in the market right now. Being that US Airways has closed its merger with American Airlines (NASDAQ:AAL), I thought it would be beneficial to take a look at American and to examine the potential for the newly merged carrier. In reviewing, I believe the opportunity for American is exceptional and that the current share price does not accurately reflect the value of this company.
As everyone knows by now, US Airways and American Airlines closed on their merger on December 9th. Top management at the airline has already been selected and it bears a heavy US Airways influence. Among the most important positions in the company, US Airways executives have assumed the key roles of CEO, President, CFO and COO. American executives have been tapped to fill important roles within those frameworks but the overall culture and strategy will have a heavy US Airways feel. This is important as US Airways management did a superb job in pulling off the America West/US Airways merger from 2005 and in recent years has managed to improve customer service while at the same time delivering record profits.
Below is a chart showing the performance of US Airways following the merger with America West in 2005: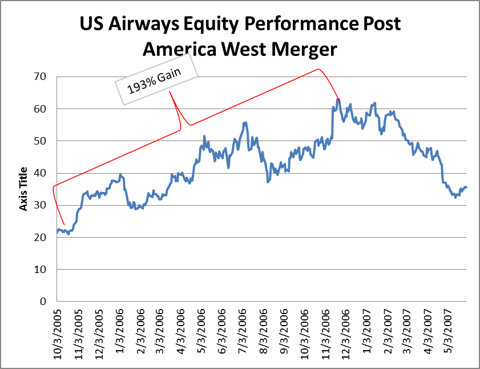 During the initial year or so following the merger, US Airways share price increased close to 200%. The reason for this is that US Airways (with mostly former America West management) cut routes that weren't profitable and increased routes that were profitable. They streamlined processes and costs and brought in expertise to help improve the operation - on a very limited budget. What started to happen by 2006 is that the market came to believe that the legacy US Airways was worthy of a higher multiple and gave it a premium PE of around 18 at its peak. Earnings increased from a loss in 2005 of $537M to a profit in 2007 of $427M, so shareholders not only saw a large increase in earnings per share, but felt confident enough in the company's future to award a premium multiple (albeit briefly, as US Airways was significantly impacted by the market crash beginning in 2007). The combination of both of those factors lead to the near 200% performance.
A similar situation with American is in the works today. Currently, the trailing twelve month PE multiple doesn't tell us a whole lot since American has been losing money until very recently. So, using conservative estimates on forward growth of about $2.7 Billion which appears to be the analyst consensus (although a consensus is hard to get to this early into the merger) then the company would have a forward PE of 7.38. Going even a little further, in April, American and US Airways presented their reorganization plan to the bankruptcy court. In that plan, revenue and income were forecasted out through 2017. Obviously, much is dependent still on oil prices, but the forecasted net income for 2015 was projected at $4.4 Billion. Before one starts dismissing that projection as overly optimistic it is important to know that US Airways management is known as extremely conservative and has a history of beating earnings (with earnings beats in its last seven quarters). So, if they say that they will hit $4.4 Billion in income in 2015, then they are likely to hit that number (barring major outside events) - if not surpass it.
Turning to the implications this can have on share price, I have put together a simple sensitivity showing likely stock price for American assuming a reasonable PE multiple in 2015:

So, assuming that American is rewarded by 2015 with the same PE multiple that Delta currently has, and that American hits their forecast of $4.4 Billion in income, the price per share would be in the ballpark of $70. As American is currently priced at close to $26, this represents a potential gain of 169%. Personally, I think a PE multiple near what Southwest currently enjoys of around 21 is justified should results even come close to forecast - the potential upside in that event is around 374%.
Although there aren't many who are publicly bearish on American, one reason to be hesitant is due to potential merger integration issues. As has become painfully obvious to United, mergers don't always go smoothly - and optimism can quickly fade into frustration. In the case of American and US Airways, I believe that there will inevitably be some minor hiccups but I believe the likelihood of a major meltdown similar to United's fiasco with its revenue system is unlikely. To start, this merger has been in the planning stage for almost a year, which has given management time to vet out and research the best options. American has the benefit of using the lessons learned (and the consultants) from previous mergers to identify landmines and steer clear. Labor group problems are largely mitigated through the agreements that were negotiated while the merger was in its infancy. And let's not forget that this is a management team with a good deal of experience in the M&A arena from the previous merger of US Airways and America West. Finally, I think that it's important to remember that this merger is personal for many members of the US Airways (now American) management team, including Doug Parker, the CEO. It wasn't too long ago that US Airways was announced to be merging with United (NYSE:UAL), only to lose that deal to a prettier girl - Continental. If ever there was a team more motivated to succeed (and make United look even worse in the process) this is it.
In putting together the final touches on my article, it has become apparent that I'm not the only one who thinks that American is extremely undervalued. Multiple analysts who follow this company have put it on their top picks list, with near term price targets of between $31 and $39. Analysts are, obviously, not always right, but consensus in opinion is difficult to achieve. Other carriers in this industry remain attractive, especially Delta (NYSE:DAL), but the upside to American is hard to beat.
Finally, the timing for initiating (or expanding) a long position in American is likely good for the next few months. As part of the reorganization plan that was approved by the bankruptcy court, the creditors have all been made 100% whole, however, the majority of the payments to those creditors are being made in shares of American stock. As those creditors are awarded shares over the next 120 days, many of them will likely sell their positions - leading to downward pressure on equity prices. This downward pressure will reduce after the final equity distribution 120 days after merger close. The reduction in selling activity along with the strong fundamentals will likely start to move the stock substantially higher after April 2014.
Disclosure: I have no positions in any stocks mentioned, but may initiate a long position in AAL over the next 72 hours. I wrote this article myself, and it expresses my own opinions. I am not receiving compensation for it (other than from Seeking Alpha). I have no business relationship with any company whose stock is mentioned in this article.