This is an update to the latest rankings for the 25 BDCs that I cover and a follow up to "BDC Rankings: November 2013" taking into account recently reported BDC results, revised analyst ratings and EPS estimates as well as the new analyses from my most recent articles. Over the next two weeks I will be updating the allocations for my five BDC portfolios including my personal favorite the "Total Return BDC Portfolio".
These are the five general criteria I use to evaluate BDCs:
Profitability (dividend coverage, fees, NAV and EPS growth)
Risk (portfolio quality and vintage, rate sensitivity, diversification, volatility)
Return (sustainable, consistent, growing)
Analyst Opinions (outlook, price targets)
Valuation (NAV, P/E, growth rates, total return)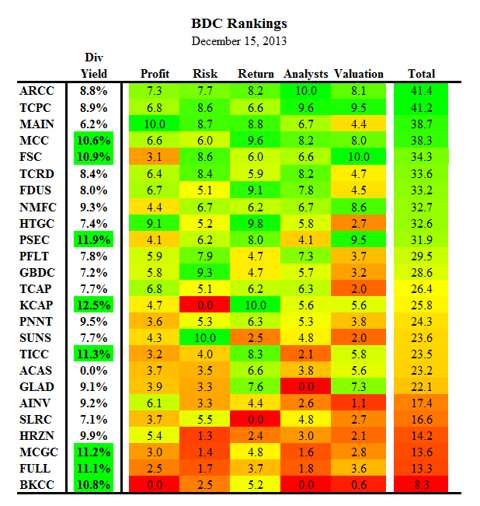 Winners
The BDCs with the most improvement from last month were Medley Capital (NYSE:MCC), Fidus Investment (NASDAQ:FDUS), Gladstone Capital (NASDAQ:GLAD) and TCP Capital (NASDAQ:TCPC). MCC and GLAD recently reported results and beat EPS estimates as well as covered dividends improving the profit, return and valuation categories. The share price for FDUS has fallen 14% from a recent high of $22 to $19 and is now below my target price of around $20 so its valuation rank was improved. TCPC recently announced the issuance of 4.5 million shares at a reduced price of $16.00 compared to its net asset value ("NAV") per share of $15.06 so its valuation rank also improved.
High-Yield BDCs
Many investors are drawn to BDCs because of the higher than average dividend yields but should also take into account the ability to cover dividends with recurring income as well as the potential for dividend growth. The profit category takes into account many things including historical and projected dividend coverage, EPS and dividend growth, and available growth capital. Many of the higher yield BDCs have lower rankings in this category. Recently I have projected EPS and dividend coverage for Prospect Capital (NASDAQ:PSEC), Fifth Street Finance (NYSE:FSC) and MCC, and I believe these BDCs will cover dividend in the coming quarters even though FSC and PSEC hove low profit rankings. See the following articles for more:
Some of the higher yield BDCs such as MCG Capital (NASDAQ:MCGC) and BlackRock Kelso Capital (NASDAQ:BKCC) are not projected cover dividends and Full Circle Capital (FULL) and KCAP Financial (NASDAQ:KCAP) have both recently reduced dividends as predicted in articles such as "The Good, the Bad & the Maybe? KCAP Financial". TICC Capital (NASDAQ:TICC) and PennantPark Investment (NASDAQ:PNNT) have both been cutting it close to covering and are on my short list to review for earnings potential.
Undervalued BDCs
I use an average pricing approach to BDCs based on industry multiples of NAV and earnings along with projected vs. expected total return. Both of these approaches are weighted by my risk rankings as I believe that investors expect more return from riskier BDCs. Currently the most undervalued BDCs are FSC, PSEC, MCC, TCPC, Ares Capital (NASDAQ:ARCC) and New Mountain Finance (NYSE:NMFC). I consider all of these a 'Buy' in my weekly newsletter.
Overvalued BDCs
Many of the BDCs that were considered overvalued in the last rankings have recently fallen such as FULL, FDUS, and Triangle Capital (NYSE:TCAP), but other such as BKCC, Apollo Investment (NASDAQ:AINV) and Solar Capital (NASDAQ:SLRC) are considered overpriced using multiples and/or total return.
American Capital (NASDAQ:ACAS) has been recently downgraded by some analysts most likely due to its stock price getting close to a new five year high, its continued missed EPS expectations and lowered projected EPS for the year from $0.91 to $0.85 and then recently to $0.83.
Below are the rankings without the valuation and analysts categories that I believe is a more appropriate view of the underlying companies such as Main Street Capital (NYSE:MAIN) and Hercules Technology Growth Capital (NASDAQ:HTGC).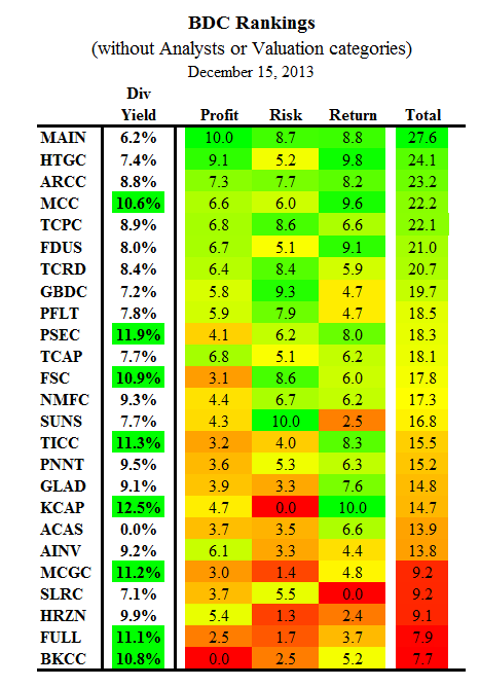 Investors should only use this information as a starting point for due diligence. See the following for more information:
Disclosure: I am long MAIN, TCPC, ARCC, FDUS, TCRD, PSEC, NMFC. I wrote this article myself, and it expresses my own opinions. I am not receiving compensation for it (other than from Seeking Alpha). I have no business relationship with any company whose stock is mentioned in this article.