In what recently was a closely guarded secret, Amazon.com (NASDAQ:AMZN) has reportedly been working on a new business dubbed Pantry, which is being built to compete against big-box stores like Wal-Mart (NYSE:WMT) Sam's Club and Costco (NASDAQ:COST).
While the plans of the business are still considered private, it will be "a senior manager in vendor management and consumables at Amazon," Billy Hegeman, that is alleged to be running the new unit. It will launch in 2014.
source: StockCharts.com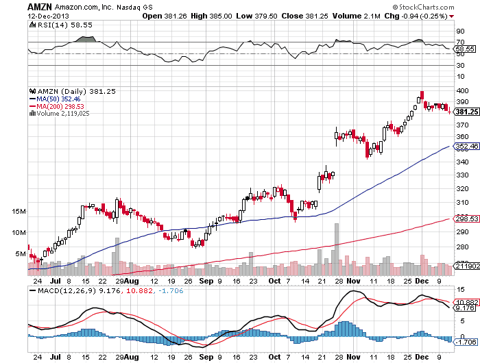 Targeted Products
How the new business will work is Amazon will target approximately 2,000 products usually found in the center area of grocery stores. These are products with long shelf lives such as paper products, canned goods, dry grocery items, and pet products, among others.
The strategy is to offer the products at low prices to generate high turnover. In other words, the idea is to focus on high volume sales.
This targeted market is so desirable because the demographic has a higher income in general, and includes households with children. The value there isn't just the larger number of products needed to maintain a larger household, but these households are also great lifetime customers.
Amazon Prime
To give the new business a jumpstart, Amazon will offer its Prime customers low shipping rates, dependent upon the products order fitting into a box of specific dimensions.
If the products ordered fit in the box, the Prime customers get a discounted shipping fee. They will also have to be under an undisclosed weight to get the lower shipping costs.
This should add to the already-compelling Amazon Prime program, which has been growing strongly. According to Consumer Intelligence Research Partners (CIRP), the number of subscribers has soared to 16.7 million.
Members of Amazon Prime spend about $1,340 annually, against the $708 customers not subscribing to the service spend. In the U.S., that translates to 56% of product sales at the company, according to CIRP.
There is no doubt this will be a smash hit at the company, which will help grow other Prime services like its streaming video, which competes directly with Netflix (NASDAQ:NFLX).
I like how Amazon is differentiating from streamers like Netflix and HBO, building out its Prime business with the additional shipping advantage, as well as the new low-cost product offerings when it is launched.
Costco
This could put some pressure on Costco because of the implications of its latest earnings miss, where EPS dropped 6 cents below expectations. This suggests an ongoing weak economy, and when adding in a new, powerful competitor, it will challenge Costco over the next couple of years.
Many have believed Costco was going to continue to run, and it possibly might over time, but Amazon is definitely going to have an impact on the performance of Costco, and even if it takes a little time, is sure to be one that is difficult to fully answer.
With Amazon focusing on higher-volume items, and incorporating the business into its Prime service, this will without a doubt be a major competitive attack that will have to be successfully responded to if Costco is to continue on its upward trajectory over time.
source: StockCharts.com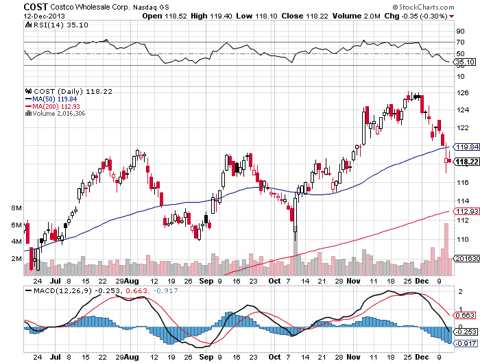 Wal-Mart
I don't see this as important to Wal-Mart, only because it has a more diverse business.
Even so, Sam's Club will come under pressure from the new player in the sector, and that will have an effect on the top and bottom line of the company, even if it isn't to the level it will have on Costco.
Add a burgeoning Prime business with a new product price structure, and you can see that this could be a disruptive move by Amazon; one that will hit Costco and Wal-Mart during a time when they are struggling.
Since early April Wal-Mart has been flat, and from July Costco has also been fighting to gain momentum. Over a 5-year period, Amazon has demolished their two big competitors, although they've done pretty good during that same period of time. Just not near the results Amazon has produced.
On December 15, 2008, Amazon.com closed at $51.56, as I write it closed at $381.25. That's up well over 600%.
source: StockCharts.com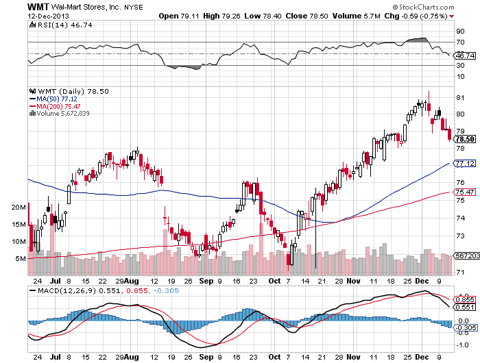 Conclusion
The demographic signing up for Amazon Prime is close to the same demographic participating in club stores.
With more disposal income and loyalty, it is no surprise to see Amazon aggressively pursue this market.
Costco will be most directly affected by this, while Wal-Mart won't be as affected in a direct way. Wal-Mart faces a different problem in that it hasn't been growing as it has in the past, and so could be disproportionately impacted because any business taken away from Sam's Club, even if it wasn't as much as Costco, could pressure the share price more.
This will take time to play out, but if this does take off over the next couple of years for Amazon, it's going to boost the share price while putting downward pressure on its giant rivals.
Disclosure: I have no positions in any stocks mentioned, and no plans to initiate any positions within the next 72 hours. I wrote this article myself, and it expresses my own opinions. I am not receiving compensation for it (other than from Seeking Alpha). I have no business relationship with any company whose stock is mentioned in this article.