Suez Environnement (OTCPK:SZEVY) is the world's second-largest environmental services group after Veolia (VE), providing water and waste water, municipal and industrial waste and energy management services. Like Veolia, Suez Environnement is based in France, but has operations across the world. As I discussed in my previous article focused on Veolia, the sector offers good long-term growth prospects supported by a growing global population and an increase of urban populations in emerging countries, therefore the demand for environmental services provided by these utilities will increase. Moreover, they currently offer high-dividend yields and are good plays for income investors.
Suez Environnement was listed in 2008 following the merger of GDF and Suez, forming the current company GDF Suez (GDFZY) which is Suez Environnement's major shareholder with an equity stake of 35.7%. There was a shareholders' agreement in place since its IPO, but in mid-2013, this agreement has ended and wasn't renewed. Although GDF Suez will continue to be the reference shareholder, this should mean Suez Environnement will have a growing independence from its major shareholder going forward. Its second-largest shareholder is investment firm Groupe Brussels Lambert (OTCPK:GBLBF), but it sold an exchangeable bond for its entire stake a couple of years ago and can get out of Suez Environnement's capital structure over the coming months. The company's market capitalization is about $4.3 billion and is traded in the U.S. in the over-the-counter market.
Suez Environnement has two main business segments, waste and water. In 2012, the waste business accounted for 51.5% of revenues and water for 48.5%. These services provide medium to long-term earnings visibility due their concessionary and contractual nature, but also exposes the group to renewal risk and to pressure in the concession/contract bidding process. Although its overall business is relatively resilient over the economic cycle, it has substantial exposure to the industrial waste business, which is more exposed to economic downturns.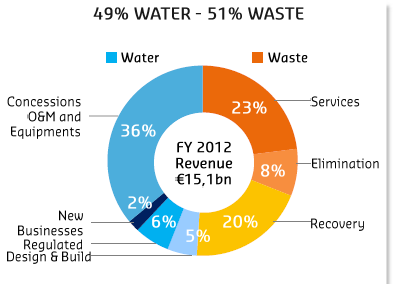 Suez Environnement has a good geographical diversification despite France still accounting for 36% of its revenues. Outside France, the largest market is Germany & Benelux accounting for 12% of revenues, followed by Spain with a 10% weight. Although Europe still accounts for about 69% of its revenues, its weight has been reduced over the past few years, given that in 2008, its weight was above 80%. Suez Environnement is also present in the U.S, but its weight within the group is still relatively small, accounting for only 6% of group's revenues.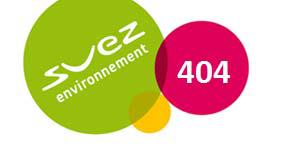 In 2012, the company achieved $20.4 billion in revenues, an increase of 1.8% from the previous year. Its EBITDA was about $3.3 billion, or an EBITDA margin of 16.2%. This margin compares quite well with its peer Veolia, which had an EBITDA margin of only 11% during the same period. This performance is quite good given that the economic climate in Europe was weak in 2012, showing the resilience of the company's business model. During the first nine months of 2013, revenues have decreased slightly compared to the same period of 2012, but profitability has improved, achieving an EBITDA margin above 17%. This is justified by the company's efficiency plan which is achieving its expected savings resulting on higher profitability.
Regarding its dividend, since its listing in 2008, Suez Environnement has paid four dividends of €0.65 ($0.88) per share, subject to French withholding tax rate of 25%. At its current share price, Suez Environnement offers a dividend yield of 5.2%. Its dividend payout ratio has been high over the past couple of years above 100%, but based on cash flows, the company's dividend seems sustainable. In 2012, its cash flow from operations was enough to cover both capital expenditures and dividend outflows, leading to free cash flow above $800 million.
Suez Environnement has a leveraged balance sheet, given that as of 30 September, 2013, its net debt amounted to $10.5 billion and its leverage ratio was about 3.1x. However, compared to Veolia, the company's balance sheet is stronger due to its lower leverage, which may result on a more sustainable dividend over the long-term.
Conclusion
The environmental services industry offers good long-term growth prospects; Veolia is the best-known company to play this theme. However, Suez Environnement may be a good alternative. It offers a similar dividend yield, but has higher profitability and a stronger balance sheet. Both stocks had a good run in 2013 and aren't exactly cheap, but Suez Environnement is trading at lower multiples than Veolia, and therefore is attractive for diversification within the environmental services sector.
Disclosure: I have no positions in any stocks mentioned, and no plans to initiate any positions within the next 72 hours. I wrote this article myself, and it expresses my own opinions. I am not receiving compensation for it (other than from Seeking Alpha). I have no business relationship with any company whose stock is mentioned in this article.