Stocks had their biggest weekly rally since November last week, as lower-than-projected growth in consumer prices eased concern that the Federal Reserve will need to raise its benchmark interest rate to fight inflation. Boeing (NYSE:BA), Caterpillar (NYSE:CAT) and Chevron (NYSE:CVX) helped lead the Dow Jones higher. Seven of the 10 industry groups in the S&P 500 advanced, with financial shares contributing the most to the gain.
Those looking for the next leg down in the global economy, global asset markets and global risk appetite may have to wait a bit longer. The Chinese have come back from their Lunar New Year with their buying boots on, or so it would seem from Asian equity market performance this morning. Strong regional economic data and positive earnings reports globally are helping, while the first monthly fall in the US core consumer price index since 1982 has done a great deal to calm any fears they may have had about the US Federal Reserve tightening monetary policy, irrespective of last week's Discount Rate increase.
Europe opened up slightly this morning as commodity stocks initially tracked crude and metal prices higher and a German magazine Der Spiegel produced an article speculating what a €25-30 billion Greek bailout might look like having said that it had used a German Ministry of Finance internal memo as a source. It's a credible article since the magazine has a reliable record for breaking domestic political agendas. I think it could be the nearest thing to a bailout confirmation until mid-March, when the EU monitor Greek's progress on other measures (See below for more). EUR/USD opened higher at 1.365 but has come off with the market slightly after Soros said investors should be concerned since Portugal, Spain, Italy and Ireland would still need help, with contagion effects still posing a threat. The larger sovereign crisis can't be backstopped easily. Basic resources stocks are enjoying a strong start to the week with Vedanta (OTCPK:VDNRF), Norsk Hydro (NHY), Rio Tinto (RTP) and ENRC leading the way. Retailers meanwhile lag. The index heavyweight (12%) Carrefour (CRERY.PK) is down 2%, with overflow from Friday's poor numbers weighing on the name. Marks & Spencer (OTCQX:MAKSY) is also weak.
Stateside, where the futures have a blue earnings of note before the bell from Campbell Soup (NYSE:CPB), which said Q2 profits rose to $259 million, or 74c a share. Sales rose 1% to $2.15 billion. Analysts had been looking for earnings of 73c a share on sales of $2.2 billion. And Lowe's (NYSE:LOW) Q4 profit rose to $205 million, or 14c a share. Sales in the quarter ended Jan. 29 rose to $10.17 billion from $9.98 billion. The results "suggest the worst of the economic cycle is likely behind us," said Chief Executive Robert Niblock, adding sales of bigger-ticket items have showed some improvement.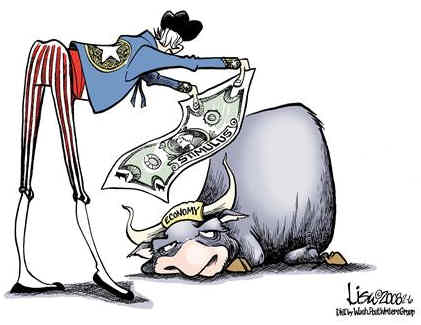 Today's Market Moving Stories
In the UK, a survey conducted by YouGov showed that the Conservative Party's lead over Labour has fallen to just 6% points.
UK manufacturers said credit constraints eased in the past two months as the cost of financing their debt stabilised further, according to the Engineering Employers Federation. The proportion of British companies reporting an increase in the cost of new borrowing dropped to 40% from 47% in the previous quarter. "Evidence that credit constraints have started to calm down will help build some confidence across the sector," Lee Hopley, chief economist at the EEF, said.
The ECB's Gonzalez-Paramo said the worst is over for Ireland and there's no risk of losing access to liquidity.
The FT reports on warnings from senior bankers that most of Kuwait's multibillion-USD investment company industry could be wiped out by debt repayments on the finance houses' leveraged investments made before the recession. It comments that at its peak, the industry had assets of more than $50 billion.
Banks that benefit from public support via access to the Federal Reserve and the Federal Deposit Insurance Corp. shouldn't "engage in essentially speculative activity unrelated to essential bank services," John Snow, Paul O'Neill, Nicholas Brady, George Shultz and W. Michael Blumenthal wrote in a letter published by the Wall Street Journal. Restricting proprietary trading by banks is a "key element in protecting our financial system and will assure that banks will give priority to their essential lending and depository responsibilities," the former secretaries wrote. The group also urged the US government to take the lead at international meetings to win "broad agreement on this principle among the leading financial centres."
Derivative traders are signalling that the euro's slump to a nine month low will continue even if European Union leaders bail out Greece. Short-term rates for borrowing in euros in the forwards market are the cheapest relative to loans in dollars since September. The 50% collapse in that spread this month signals investors are betting the European Central Bank will keep its benchmark at a record low, sacrificing euro strength to prevent deficit-cutting by debt-laden economies in the region from stymieing growth. "Investors have already started to think about the next likely phase of the present crisis, and it appears that they all are finding are new reasons to sell the euro," said David Woo, global head of foreign-exchange strategy at Barclays in London. "Aggressive fiscal tightening by Greece, Spain and Portugal are likely to plunge their economies back into recession. All else being equal, this calls for a looser monetary policy."
US credit card issuers face a $12 billion revenue shortfall this year from price curbs imposed by new rules that take effect on Monday, according to law firm Morrison Foerster. Over five years, the overall hit to the industry could exceed $50 billion. The new rules, known as the Card Act, prohibit interest rate increases on existing balances and require card issuers to give 45 days' notice before raising rates, among other restrictions.
It wasn't just the vampire squids at Goldman's! Greece arranged swap agreements with about 15 securities firms and only some included payments from banks that may have helped hide the country's true deficit, according to a person with direct knowledge of the contracts. The swaps that allowed Greece to receive payments upfront date from before 2008, when European Union regulators changed rules to limit the use of the contracts, said the person, who spoke on condition of anonymity. Goldman Sachs (NYSE:GS), which provided Greece with about $1 billion in funding in a 2002 swap, may have arranged the biggest of the contracts. The EU accounting watchdog ordered Greece last week to provide information on its swaps as it probes whether the country used derivatives to hide the extent of its budget deficit, and if other countries used them.
Morgan Stanley has an interesting piece on the European earnings season thus far. They tracked 192 companies or 29% of the European market cap. 42% have beaten expectations (positive surprise) with 23% disappointing (negative surprise). The net percentage balance of positive less negative surprises is 19%, which is above the historical average of +16%. Of the sectors that have over 20% of market cap that has reported, Semis and Retailing have given the strongest results. So far Diversified Financials and Software have reported net negative surprises. On a country level, Denmark, Germany and France have reported the strongest results while Spain and Finland is the only country to have reported more than 20% of market cap that has reported a net negative surprise.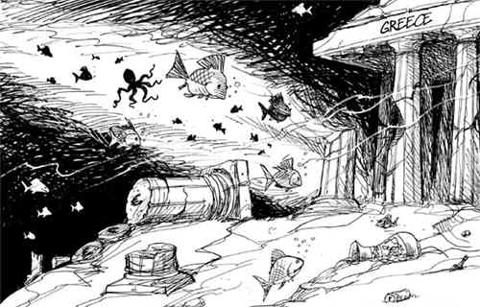 Greek Developments And Events To Watch Out For
A Greek bailout is said to be worth €20-25 billion according to German weekly Der Spiegel. All EMU countries are supposed to contribute according to their ECB capital quotes and the help is supposed to comprise both loans and guarantees. Longer-term, Germany is calling for an orderly process for sovereign default and a European institution similar to the IMF for future rescues. Moreover, according to BaFin calculations, German banks are holding some €522.5 billion of debt from Portugal, Ireland, Italy, Greece and Spain.
Greek PM Papandreou told the BBC his country does not want financial aid from the EU, only political support. He said 50-60% of the population supports his austerity plans. But the ECB's Bini Smaghi said Europe, not the IMF, should solve the Greek debt crisis.
There are a few events coming up in Greece this week. Wednesday sees the planned general strike by the public and private sector umbrella unions, ADEDY and GSEE, representing about 3 million workers out of a workforce of nearly 5 million. On that basis, it could bring the country to a halt. Concern based on recent history of Greek protests turning ugly may be overstated. The opinion polls have continued to point to a general acceptance of the government's efforts to consolidate the public finances dramatically. In a poll in the Ethos newspaper, 74% of Greeks thought the government was moving too slowly and a similar number saying that strike action ought to be delayed until after the crisis.
Also this week, the EC/ECB/IMF delegation will be in Athens this week to begin their assessment of Greece's consolidation progress ahead of the mid-March ECOFIN meeting. If the assessment is not sufficiently positive, ECOFIN has threatened to "impose" policies on Greece. It seems unreasonable to expect much hard evidence on spending control and tax revenue growth (although the better than expected January central government deficit is a start). The assessment will probably be based more on whether legislation is being passed quickly enough, whether systems, approaches and attitudes are changing, etc.
To minimize the moral hazard, the EU needs to be seen to be extracting a price from Greece. But there is a risk that measures go too far and confound consolidation. By ramping up the austerity measures, the consolidation risks becoming self-defeating by undermining growth. The EU's strategy is to intensely monitor Greece in a way that it has never done with a member state before and to keep the consolidation on track. In doing so, the EU hopes to give the market the confidence to keep financing Greece. But risk of a self-defeating consolidation could keep the market in the wings.
Company News
After close on Friday, Bank of Ireland (NYSE:IRE) announced that it would be paying the government's 2010 preference share dividend of €250.4 million in ordinary shares. This was feared and to a large extent, expected. What it means is that the Irish government, through the issue of 184,394,378 shares gets a direct government ownership of 15.73%. Add this to the indirect investment of 25% by way of warrants already held, the total effective public ownership is now 40.73%. This does not alter the coupon deferral situation Bank of Ireland faces so the response from the credit markets should be fairly benign. It is however, still bad news as investors would have wanted to limit additional government ownership (as it dilutes them), especially as it will hamper BoI's capital raising plans. If it is looking to raise €2.5bn+ then the bank will need to carefully structure the capital plan to make it as attractive to private investors as possible.
With regards to AIB (AIB), assuming it is forced to pay the €280m dividend on its government preference shares in ordinary shares (due May 13th), AIB could potentially have a direct government interest of around 24%. Combining this with the current 25% indirect interest via warrants equates to a 49% effective stake.
The European Commission will approve the proposed merger between Orange and TMobile as early as this week. The commission will agree to fast-track the joint venture and override any remaining concerns of the UK's Office of Fair Trading and industry regulator OfCom as well as competitors such as Vodafone (NASDAQ:VOD) and Telefonica's O2. A combined T-Mobile and Orange would create the country's largest mobile-phone operator by far with a 37% market share.
Heineken's (HINKY.PK) US-traded shares may rise to $40 within the next three years as it increases revenue from emerging markets through its $8 billion Cerveza acquisition, Barron's reported. Heineken's purchase of Fomento Economico Mexicano SAB's beer unit, one of the largest brewers in Latin America, may increase its global-volume market share to 9.2% from 6.9%.
GlaxoSmithKline (NYSE:GSK) (off -2.14%) is weaker in London today after the New York Times said that the group's diabetes medicine Avandia weakens the heart sufficiently to increase users' chances of heart attacks and heart failure. The newspaper based its story on a report it said it had obtained from the FDA. In a statement, GlaxoSmithKline said it rejected those conclusions and that "the scientific evidence simply does not establish that Avandia increases ischemic cardiovascular risk or causes myocardial ischemic events."
And Finally… Billy Bragg Protests British Banks Bonuses

Disclosures: None