Emerson Electric (NYSE:EMR) is an industrial conglomerate specializing in process management, automation, network power, climate technologies and commercial & residential solutions. The company had a solid fiscal year 2013 with moderate sales growth and record operating cash flow of $3.65 billion. Emerson also posted the 57th consecutive year of dividend increases. Despite good results in a still challenging economic environment, valuation levels indicate that Emerson Electric is about fairly valued based on both earnings and estimated free cash flows.
Share performance
Emerson Electric returned 21% YTD and 28% over the last 52 weeks. The company is a mediocre performer over the last year as many peers did equally well.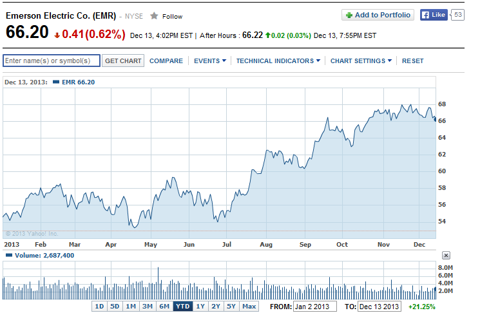 The picture doesn't change much when Emerson Electric is compared against a variety of industrial conglomerates over a five-year measurement period: Emerson Electric ranks in the middle in terms of share performance. The company gained 95% over the last five years while General Electric (NYSE:GE) returned 63%, ABB (NYSE:ABB) 79% and Siemens (SI) 80%. On the other hand, Emerson was outperformed by United Technologies (NYSE:UTX) which gained 109% and Honeywell (NYSE:HON) which gained 165%. It also seems that those companies that have gained the most seem to be the companies with the least upside potential (see Honeywell here and United Technologies here).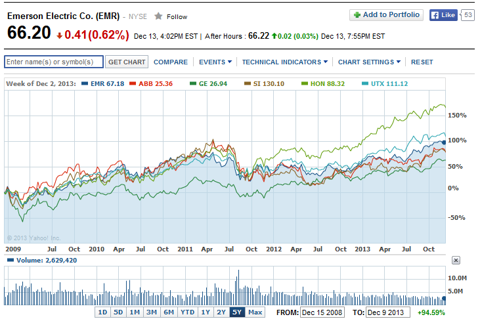 Free cash flow valuation
The table below reproduces my estimates with regard to EMR's operating-, investing- and free cash flows for fiscal year 2014. Operating cash flows are projected to grow by 7% mainly because of a better business environment in 2014. I estimate that economic conditions will meaningfully ameliorate in 2014 with unemployment in the US decreasing and inflation staying low.
Consequently, Emerson's 2014 free cash flow to equity is projected to hit $3,250 million in 2014 which translates into a free cash flow per share of $4.62. As a result, the forward P/FCFE ratio stands at 14.33 and the free cash flow yield at nearly 7%.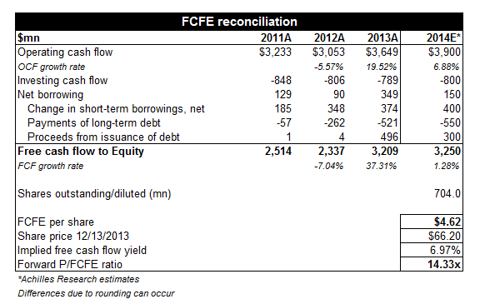 Applying a discounted cash flow model for the free cash flow to equity derived above yields an intrinsic value per Emerson Electric share of $66.86. At a current share price of $66.20 the company seems to be fairly valued based on its free cash flow prospects.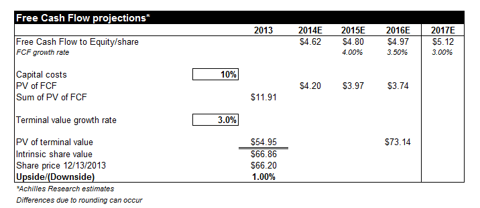 Market valuation
The market valuation based on Emerson's expected earnings pretty much comes to the same conclusion as the FCFE discount model from above.
Emerson Electric trades at 15.69x forward earnings which indicates that the company is about fairly valued. In addition, other industrial conglomerates trade at around the same multiple with only Siemens fetching a significantly lower multiple than the average company in the peer group. The average P/E ratio of the peer group stands at 14.98 and Emerson Electric trades at a slight premium of 5% to that average. The following two graphs depict Emerson Electric's P/E and P/S ratios as well as the ratios of its peers.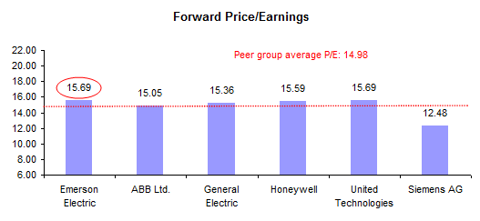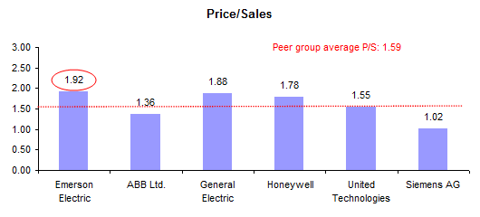 The industrial conglomerate sector pays dividends between 2-3% which might be attractive for investors who desire cyclical exposure to industrial companies. However, the marketplace currently offers investors who are looking for sizable cash flow yield more attractive investment options; the REIT sector for instance has become very attractive as the anticipated tapering by the Federal Reserve has led to a sell-off in REIT shares.
Emerson Electric currently exhibits a 2.60% dividend yield which is about average and comparable to other large-cap industrial companies.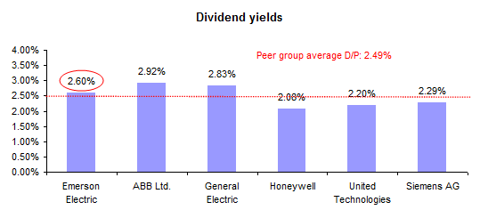 The summary table below compares all companies in the peer group in terms of P/E, P/S and D/P and depicts Emerson Electric's premiums with regard to peer group average ratios.

Conclusion
Emerson Electric currently trades at $66.20 and appears to be fairly valued on both earnings and estimated free cash flows to equity. The free cash flow valuation model yielded a fair value of $66.86 compared to a current share price of $66.20. The cash flow projections resulted in a P/FCFE ratio of 14.33 which is about in line with other ratios for cyclical industrial conglomerates. Emerson Electric's P/E ratio stands 15.69 which also indicates fair value territory and the company trades at about the same multiples as its competitors. Investors who want to gain exposure to a cyclical company that should post decent cash flow growth in a growing economy might be interested in having a look at General Electric. GE is well-positioned globally and, contrary to Emerson Electric, is a company where I see meaningful upside potential going forward.
Disclosure: I am long GE. I wrote this article myself, and it expresses my own opinions. I am not receiving compensation for it (other than from Seeking Alpha). I have no business relationship with any company whose stock is mentioned in this article.