Well, it's that time again. Intel's (NASDAQ:INTC) investor meeting - 2013's last meaningful catalyst - has come and gone. While it had initially proved to be a negative catalyst, shares of the company's stock are about where they were pre-investor meeting (actually, they're slightly down). In short, neither the long-term bulls nor the long-term bears won much of anything (but there's plenty of money to be made on the options side of things).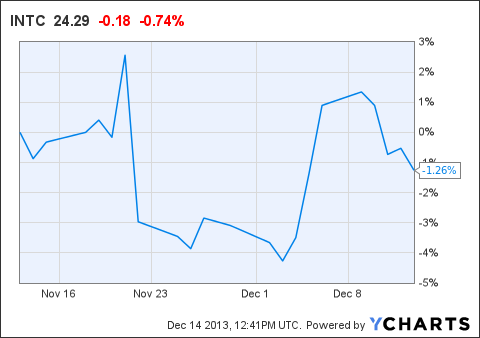 Anyway, since I spend far too much time talking about the long-term investment thesis and/or technology, I figured I'd bring up the next catalysts for people looking for nearer-term trade ideas. I see two catalysts.
January 7-10, 2014: CES (Intel CEO will be giving the opening keynote)
January 17, 2014: Q4 earnings report
Could CES Be A Big Deal?
At the Consumer Electronics Show, Intel's Brian Krzanich will be giving the opening keynote. This signals, at least to me, that Intel might have some interesting announcements at the show. Last year, Qualcomm (NASDAQ:QCOM) gave a keynote (albeit an exceptionally weird one) and along with that announced its Snapdragon 600 and 800 series processors (that went on to utterly dominate the mobile device market to an even larger degree than its already wildly successful predecessors had).
I would be surprised if Krzanich plans to go up on stage just to show some Haswell 2-in-1's and Ultrabooks. The PC market is in secular decline and, frankly, they're no longer the "hot" and "must-have" devices. People care about ultramobile and that means smartphones and tablets. Of course, while it would make sense for Intel to drum up some hype by showing off, say, some 14 nanometer tablet and/or smartphone prototypes, it's not clear if Intel will have anything eye-popping to show.
In fact, what I expect to happen is that Qualcomm could very well steal Intel's thunder by announcing its 2014 "refresh" of products. It has already fired the first shot with Snapdragon 805 (28nm refresh of Snapdragon 800 w/o integrated modem), but knowing Qualcomm, these guys probably have more in store.
So, how do I view it?
Stock will move up if:
Intel announces its "Merrifield" smartphone platform along with associated design wins with tier-1 handset vendors (this gets buy-side to begin modeling in LT revenue impact from phones)
Intel demonstrates 14 nanometer tablet/phone silicon ahead of schedule (quelling doubts that Intel will have 14nm mobile chips out in 2014) and with dramatically improved performance (builds confidence that company will gain profitable traction in tablets beginning in 2015 and that process lead is intact)
Intel announces meaningful (i.e. tier-1) Android tablet wins with its "Bay Trail" platform (so far, only Windows tablets available)
What About Earnings?
Following CES, Intel will host its Q4 2013 earnings report. The company guided to $13.7B +/- $500M on the top line and 61% GMs. I don't think Intel will beat meaningfully on the top line (although if they do, then this will suggest Intel sandbagged guidance for 2014), but I do think that there's room for upside on the GM. If there is, Intel will bet EPS estimates which will raise the bar ever-so-slightly for 2014.
More importantly, the Q1 2014 guide will be very important to watch. With the bar set to "flat" for 2014, any meaningful "beat" against expectations there (current revenue expectations sit at $12.79B, up 1.60% y-o-y) will probably drive a revision upwards in estimates for the whole year. But, again, the really important line item to watch will be gross margin. If Intel can consistently beat on the margin line, FY2014 could see a meaningful EPS increase even in the face of flat revenues (this would drive up estimates and push the shares up).
What's The Bottom Line?
Frankly, while these upcoming catalysts could provide a "bump" in the share price, I don't think these will yield the "payday" that long-term investors have been looking for. On a more short term basis, if Intel proves that it is indeed sandbagging by providing a knockout (relative to expectations Q4) or - more importantly - a knockout Q1 guide, then I expect the share price to find a nice home in the mid $25's/low $26 range.
If not, then it'll really be business as usual with Intel stuck in the $23-$25 range (unless the company really screws the pooch and guides down), subject of course to the option players' collective whims!
Disclosure: I am long INTC. I wrote this article myself, and it expresses my own opinions. I am not receiving compensation for it (other than from Seeking Alpha). I have no business relationship with any company whose stock is mentioned in this article.