Recently I wrote an Instablog regarding the relatively new iBillionaire Index. The iBillionaire Index was designed to track the investments by those who have the most; infamous billionaire investors. The index tracks the investments of billionaires like Warren Buffett, Carl Icahn, Daniel Loeb, David Tepper, and David Einhorn. The index website shows a chart outlining the hypothetical growth of $10,000. In this chart the iBillionaire Index outpaces the S&P 500 considerably. The current top holding of the index is Apple (NASDAQ:AAPL). Another popular holding in the index by billionaires is Dollar General (NYSE:DG).
Overview
Dollar General Corporation is a discount retailer offering a variety of different consumer products. Examples of popular products include paper related products, cleaning products, packaged food, over the counter medicines and personal care products. Seasonal products of decorations and toys for every holiday are also very popular at Dollar General. Dollar General currently operates over 10,600 stores throughout the United States and is headquartered in Goodlettsville, Tennessee.
Catalysts
1) Economy - Fellow Seeking Alpha writer Investing Insight recently wrote an article highlighting Dollar General's future growth prospects in relation to its future earnings potential. Investing Insight highlights how the median income in the United States has been declining and economic forecasts may not be as positive as many media outlets may lead you to believe. As consumers look for areas to save money, Dollar General offers consumer staples that every household needs at prices that meet a savvy spender's budget. Recently Dollar General has performed well. The company has beat earnings estimates for quarter two with earnings of $.77 per share compared to estimates of $.74. Revenues reported were $4.39 billion versus estimate consensus of $4.35.
2) Growth Strategies - Dollar General plans to continue to increase its same store sales. Strategies include increasing its ongoing new store expansions, relocating underperforming stores and remodeling others. Dollar General believes that opportunities can increase by store space utilization improvements, price optimizations, and by the addition of new product lines. The company plans to maintain its everyday low pricing strategy but increase margins by looking for areas to decrease costs of goods sold. Expansion of the private Dollar General store brands offer higher profit margins and aid in this strategy.
3) Billionaires - According to the iBillionaire index, Dollar General is currently a popular investment among the wealthiest of investors. Current billionaire shareholders include Chase Coleman of Tiger Global, Steve Mandel of Lone Pine Capital, Richard Clinton of Chilton Investment Co, and Jorge Lemann of 3G Capital Partners Ltd. All of the aforementioned billionaires hold a significant stake in the company. Mimicking the investments of billionaires is usually not a wise idea, especially when considering entry points. However, many billionaires invest in companies for the long term growth potential, so even an entry at a slightly higher price point could prove profitable over time.
Risks
1) Competition - The retail sector is highly competitive, so Dollar General must remain vigilant in its pricing, store locations, merchandise quality, customer service, and promotion strategies. Competitors include discount retailers such as Wal-Mart (NYSE:WMT), warehouse clubs like Costco (NASDAQ:COST), convenient stores like CVS (NYSE:CVS), and countless other specialty stores. Increases in competition could potentially affect margins and overall financial results for Dollar General.
2.) Store Plans - Dollar General has major plans for its store real estate. The company plans to continue opening new stores, remodeling current stores, and relocating other stores that are not performing as well. If Dollar General fails in its ability to execute this plan and find great new store locations, it could see an impact on its bottom line.
3.) Inventory Issues - Efficient inventory management is a key component to Dollar General's success. Inventory levels must remain high enough to meet customer demand but not exceed a level that increases costs of holding a large inventory. Inventory management must remain level and accurate in response to consumer demand. Dollar General is also highly exposed to loss and theft of inventory. Often times this is difficult to control and nearly impossible to reduce or eliminate. If inventory loss and theft increases for the company this could affect financial performance.
Valuation
From a valuation standpoint, you have to be diligent with Dollar General. Looking at just the year to date performance, Dollar General is up around 36%, compared to around 26% for the S&P. This doesn't mean that the stock is done outperforming, however. Looking at the growth of $10,000 in Dollar General stock via Morningstar, Dollar General has outpaced the S&P every year the data was available. It is important to factor in that during this time period the economy has been in a continuous recovery and has shown weaker than average economic conditions.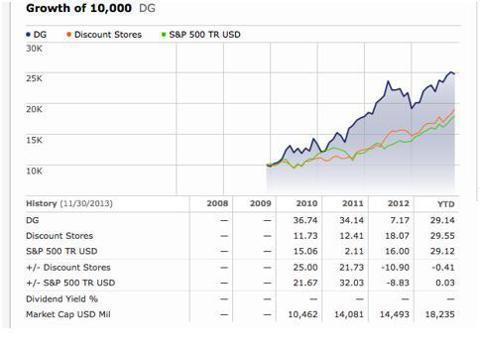 Chart courtesy of Morningstar
Dollar General's current price to earnings ratio is 19.3, which is higher than the industry average of 16.9. Generally, it's more important to focus on the price to earnings ratio in comparison to Dollar General's growth rate. When looking at the PEG ratio (price to earnings to growth), Dollar General scores a 1.0. By definition Dollar General is currently trading at a price to earnings ratio equal to its growth rate. Typically a PEG ratio of 2 means the stock is currently overvalued; less than 1 means the stock is currently undervalued. A PEG ratio equal to 1 means that the stock is currently fairly valued.
Dollar General has strategies and options unseen by the public. Dollar General is continuing to innovate and strategize new ways to continually improve the company. I think it is quite possible that Dollar General has a new look, expansion strategy, product line, or other variable that could potentially be announced in 2014 or 2015. Dollar General's bread and butter will likely remain in the products mentioned previously but the possibilities for this expanding retailer are endless. Often times it is the unexpected variable that drives outperformance of a stock rather than extensive research of known market factors.
Conclusion
When it comes down to whether or not to invest in Dollar General there is no clear answer. Analysts' opinions tend to overwhelmingly agree with the billionaires. According to Reuters, current analyst opinions show 8 buys, 9 outperforms, 8 holds, and zero underperform or sell. The gamble is not whether Dollar General will continue to perform well, but whether or not it will continue to outpace the S&P. The PEG ratio of only 1.0 is enticing, considering growth opportunities going forward will likely continue to improve. Dollar General still has more room to run in 2014, but economic conditions and the performance of the market as a whole will also dictate how the stock performs. If the company executes on its plans and the market performs well, it should have a good year. Only time will tell so be sure to understand the risks associated with individual stocks.
Disclosure: I am long AAPL. I wrote this article myself, and it expresses my own opinions. I am not receiving compensation for it (other than from Seeking Alpha). I have no business relationship with any company whose stock is mentioned in this article.