A company on the verge of disrupting the aesthetic fat/body sculpting industry with non-invasive and out patient technologies FDA Approved. A huge addressable market with a strong moat of patent protection and growing installed base, LIPO suction like results with a "wow" factor, strong management, great balance sheet, improving margins, and possible new product line 2014.
ZELTIQ (NASDAQ:ZLTQ) was founded in 2005, and is based in Pleasanton, California. They are a science-based medical device company dedicated to the development and commercialization of non-invasive procedures to help patients achieve cosmetic improvements by reducing or modifying unwanted fat. The CoolSculpting™ by ZELTIQ procedure utilizes a novel technology called Cryolipolysis™ (the use of controlled cooling to remove fat). ZELTIQ has licensed all commercial development rights from Massachusetts General Hospital and is continuing evaluation and development with leading aesthetic research centers. ZELTIQ IPO'd October 18, 2011 under the ticker symbol ZLTQ.
The CoolSculpting procedure for non-invasive fat layer reduction is available worldwide. To date, more than 1,700 systems in over 55 countries have performed more than 700,000 treatments worldwide. CoolSculpting results in an undeniable reduction of fat in the treated areas, with the most dramatic results occurring over a period of one to three months.
The company has a strong management team that appears to us to be executing a strong comprehensive strategy which is now rewarding shareholders. Take a look at the recent results below:
Zeltiq 3rd quarter report key metrics: Earnings Release Link

Total revenue of $29.5 million, up 64% year-over year and 12% sequentially.
System revenue of $15.9 million, up 87% year-over-year and 22% sequentially.
Consumable revenue of $13.6 million, up 44% year-over-year and 2% sequentially.
181 systems shipped, bringing total system installed base to 1,912.
The stock recently rallied quite a bit when the company did a secondary offering so selling shareholders could take their money and get liquid. These were venture cap type funds that were early investors in the company and it was time for them to move on. Interesting to us is that Goldman Sachs (NYSE:GS) and JP Morgan (NYSE:JPM) led the offering, two very well heeled firms on Wall Street. Often, this clears the decks and the stock is free to move higher because overhead sellers are out all in one fell swoop. When we noticed Goldman and JPM involved, we dug further into 13-f filings to see who else owns the stock.
Speaking of big name shareholders of this little known company, we discovered that Fidelity (NYSE:FNF) has a huge 9% stake in ZLTQ which we found pretty impressive. But it gets better; follow the smart and early money to wit, look at the huge jump in Institutional Holders from end of quarter 2 to end of quarter 3 2013:
| | |
| --- | --- |
| Aggregate shares on 09/30/2013: | 13,541,927 |
| Aggregate shares on 06/30/2013: | 8,226,905 |
That's a 65% jump in large institutional 13f Filing holders of ZLTQ from 2nd quarter to 3rd quarter!
In addition to Fidelity with 3,000,000 shares (9% of stock outstanding), T. Rowe Price (NASDAQ:TROW) owns 1.5 million shares and bought them all in the 3rd quarter; again, one of the better money managers hands down. BlackRock (NYSE:BLK) owns 800,000 shares and Granahan Investment Management went from 300,000 shares to 1,000,000 in the 3rd quarter alone. Mr. Granahan earned his stripes at Wellington Management in Boston, one of the best stock picking and private money managers in the world; co-founded by John Bogle who left to form Vanguard Funds. Always good to follow the smart and patient money. We also had JP Morgan and Goldman placing the 4.5 million shares recently at $13.
Why are all these impressive money management/stock picking firm's with great track records tripping on themselves to get stakes in ZLTQ? Obviously the worldwide addressable market, patent protection, and swiftly improving metrics is our guess.
Fat burning, or in this case freezing is a potentially massive worldwide market; what we call a big END USER metric, or "addressable market" as they say on Wall Street. A non-invasive patented method to reduce fat obviously is going to attract a potentially huge customer base, assuming it works and is safe, and the answer is yes and yes. Patients don't need any anesthesia or even numbing cream for the treatment and are able to go back to work and other daily activities - without restriction - right away. Results are seen in a few months as the body naturally expels the dead fat cells.
Procedures that use laser, sonic waves and even surgery to remove fat can actually destroy other tissue in the process by burning, shattering or extracting non-fat cells. This requires downtime for your body to heal. Fortunately, CoolSculpting doesn't burn, shatter or extract any cells. Developed by Harvard scientists, the unique, FDA-cleared, patented procedure uses a targeted cooling process that kills the fat cells underneath the skin, literally freezing them to the point of elimination. Only fat cells are frozen. The healthy skin cells remain healthy. No knives. No suction hoses. No needles. No scars. Once crystallized, the fat cells die and are naturally eliminated from the body.
Zeltiq has been working on this problem and their solution since 2005 and even after the IPO 2 years ago they have had some fits and starts. That all finally came to a close this year, as their systems sold and consumables (The Razor-Razor Blade business) is finally gaining serious traction. Some have made the comparison to the Da Vinci robotic surgery system that Intuitive Surgical (NASDAQ:ISRG) worked on for years. This was laughed at, but once the "tipping point" came, shareholders laughed all the way to the bank with over a 50x return on their money. Some of the best products and growth stocks are spurned from massive skepticism. Recall the epic TASR run a few years back, Apple (NASDAQ:AAPL) with the iPad everyone laughed at, Amazon (NASDAQ:AMZN) shipping books to your door, and the list goes on of disruptors! We think ZLTQ fits the disruptor profile for sure.
So is this the next ISRG type stock? Well, we don't know but we love the type of addressable market, growing audience of users and customers, repeat consumables business model. Risks include potential competition in the future, slower than planned adoption rates by Aesthetic centers, and less repeat business than projected or use of consumables. Other risks really surround the big move up in share price recently which could correct further as we note below.
Management Team Strengthening:
Keith Grossman recently joined the Board of Directors, after having steered Conceptus as the CEO to being acquired by Bayer Healthcare (OTCPK:BAYZF) a few months ago for 1.1 Billion. He has 30 years of experience in the medical device industry to boot. Between that type of management and shareholder base, along with the big market potential, we can see why the stock is starting to see volume and some notice in the market; and yet, it's still early.
Recently on the Oct 30th conference call, management upped their revenue guidance year over year to 40% from 20% prior. They are now expanding internationally and their footprint in the overseas market is picking up. We will caution that the 2012 revenue numbers were pretty easy comparisons though, as they went through a transition phase. The company is comfortable with 15-20% growth in 2014, which may be conservative and does not take into account repeat procedures or increases in the high margin consumables business. ZLTQ has 55 million in cash with 0 debt. They have only issued 2 million shares in the past 2 years so they have not been dilutive to shareholders. In quarter 3, the company had a 73% year over year growth rate in North America alone. This compares to 27% growth year over year in the prior 2nd quarter. Cash burn is dropping, margins are rising and fixed expenses are dropping.
Strong Installation Growth:
The system installation base is now up to 1912 systems in the Aesthetic practice sector. The Cool Sculpting is also driving a lot more patients into their partners practices which pleases the Aesthetic practice owner. The company is seeing a much faster conversion rate for new customers, as well as a lot more men than in the past. A recent study the company had conducted showed that Cool Sculpting is very under-penetrated relative to the addressable market the company has. Surveys showed as much as 4-8 million end user patients addressable in the US, not counting repeat treatments.
The company is also seeing an increase in salesforce momentum well above expectations. In quarter 3 alone 181 systems worldwide were placed, the 2nd highest in company history and also the most ever in the North American market. Given that the business becomes very profitable with the more systems installed and consumables used, it is a virtual up cycle of growth in terms of potential. The company has also put out a new partnership practice training methodology called Cool Sculpt which is driving even further adoption. The company also believes this strategy as deployed at Aesthetic practices is creating as a result a viral marketing campaign as patients tell others about their experience.
If you had a chance to read the book, "The Tipping Point" by Malcolm Gladwell, you will know that is what the potential is of this Cool Sculpting methodology worldwide as time goes on. The company is working on a strong digital advertising strategy as part of this sea change. The company is also working on expanding the label indications as approved by the FDA by the end of 2014 to include thighs and other areas of the body, adding even more potential patients.
Volume is picking up as share turnover increases adding to liquidity in the stock.
We would buy at 18.63 or lower if possible. If the market corrects this could test the 16.50 areas, but likely briefly if at all. More likely, we see this stock having another leg higher soon as this type of Ascending Base pattern can be quite powerful. There is a better chance of this breaking out of this pattern below than breaking down. If it does pullback we would add to our position.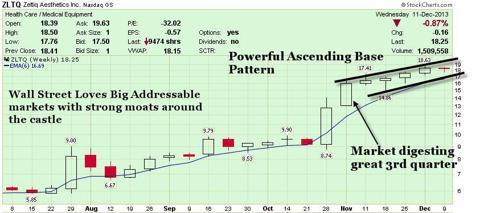 Disclosure: I am long ZLTQ. I wrote this article myself, and it expresses my own opinions. I am not receiving compensation for it. I have no business relationship with any company whose stock is mentioned in this article.