Shares of Fifth Street Finance (NYSE:FSC) have been punished ever since the company reduced the dividend. Before that news came out, the stock was trading for over $10, and today it trades for about $9. The dividend cut was not really that substantial and the stock actually yields more today (after the recent price drop) than it did for much of the year before the reduction. The timing of the dividend cut was unfortunate in the sense that many investors sell stocks that have dropped in order to harvest tax-losses that offset gains in other stocks. With Fifth Street shares now trading at or near the 52-week lows, it stands to reason that many investors are selling this stock right now merely for tax purposes. This is creating a strong buying opportunity, because the stock offers a high yield, a dividend that is paid monthly, and a solid chance of a rebound in just a couple of weeks when tax-loss selling ends. Buying beaten-down stocks at the end of the year is a great strategy to consider as many stocks suddenly rise in what is known as a "January Effect Rally". Right now, I am heavily focused on buying oversold, cheap stocks which are being unfairly punished by tax-loss selling. For more on this, you can read about this strategy and see two cheap tech stocks that I believe are poised for significant gains in the next couple of weeks, once tax-loss selling ends.
Another factor that has seemingly pressured this stock and many other dividend-payers is the fear of tapering by the Federal Reserve. Some analysts and investors believe the Fed will start to reduce the bond buying programs which will cause interest rates to go up. The reality is that interest rates have already made a very substantial move with the 10-year bond now yielding about a full point more than it did just months ago. That is a huge move in a short time and this spike has already started to slow demand for housing. The last thing the Federal Reserve wants to do is roil the markets and the economy with an aggressive taper plan and snuff out a fragile "recovery". Furthermore, with an already large move in rates, the "taper" could already be priced into the markets. We have been hearing about this for months and many market participants have positioned their portfolios for this eventuality. The taper fears are unwarranted when it comes to Fifth Street Finance because at the end of the day, we are still going to be living in a low interest rate world and many investors can't live off a yield provided by a ten-year bond whether it yields 2% or 3%. If the Fed does taper, it might even spark a relief rally in dividend stocks like this, because as is often the case, the fear of something is often far worse than the reality. In addition, Fifth Street Finance can benefit from a recent rise in rates because many of the loans it provides are "floating rate" which means its borrowers will pay more if rates rise. This will preserve profit margins for the company and it reduces interest rate risks for shareholders.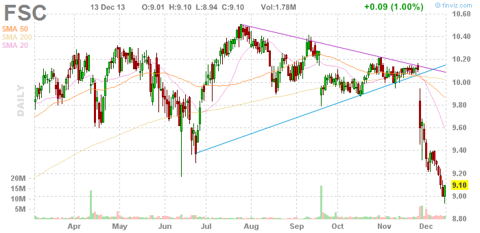 When looking at the chart above, you can see how oversold this stock has become. In fact the relative strength index is now just about 18 which indicates extremely oversold conditions. As I pointed out in this article, Fifth Street Finance has plenty of positives going for it. The financial results in the future could improve as the company makes progress on new loan originations. The company recently announced a $100 million stock buyback program, and with the stock trading at depressed levels it would not be surprising if the company (or even insiders) started buying the stock. The shares are trading well below book value of about $9.75, and it offers a monthly dividend payment. In that article I also noted that the yield now appears sustainable and that viewpoint is shared by JPMorgan (NYSE:JPM) whose analyst called the dividend "secure" and stated:
"Fifth Street Finance had a disappointing 4QFY2013, with a dividend cut lower than expected NII/sh, and NAV dilution. The market seems to have recalibrated expectations lower, as shares traded down approximately 7% since reporting earnings. We are lowering our PT to $10, but with a secure 10% dividend yield and shares trading at a slight discount to NAV, we maintain our Overweight rating."
At the time the analyst made those remarks, the shares were trading at higher levels and yielded about 10%, but the tax-loss and taper induced sell-off has taken the yield to about 11%. As such, I believe that investors are getting a chance to buy an extremely oversold, but high quality company with diversified investments, that is due for a big rebound once we get past the taper fears and the end of tax loss selling. The tax loss selling will end in the next couple of weeks and investors could have a solid rebound coming in January as well as the next monthly dividend payment of 8.33 cents per share for shareholders on record as of January 15, 2014. Chances are strong that if this stock can sell for about $9 per share in the midst of taper fears (which might not even be an issue), and heavy tax-loss selling, it can trade for quite a lot more once this pressure fades in just a couple of weeks. I believe the stock could retrace about half way to its 50 and 200-day moving averages of about $10 per share, which would put it around $9.50 in January.
Here are some key points for
Current share price: $8.97
The 52 week range is $8.94 to $11.13
Earnings estimates for 2014 (fiscal year): $1.03 per share
Earnings estimates for 2015 (fiscal year): $1.07 per share
Monthly dividend: 8.33 cents per share, which yields about 11%
Data is sourced from Yahoo Finance.
Disclaimer: No guarantees or representations are made. Hawkinvest is not a registered investment advisor and does not provide specific investment advice. The information is for informational purposes only. You should always consult a financial advisor.
Disclosure: I am long FSC. I wrote this article myself, and it expresses my own opinions. I am not receiving compensation for it (other than from Seeking Alpha). I have no business relationship with any company whose stock is mentioned in this article.