Concur Technologies Inc. (NASDAQ:CNQR), the travel and expense management company with solutions leveraged to cloud and mobile, is nearing my accumulation zone of $87.50. Considering the relative valuation, profitability, and risk, Concur is the best of the cloud computing companies that I analyze.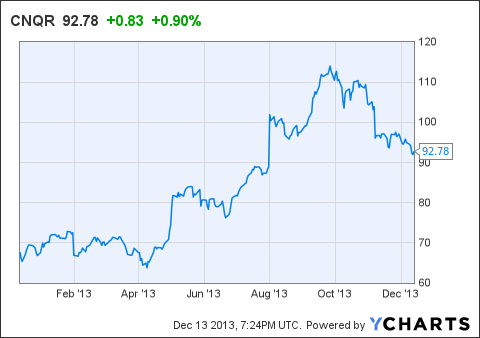 When I model the company as a mature company, Concur is generating an economic profit. I use profit margins similar to Oracle Corporation (NASDAQ:ORCL) and Microsoft Corporation (NASDAQ:MSFT). I model EPS growing 20% in fiscal 2014 to $3.16.
From a business prospective, travel and expense management solutions are demanded by businesses of all sizes. Thus, I view the $87.50 level as an accumulation level on Concur's business prospects.
Valuations
There are several rationales for the use of P/B. Because book value is a cumulative balance sheet amount, book value is generally positive even when EPS is zero or negative. Book value can generally be used when EPS is zero or negative, whereas P/E based on a zero or negative EPS is not meaningful. Book value is appropriate for valuing company composed chiefly of liquid assets. Lastly, differences in P/Bs may be related to differences in long-run average returns, according to empirical research.
There are also drawbacks of P/B in practice. Assets in addition to those recognized in financial statements may be critical operating factors, such as human capital. Accounting effects on book value may compromise how useful book value is as a measure of shareholders' investment in the company. Share repurchases or issuances may distort historical comparisons.

Concur and salesforce.com (NYSE:CRM) are trading below the mean and median price/book ratios. Additionally, both companies are earning better than average and median returns. But only salesforce.com's risk is below average and median; Concur's risk is roughly equal to the median risk. Consequently, the valuations suggest Concur and salesforce.com are undervalued relative to the selected peer companies.
Investors in salesforce.com still face considerable writedown risk; consequently, the rest of the analysis will focus on Concur.
Fundamental Analysis
Concur is currently a growth company that is reinvesting revenues into operations. But what if some of those revenues weren't reinvested?
The gross income is about 70% of revenues, which is typical for an application developer. Mature companies Microsoft and Oracle have gross margins north of 70%. If Concur implemented a similar operating expense structure, it would have an operating margin of 30%. The net profit margin could be 27% of revenues.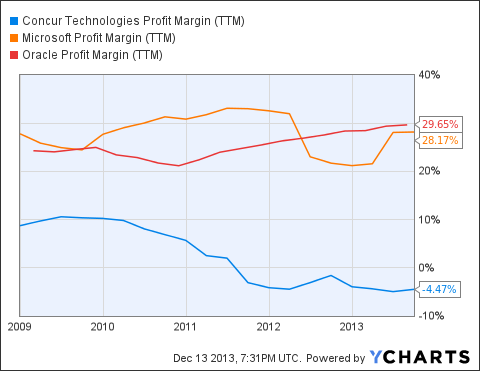 CNQR Profit Margin (TTM) data by YCharts
For the fiscal year ending 2013, the net income would be $147.4 million with EPS of $2.63. The equity charge for 2013 is $1.14 per share. Thus, Concur would have created $1.49 per share of wealth for investors. This is the economic profit.
Also, Concur would be trading at 35 times earnings, which is in line with the Russell 2000's P/E. Looking forward, assume Concur grows 20% this year. Fiscal 2014 EPS would be $3.16; the equity charge would be $1.24 per share. Concur would generate $2.02 of economic profit. Plus, the firm would be trading at 29.28 times forward earnings.
Not surprisingly, Concur has become less efficient the last few years as receivables turnover, fixed asset turnover, and asset turnover have declined. On a positive note, the company is free cash flow positive. But FCF did decline in fiscal 2013 on lower operating cash flow; this should be monitored.
I'm bullish on Concur and I will accumulate shares at $87.50 and below or roughly 20% below the peak share price.
Disclosure: I have no positions in any stocks mentioned, and no plans to initiate any positions within the next 72 hours. I wrote this article myself, and it expresses my own opinions. I am not receiving compensation for it (other than from Seeking Alpha). I have no business relationship with any company whose stock is mentioned in this article.