Out of all the six oil supermajors in the world, Total SA (NYSE:TOT) is probably the one I think about the least. A lot of that has been due to the taxing policies of the French government. With a tax rate of 55% on the company itself and an additional tax on the dividend paid out to American shareholders, I have always shied away from the stock (and have continued to do so) based on the simple premise that there are easier ways to make money that do not involve the political risk.
But when I plugged Total SA's dividend history into one of Chuck Carnevale's F.A.S.T. Graphs, I was quite impressed by what would happen over the past twenty years if you had reinvested the Total SA dividend.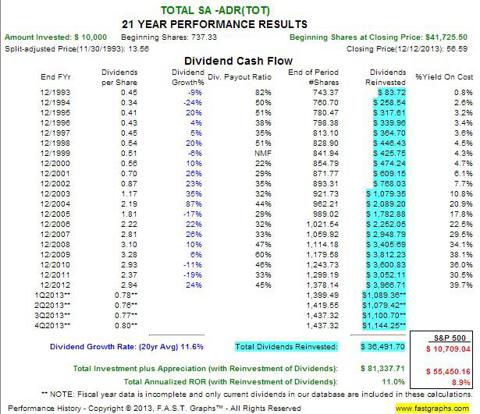 Click to enlarge
As the picture shows, a $10,000 investment would be collecting a dividend north of $4,000 annually today. A 40% yield-on-cost within twenty years is something that is worthy of further investigation if you find yourself excited by the prospect of passively creating large chunks of income.
I have always been impressed by the extensive scope of Total SA's business operation. They've produced 1.2 million barrels of oils and oil equivalents per day. In terms of proven reserves, Total SA has just under 6 billion barrels of oils and just north of 30 trillion cubic feet of natural gas. When you have operations this diverse, you can handle a lot of bad news and still grind forward over the years. For instance, Total SA's refiners have gone from generating healthy profits in 2010 and 2011 to generating not much by way of profits today. Yet, this didn't even take down the company's profits 10% on a company-wide level.
What has caught my attention about Total SA is the fact that the company is planning to increase its volume production by 30% over the next five years. As you read through the company's annual report, you cannot help but get struck by the unusually high number of projects that the company is undertaking. Canada. Australia. Norway. Brazil. Nigeria. Saudi Arabia. Even the Congo. It's like you could hear the disembodied voice of Total SA management shouting, "We're gonna grow, gawdammit!"
When you look at most income-producing stocks, you see that most are trading at their highest valuations in the past fifteen or so years, minus the two-year period of 2008 and 2009. You see tobacco stocks with lower yields than usual, energy MLPs and REITs with lower yields than usual, and utilities with lower yields than usual, yet Total SA's valuation hasn't really gotten caught up in the soft overvaluation courtesy of low interest alternatives.
From 1997 to 2002, Total SA's average dividend yield never crossed 2.4%. With the exception of 2004, the company's average dividend yield didn't cross the 4% mark until the financial crisis. Normally, TA has been like France's version of Exxon (NYSE:XOM) and Chevron (NYSE:CVX) - you buy something with very extensive operations usually yielding in the 2% or 3% range. That's what makes it so interesting to see the current dividend fluctuate in the 5-6% range lately. There aren't a whole lot of places where you can find valuations like that without overpaying in consideration of historical valuations.
Even if oil and natural gas prices do not advance in the coming years, this is the first real push that Total SA has made towards volume growth since the 1990s. A company paying a 5-6% yield that is making a strong push towards increasing earnings per share from the current $6.00-$6.50 range to somewhere between $8 and $9 per share in the next five years.
As Jeremy Siegel's research points out, a growing 5% yield that gets reinvested can become something substantial over the passage of time. You can see the proof in the F.A.S.T. Graph chart above. The price doesn't seem to move much-advancing a couple bucks each year on average, but when you combine that with a dividend that grows in total over most five year periods, you suddenly find yourself being the beneficiary of 11.0% total returns over a two-decade period without the company hardly drawing any attention.
To own Total SA successfully, you need to be someone who is on board with the cyclical nature of commodities investing. More bluntly, you have to accept dividend cuts and steep declines in profitability that will occur a couple times over the next twenty five years. The point is that the income generated during the normal and good times will richly compensate you for tolerating the swings at the bottom. If you have that kind of patience, or a super diversified portfolio, then Total SA will be like having your own little oil well, giving you a great yield-on-cost fifteen to twenty years from now. Over the past twenty years, Total SA has paid out over $300 in total dividends for every $100 invested into the company. Considering the company's current yield north of 5% in light of the push to grow volume by 30% over the next few years, it is entirely possible that the next twenty-year period will generate even more total dividend income than that.
Disclosure: I am long XOM. I wrote this article myself, and it expresses my own opinions. I am not receiving compensation for it (other than from Seeking Alpha). I have no business relationship with any company whose stock is mentioned in this article.