Author's Note: This article discusses a microcap stock. Please be advised of the risks associated with microcap stocks. The text of the interview is an abridged transcription of a conversation between Lazarus Investment Partners LLLP and AeroGrow International, Inc. AeroGrow had no input into the selection of the title of this article nor into the commentary that precedes the interview. The title of the article represents a stylized summary of points made by AeroGrow in the interview, not an actual quotation. Lazarus is a shareholder of AeroGrow and received no compensation for this article.
Introduction. AeroGrow (OTCQB:AERO) is a true Lazarus stock. Once a market darling, for the fiscal years ending March 2008 and 2009 the company reported close to $40 million in annual sales. Investors loved the razor/razorblade business model and consumers loved the innovative products that allowed them to grow herbs, flowers, and vegetables from their kitchen counters.
AeroGrow became a victim of its own success. Supporting its retail distribution channel required more capital than the company was able to raise and management was forced to retrench from in-store selling to a direct-to-consumer model. The direct model offered higher margins, but a much more limited audience. Sales fell to the $7 - 8 million range where they've been for the past couple of fiscal years.
Turnaround. A core group of believers stayed inspired by consumers' enthusiasm for the company's AeroGarden products and fought to pick things back up. The first sentence of CEO Mike Wolfe's March 2013 shareholder letter is one word: "Transformational." The company cleaned up its capital structure, strengthened its distribution model, launched new products for the first time in five years, and started advertising again. Mike wrote, "I believe that these changes make AeroGrow a company poised for growth, both on the top and the bottom lines."
Game-changing partnership. AeroGrow's innovative products caught the attention of gardening giant Scotts Miracle-Gro (NYSE: SMG). After hefty due diligence, in April of this year Scotts invested $4.5 million for a 31% stake in the company, at almost a 50% premium to the share price at the time. Tiny AeroGrow now has the full support of Scotts behind it ($2.8 billion in trailing sales). This support starts with rebranding the AeroGardens to include the Miracle-Gro name, thus offering consumers immediate confidence in the product. Behind the scenes, Scotts is doing everything from driving down costs using their supply chain knowledge and purchasing power to opening up their customer databases to AeroGrow.
Return to retail. Now that they have Scotts behind them, AeroGrow has re-entered the retail channel. Things are just getting rolling for AeroGrow, with the relaunched product hitting the shelves only a few weeks ago. To date key partners include Costco, Home Depot, the Home Shopping Network, FrontGate, Target, and Amazon. Mike provides some of the specifics around these relationships in the below interview.
Macro. The AeroGarden taps into a number of trends. There's a movement towards healthier living and local, organic produce which the product meets. There are 80 million gardeners in the US alone, and indoor gardening is gaining in popularity across all age groups and demographics. The company is seeing particular interest from urban markets as they contain fewer outdoor gardening opportunities. The trend towards the legalization of marijuana, as seen in Uruguay and some US states, is a slow pitch down the middle for AeroGrow--more on this in a minute.
For Scotts, AeroGrow offers unique appeal because of its inverse seasonality. Scotts sales are highest in the warm gardening months when its products are used most, but dip in winter. Winter is peak season for AeroGrow (November-December 47% of sales), as gardening moves indoors and AeroGardens are purchased for holiday gifts. It's not hard to imagine Scotts being interested in eventually owning the entire company. AeroGrow's CEO sold a prior company, Concepts Direct, to Taylor Corp, after building it up.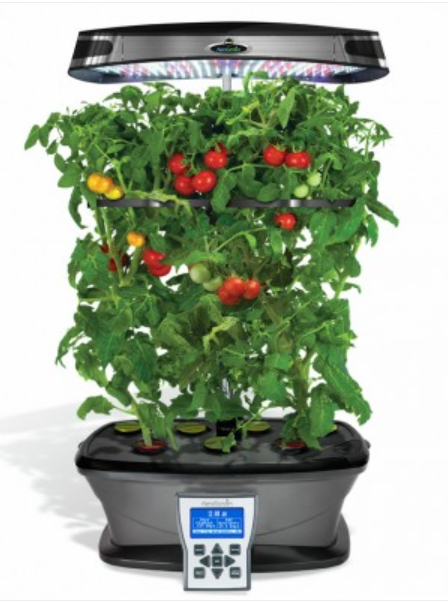 The Ultra LED model is the Rolls Royce of AeroGardens
Business model. AeroGrow has razor/razorblade business model. The one-time sale is the purchase of the AeroGarden, which has a list price ranging from $80 to $350. We have seen the company at times offer promotions to make the gardens more accessible; for example, the $80 AeroGarden 3 was recently on sale for $66 (although you'll have to fork over the full $80 if you want the ladybug version). The average buyer makes a $166 initial purchase (at least in recent company history, which had a direct-to-consumer focus), which management argues is a value when compared to the cost of fresh herbs in the supermarket. The company estimates that an AeroGarden can grow $150 worth of herbs in two months. The recurring revenue portion is from sales of seed kits, grow bulbs, and accessories. The data shows an average 3-year cumulative spend of $434 for AeroGarden customers, so each new customer acquisition is very valuable.
New products. The product pipeline promises two notable releases ahead. One is what you might call the iGarden, which is a web-enabled garden. This product will offer features such as time lapse photography and remote monitoring. (We kid that it's a nannycam for cherry tomatoes.) The other is an entry level garden, targeting a $50 price point. This version should significantly expand product accessibility by opening up new markets and retail partnerships. Also noteworthy is the Ultra LED product, which just came out of the pipeline onto the shelves. AeroGrow's CEO predicted, "It will be the best new product launch the company's ever had."
Margins. AeroGrow has high margins, both from the gardens as well as from its accessories. Company gross margin for the fiscal year ending March 2013 was 45%. Seed kits and accessories have margins around 55%. A 3-pod salad greens seed kit, for example, is sold for $13 online, when it's really just some seeds in plastic. Margins for the gardens are in the low forties. Conceptually speaking, the shift ahead to include retail distribution will challenge margins versus the recent historical sales channel that was exclusively direct. That margin compression, however, could be balanced, perhaps even overwhelmed, by the margin expansion from supply chain savings introduced by Scotts as well as the benefits of scale that come with growth. We find it difficult to estimate more precisely where margins will end up should the company start to multiply its top line, as it hopes to do. We'd expect management to provide some margin commentary a few quarters out after they've weathered some time with the new Scotts branding and new retail partnerships.
Call option on pot. Then there's the whole marijuana angle. Management realizes that it's in prime position to serve this unique market explicitly and, we believe, is strategizing the best way to proceed. It already serves this market indirectly, since the grow-anything gardens do just that. Unlike so many marijuana companies that are upstarts with no revenue base, customer lists, or retail relationships, AeroGrow has a long history of selling grow products to consumers. They could, for example, use their scientific know-how, manufacturing experience, and distribution relationships to bring a pot home-brew kit to market. We expect the company to be more active in this area as the legal status of marijuana evolves and as management finalizes a marijuana strategy that won't threaten the core business in any way.
We see no pot optionality priced into shares of AeroGrow. Compare, for example, the high valuations the market is currently offering to companies with minimal or no sales - - just aggressive marketing about their marijuana businesses.
| | | | | |
| --- | --- | --- | --- | --- |
| Company | Ticker | Market Cap | Ttm Sales | Price/Sales |
| Medbox | (MDBX) | $220 million | $5.2 million | 44x |
| CannaVEST | (CANV) | $211 million | $1.4 million | 163x |
| Medical Marijuana | | $101 million | N/A | N/A |
| GrowLife | | $82 million | $3.6 million | 23x |
| Cannabis Science | | $23 million | $75 thousand | 289x |
| Average |   | $127 million |   | 130x |
Data source: Yahoo Finance
We don't view the average price/sales ratio as meaningful to apply here because the result is too high and it also needs to be adjusted to isolate the marijuana portion of each business (although for those curious, it would give AeroGrow a market cap of over $850 million and make it a 70-bagger).
Looking at these numbers, however, it's hard to understand how AeroGrow, who we think is likely in 2014 to have revenues greater than all of these companies combined, prices in none of this optionality. At the average market cap presented above, shares of AeroGrow would rise to over 10 times current levels, and that would be without accounting for the value of its core business, which has Scotts behind it and product appearing in retailers across the country.
GrowLife is also in the hydroponics business yet has a market cap almost 7-fold that of AeroGrow, despite having half of AeroGrow's sales. There is tremendous investor interest in marijuana stocks, and GrowLife has taken a very promotional approach (see their website) to positioning itself as riding this wave. AeroGrow is taking a much more conservative approach and prioritizes legal compliance. Our view is, that when the time comes, AeroGrow will eat their lunch. In the future, marijuana stocks may or may not prove to have had inflated valuations today. The valuations, however, are what they are and under current market math, shares for AeroGrow should be priced at least ten times higher than they are.
Investment risks. Investment risks to be considered include the fact that this company was a bust before. It's certainly different this time around, with a new CEO, a cleanup, and now the Scotts Miracle-Gro branding and partnership. AeroGrow reported its first ever EBITDA positive year in fiscal 2012, but questions remain. Once burnt, twice shy, and investors should rightfully question if the changes are sufficient to make AeroGrow a success the second time around.
As transformational as the Scotts relationship is for AeroGrow, it is also cause for pause. If another company is interested in acquiring AeroGrow, it will be hard to proceed without Scotts' nod. In addition, if the relaunched product proves to be a hit, Scotts may not wait to acquire the remaining shares that they don't own. This could provide a quick, attractive return to AeroGrow investors, but it could still prove less profitable compared to the franchise that AeroGrow could develop if it had the opportunity to remain independent for the long run.
But perhaps the hardest part for us to get our heads around is quantifying what this company can become. We haven't seen long term guidance for where sales can go. We couldn't ask for a better retail lineup-from Costco to Home Depot-and have the expectation that these can be really big, but we'd like to get more specific about revenue expectations, and we can't for lack of data. Mike did state in our conversation that he'd like to surpass the old high-water mark of $40 million in sales, but that's not guidance of any sort.
Conclusion. In summary, the key things we see in AeroGrow are as follows:
A high margin business with a recurring revenue model
An existing and historical revenue base that evidences consumers' affinity for the products
A strategic partnership with Scotts Miracle-Gro that provides capital, branding, distribution, and expertise
Very recent re-entry into the retail channel at large chains nationwide
Two innovative products in the pipeline and one recently launched
A call option on marijuana, including both the business opportunity as well as the stock getting repositioned as a pot stock and getting a bubble-like multiple that the industry is afforded currently
A call option on an acquisition by Scotts or another company
A miniscule market cap that barely reflects the company's potential
We see a lot of good that could happen to this company. The Scotts partnership and the new retail channels are the best we could ask for. Anecdotal evidence on sales-you'll some below-is encouraging. Commentary on the company's holiday season so far is very positive. We struggle to put firm numbers on where the stock could go, but at $12 million in market cap and 1.9x depressed trailing twelve month sales (they stopped ordering inventory for months ahead of the Miracle-Gro relaunch), we see any good news as able to turn this into a multi-bagger. Shares are already up about 100% this year so investors are starting to take note.
CEO interview. We offer our thanks to Mike Wolfe, AeroGrow's CEO who met with us recently to get us caught up on the company's progress. We are pleased to share a transcript from the conversation below.
So much has happened at this company over the past few years. Can you give me a quick recap and highlight what convinced you to take the CEO job a couple of years ago?
Mike: As for my interest, first and foremost the AeroGarden is a terrific product that has always been well-received by consumers. I saw huge upside in the company with such a great product and loyal base of customers.
The challenge was, the company had such significant liquidity concerns; we had to deal with a very difficult balance sheet and a situation whereby we had to go into a little bit of a salvation mode. So back then we changed the company's business model to focus on selling direct to the consumer -- much higher margins and much greater ability to control the inventory. At the same time we went to work fixing our overhead structure and our balance sheet, and I'm very pleased to say that we have taken what was over $12 million in debt a couple of years ago and, by the end of the current fiscal year in March, that will be down to literally no cash debt on our balance sheet. And while we shrank the top line of the business, we posted the company's first ever EBITDA profit in 2012.
All of these actions attracted the interest of the Scotts Miracle-Gro Company. They came in earlier this year and created, really, a transformational event for our company, when they invested about $4.5 million of working capital, gave us access to the Miracle-Gro brand name, and maybe even most importantly, gave us access to their vast network of distribution. They have CEO-level relationships at Home Depot, Wal-Mart, Costco, Lowe's, Sam's, and we now have access to some of those decision makers. What this company needs more than anything else is distribution - sales growth - and we have access to that through Scotts.
Can you give a few examples of how you've been working with Scotts? How is AeroGrow benefiting from Scotts' resources and know-how?
Mike: It runs the gamut from marketing to supply chain to R&D. In marketing, they have millions of names in their databases, and they have given us access to those names to email our promotions, mail catalogs, things like that. From a distribution standpoint, as an example, they have a business development team that calls on and supports Home Depot. And that team has been made fully available to us in gaining access and distribution and sell-through at Home Depot stores. Scotts has similar teams in place working with Lowe's, Wal-Mart, Costco, and others.
On the supply chain front, an example would be: AeroGrow might ship over 35 or 40 containers of goods from Asia a year. Scotts ships thousands of containers a year, so they obviously have much better pricing. We've been able to piggyback onto their shipping arrangements and get that same kind of pricing and knocked about 20% to 25% of in-bound shipping costs out of our cost structure. So a lot of things like that.
Have you disclosed any kind of commentary with regard to what Scotts is expecting sales-wise from this relationship or what would be meaningful to them?
Mike: No hard numbers. I will tell you that Scotts believes the indoor gardening market, through their evaluation, is a burgeoning, multi-billion dollar market. And they want to have access to that. They have a lot of ways to drive indoor gardening. But I do think they believe the AeroGarden, the Miracle-Gro AeroGarden, can become a meaningful portion of a very large portfolio.
What is it about the indoor gardening market that they see it as a burgeoning market?
Mike: I think there are a lot of trends that are on the right side of indoor gardening. It's healthy food, it's safe food, it's pesticide-free. You know, there's a huge movement of people wanting to know where your food is from, where it's grown. Well, if it's on your countertop, you're pretty much in control of your food at all times. So they see a lot of those emerging trends. They see 80 million gardeners out there in the country. They see 50 million cooks. And I think they see a movement, maybe, away from the suburbs and toward urbanization. A huge emerging trend is urban development. And the AeroGarden speaks to all of those trends, and I think that is what led them to believe that an investment in this company and supporting this company might have a big payback for them.
Can you give us a feel for the kind of due diligence that Scotts did before getting involved?
Mike: They did a lot. I think they did a lot of work with respect to, first of all, understanding the market. But then with respect to our company, they did a lot of work with the technology, they did a lot of work with understanding our supply chain, with understanding our database and how our marketing works. I will tell you, the deal culminated with their strategist and myself going over to China for about 10 days, and we called on each of our manufacturers, and they really kicked the tires hard to make sure they knew what they were getting into. And I think they were pretty impressed.
What's the early customer feedback from having the Miracle-Gro brand on your packaging?
Mike: We're only two months into it but we are very pleased with the reception that we've received from our customers. Our latest catalog is the best one we've ever mailed. So there are some indications to suggest that the Miracle-Gro brand is helping us, but it's impossible to know how much of that is really attributable to Scotts specifically. We're hopeful that the presence of the highly recognized and trusted Miracle-Gro logo on our packaging will be a big assist to us as we re-enter the retail market.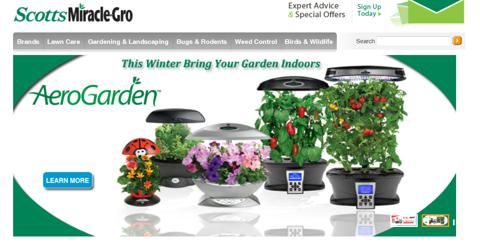 Image from the landing page at scotts.com on December 13, 2013. Scotts does almost $3 billion a year in sales and they chose to spotlight AeroGrow's products on their home page.
How should investors interpret recently reported sales figures in light of the very recent rebirth of the company with the Scotts partnership?
Mike: Well, we concluded the deal with Scotts in April, late April of this year - just after our fiscal year began on April 1. The deal requires that we rebrand the entire product line as the Miracle-Gro AeroGarden. So immediately upon completion of the transaction, we went to work on changing tools, changing packaging, changing everything about our product line--the colors of the brand, everything. This was a process that we knew would take about six months.
And, frankly, it made no sense to bring inventory in over the course of these last six months, only to have to liquidate it when the new merchandise began showing up. So that was our focus. We brought no inventory in from the period of April--really, before April, in anticipation of the deal--through about October 1. So we simply didn't have much inventory to sell. As a result, the first two quarters of this year had very low revenue and income. But that's simply because we didn't have inventory to sell. That has changed beginning with the December quarter. We're selling now, and we're selling well. [Lazarus Investment Partners note: this sets the stage for easy comps. Not only should sales grow as a result of added retail distribution, but they will be comping in 2014 off of depressed numbers which should make for even better headlines.]
AeroGrow is now returning to the retail channel after a hiatus. Would you mind summarizing the history there and what the opportunity is in the retail channel?
Mike: If AeroGrow is going to truly become a sizable company, we're going to do it largely through retail. That's how American consumers ultimately buy - whether it's in-store or on line. We consider our retail business to be both brick-and-mortar as well as dot-com.
It's important to know that the product always sold well at retail. We had to exit that channel, simply because the company didn't have the balance sheet strength to support the inventory demands of a retail model. So now that we have a much stronger balance sheet, having eliminated the substantial debt that was weighing on the company, we're in a position to have inventory levels that are sufficient to support retail. It makes a lot of sense for us to go back to that - but to do it in a highly strategic and focused manner with partners that will really help us in growing the brand.
We look for a balance of a direct-to-consumer model in concert with a retail model. A high-margin direct-to-consumer business really helps us keep a one-to-one relationship with the consumer; allows us to have our entire array of products available to consumers. But a retail strategy, while the margins aren't quite as high as direct-to-consumer, allows us to have big distribution and lets us reach millions upon millions of consumers. I think the combination of those two is the right way for us to grow this business and grow it profitably.
How would you respond to investor criticism that entering the retail channel would be adding lower-margin sales versus the higher-margin, direct-to-consumer channel where the company had focused in recent history?
Mike: I think that you have to look at this as a blend. Clearly, retail does not have the margins that we have in our direct response business. But I would make two points: Number one, we can drive trial through retail and we can still make money at retail. I want to add that we have really improved our margins over the last couple of years. We've driven a lot of cost out of our business and we have an overhead structure now that I think can support quite a bit of growth. As we start to grow, we should see a lot of our incremental sales - either from our direct business or our retail business - drop to our bottom line.
The second point I would make here is a critical one: once a consumer has an AeroGarden - wherever they make the purchase or when they receive it as a gift - very often they come back to our website directly, and they become direct-to-consumer buyers, so we now have them in our portfolio of consumers who can buy from us direct, where the margins are much better.
Who would you highlight as your key retail partners?
Mike: Well, we've focused on four retail partnerships as we have re-entered the retail space this fall--Amazon, which we began working with late last year, has been going extremely well. Our relationship with Amazon is exceptional and they do a great job in promoting our products. We've also launched on Amazon in Canada and we are doing very well there.
We have just begun working with Costco and Costco.com, and we're very pleased about our launch. It's showing a lot of strength as well.
Home Depot is the third key partner, where we have just begun testing at seven stores in the New York area, and we'll be conducting about a 100 to 125-store test in the calendar first quarter. I think Home Depot could become a very meaningful partner for us.
And we have just begun working with the Home Shopping Network. We have a long way to go, as we've just begun testing there, and I'm anxious to see what HSN does as a brand building channel for us.
I would also add that we have begun working with The FrontGate catalog, Chef's Catalog and Target.com.
Are there any specific anecdotes you can share on these relationships?
Mike: We can tell you that on Cyber Monday, Amazon featured us as a flash deal, and I'm told we sold nearly 2,500 of our AeroGarden 3 units in just a little over an hour and a half. They also sold out of about 450 Ultra's in just a few hours, and they were really pleased with those numbers. So we have seen some terrific sell-through. Amazon also plans to run us as a last minute "Deal of the Day" on December 23rd - with guaranteed last minute Christmas delivery.
I don't have detailed numbers for you, but I can tell you Costco has also been clipping nicely ahead of their projections. They're very pleased. That's on Costco.com.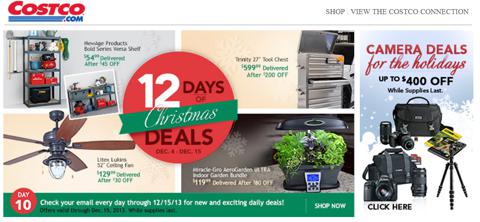 The AeroGarden featured prominently in a costco.com email blast last week. The subject line was: Day 10 Deals: Save on Miracle-Gro AeroGarden, garage storage and a new fan!
I imagine that this is a big gift item. How are you feeling about this holiday season?
Mike: It is a big gift item. We traditionally do very well during the holiday selling season. We don't make forecasts or projections, and we're not going to do that here. But I will tell you that we've been delighted with what we've seen from a sell-through standpoint over the course of the last couple of weeks, so we're pretty optimistic about what's unfolding this holiday season.
What are the margins for both garden sales and accessory and component sales? What are we seeing in terms of lifetime customer revenue to AeroGrow?
Mike: It depends on which channel you're selling in, but gardens tend to have gross margins in the low 40-point range. Seed kits and accessories tend to have margins in the 55% range -- again, depending on the channel. So as we go through a phase where we're selling more gardens, which is our current strategy because we want to grow the business and get more of these in the hands of consumers, I think we should anticipate that our sales of gardens will be higher but our gross margin might be a little bit deflated as a result of selling more of the lower-margin garden items - especially as we increase our sales through the retail channel. But as we achieve a critical mass and have more people in the franchise and using our product, I would anticipate that over time, we'll begin to see more of our high-margin seed kit sales kick in.
The other point I would make to you is that through our direct-to-consumer business, when a person makes a purchase of an AeroGarden, the average initial purchase is about $166. We know that as those people stay with us over a three-year period, on average, they spend a total of over $430 with us. So we like to refer to that as the classic razor-razorblade strategy, and we think we have a lot of evidence that that's exactly what happens with us.
Turning to the product pipeline, what are the big sellers right now, and what's coming down the road?
Mike: About a month ago, we launched our new Ultra with an LED lighting platform. I could not be happier with the sales of this new product. It looks to me like it will be the best new product launch the company's ever had.
We've also sold very well with our Ultra product that we launched last year. That's at Costco and Amazon has also picked it up. It's selling very, very well at these two retailers as well.
On our drawing board for calendar 2014 are several major initiatives. Number one is a refresh of our classic products, the AeroGarden 7 and the AeroGarden 6. We want to freshen them up, and we have some designs on taking some costs out of that so we improve those margins.
On the upper end of our scale, the Ultra and the Ultra LED have proven very successful. We plan next year to add a wifi-enabled component to it, so you can track your garden growth on your smartphone or your iPad - and you will be able to fully monitor your garden in that fashion - including placing re-orders. We also envision a webcam being onboard with the product so you can actually have time-lapse photography of your garden growing--a lot of fun things, kind of where social media intersects with gardening.
I think you can look for us to extend our LED lighting platform as well. It has been so well received, plus the garden growth has been just phenomenal.
The other major initiative we're going to focus on next year is a low-end, entry-level garden that we hope will have mass appeal and still have adequate margin at a $49.95 price point. We think, to really get this company to be quite a bit bigger and to get a lot of people engaged in the franchise, we need an under $50 product that we can sell at aggressively at retail.
Will all the growth you are targeting result in a need for significant expenses or capex to support these new sales levels?
Mike: No, I really don't think it will. We have invested pretty heavily over the last couple of years in new product, new technology, and our strategy is to leverage these resources a great deal over the next several years. I don't want to lead you to believe it won't be anything; we'll have some capex ahead. But I think, for the most part, we really can leverage the investments we've made over the last two years and try very hard to make a lot of our incremental sales drop to the bottom line. I also would point out that we will likely need access to short term capital in order to fund our seasonal inventory purchases, but very little in the way of additional expenses or capex.
There's been investor buzz around the company following the legalization of marijuana in certain parts of the country. Is this something on your radar?
Mike: The AeroGarden is an incredible gardening device. It grows almost anything literally better and more efficiently than it can be grown outdoors - especially when gardeners use our specially designed Grow Anything Kit. As a result, I get this question a lot, and my answer is always the same: We will always comply with all state and Federal laws. Period. At the same time, we are monitoring all regulatory and legal developments related to this field carefully, and I am committed to positioning the company to maximize long term value for all stakeholders.
At peak, the company had, historically, close to $40 million in annual sales. Is that a number you think we may be able to match and beat?
Mike: I'm not making any forecasts at this time, but I do think we are well positioned to meet or exceed our historical revenue levels. We have invested a great deal of capital, planning, and effort to put us on a path to meet or exceed these levels.
What would you tell an investor who is skeptical and says, "I was there for the first iteration of AeroGrow and got burnt." Why shouldn't they hesitate this time around?
Mike: Well, there's no guarantee of anything; we all know that. I will tell you that what is different this time starts with Scotts. We have one of America's most recognized brands behind us, and all that they bring to the party. That's huge. We've worked really hard to improve our gross margins and to effectively manage our overhead, so that as we grow, I think we have a chance for a meaningful portion of our sales growth to drop to the bottom line
The third thing I'll tell you is that, philosophically from a management standpoint, I really believe in focus. I think what might have happened a few years ago is the company perhaps lacked focus -- international launches and undifferentiated products and disparate markets. I'm trying to make sure that we have a laser focus on executing the strategy that is before us. And if we will do that, I think a lot of good things are ahead.
A new management team was installed when I became CEO in 2011, and we've made a great deal of progress over the past two years. Not just in the strategic partnership with Scotts, but also with posting the company's first ever EBITDA profit and improving our balance sheet from over $12 million in debt to what we believe will be no cash debt at the end of this fiscal year in March. I'm so proud of what we've accomplished in turning the company around; I can't wait to see what we can do now that our focus can be on growing the business.
A lot of progress over the past year. Congratulations to the company on that. When you think ahead to 2014, what comes to mind as the key milestones investors should look for?
Mike: The major initiatives that I'll be focusing on next year are, number one, increased distribution. More than anything else, what this company needs is a bigger sales base. It needs more consumers involved in the franchise. So increasing our distribution is, first and foremost, our biggest job.
Second is extending our product line, having more products at both the high end and at the low end, that appeal to a broad range of consumers, is critically important to us. And we must ensure that all of our products have excellent margins.
Three, we're going to be working on things that build the brand. Driving awareness and incorporating the Miracle-Gro brand name more and more into what we're trying to do.
And then lastly, we have a long list of collaborative initiatives that we want to pursue with Scotts. It's a very long list ranging from things like making our supply chain more efficient, all the way to piggybacking on some of their advertising.
If we can accomplish these key objectives, then the sales growth will come and I'm confident that profitability growth will follow.
Okay, thank you very much.
Mike: Yes, thank you.
Disclosure: The author is long AERO. The author wrote this article themselves, and it expresses their own opinions. The author is not receiving compensation for it. The author has no business relationship with any company whose stock is mentioned in this article.
Additional disclosure: I will not trade shares of AERO for the next 7 days. My compliance department will provide to Seeking Alpha written confirmation of my adherence to this restriction. This article and, if applicable, the interview herein, may contain historical information and forward-looking statements within the meaning of applicable securities laws with respect to the business, financial conditions, and operational results of the interviewed company (the "Company"). Such statements reflect the current beliefs, views, assumptions, and expectations of the Company with respect to future events and are subject to uncertainties and risks. Many factors could cause the actual results, performance, or achievements of the Company to be materially different from those expressed or implied by such forward-looking statements. Some of these factors may include changes in the markets in which the Company operates and in the general business environment and economic conditions, the loss or gain of customers, unpredictable sales cycles, competitive pressures, market acceptance of new products, inability to meet efficiency and cost reduction objectives, changes in business strategy, and various other factors, both referenced and not referenced in this article. In addition, various risks and uncertainties, including but not limited to those described in reports filed by the Company with the Securities and Exchange Commission or other regulatory organizations, as applicable, may affect the Company's operational results. No obligation is assumed to update any forward-looking statements.