Cineplex (OTC:CPXGF) is Canada's largest entertainment company, most known for its chain of theatres. With the acquisition of 24 Empire (OTCPK:EMLAF) theatres in Atlantic Canada in November and the sale of the rest of the Empire theatres to Landmark, Cineplex is truly Canada-wide. Empire, the main competition, is now out of the theatre business and focusing on its grocery side, acquiring of Canada Safeway Stores (NYSE:SWY).
This year Cineplex catered to 77 million guests in 161 theatres with 1630 screens. Cineplex represents 93% of Canada's box office, with high barriers to entry. But underneath the big screen are the real money makers.
The first thing that attracted me to becoming a shareholder in CGX is the chart.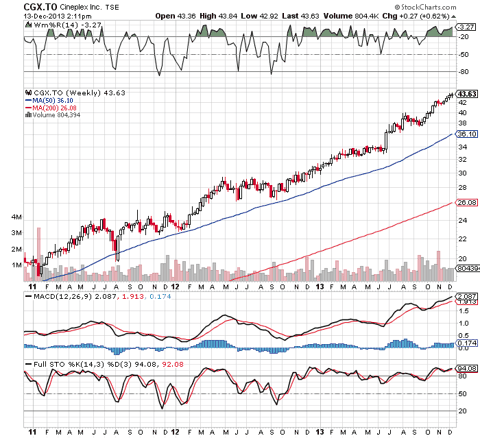 What's not to love about this steady gradual climb? I bought in at the end of March this year and my only regret is that I did not buy a larger position.
When I bought in, the monthly dividend was a handsome 4.6%. It has since dwindled to the current 3.3% due to the 25% share price growth. The next ex-dividend date has not yet been announced, but will likely be around December 27th. The board last raised the dividend in May 2013, and before that in May 2012, so it is a while before another raise is expected. Dividend growth has been steady, but relatively small from $1.15 in 2005 to $1.40 expected this year with a payout ratio of 64%. For a strict dividend-growth investor, this stock may not fit their criteria. For myself, and other accumulative investors with a long time horizon before the income is needed (20 years) the capital gain more than makes up for the lack of current dividend growth.
Six analysts follow Cineplex. One considers it a Strong Buy, four a Buy, six a Hold, and one Underperform. Thomson Reuters gives CGX a average score of 8 out of 10, giving it 8's on earnings and fundamentals, 9's on Risk and Momentum and not too surprisingly, only a 2 based on it valuation. I agree, one can easily argue that this stock is overvalued. One can also argue that it is always overvalued, and that it deserves it's valuation.
The FastGraph (used with permission of Chuck Carnevale) clearly shows that investors are willing to pay a premium for Cineplex. The current P/E is 22.46%.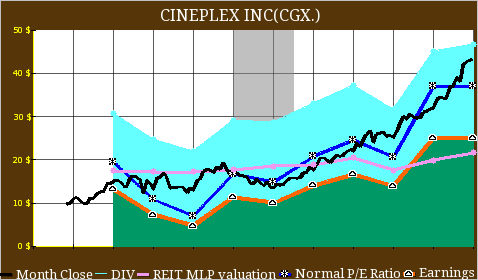 A peek at the price compared to Free Cash Flow tells a slightly different story. If you read on you will learn that Cineplex has been expanding further this year.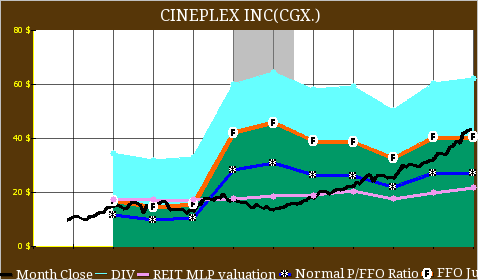 Why are investors are willing to pay more for Cineplex?
Cineplex has had a very strong 3rd quarter with records made in several areas. They had an all-time record quarterly attendance at the theatre of 19 million guests and revenue hit a record, up 6.1% yoy.
It was surprising to many investors that during the economic downturn theatres did even better than previous years. A night out at the movies is a relatively inexpensive treat, compared to other entertainment opportunities such as fine dining, concerts, symphony or live theatre. As family cash flow is improving, the cinema has remained a favorite and consumers seem willing and eager to purchase the new options Cineplex has added.
Aside from the obviously ridiculously inflated snack selection which nets Cineplex fabulous margins of about 80%, they offer VIP Theatres, UltraAVX, D-Box motion seats, 3D, IMAX screens, alternative programming and events. These add significantly to consumer perceived value, and meaningfully add to Cineplex's revenue per ticket. An example of this excellent marketing is the current $40 ticket package for the latest Lord of the Rings movie.
The scene loyalty rewards program breached the 5 million members mark, clearly demonstrating the broad customer base. The website and phone app are also popular.
I confess, my husband and I attend movies at the theater only about twice a year. In our dating and early married life (20 something years ago) going to a movie was a weekly event - the Tuesday night cheap theatre, of course! Last time at Cineplex, we were given a 50% off coupon for Poptopia, something we would not normally purchase, and we (okay, mostly I) had the most delicious caramel popcorn. I would definitely repeat that experience, except that I promised next time he could have the jalapeño flavor. We may each have to get our own. They have now proven to me they are adept at getting even the most frugal customers addicted to buying snacks! I could be mistaken, but I do not think we have ever bought popcorn or drinks at the movies before.
Aside from the theatre-related aspects of the company, Cineplex also acquired EK3 Technologies last quarter and renamed the digital signage company Cineplex Digital Networks, contributing $2.6 million to the quarterly revenue.
One of the questions I ask myself when deciding on a company is, "Is this company best of breed?" With Cineplex I can clearly answer that yes, in the Canadian market, there is no other company like it.
Summary
With all these innovated ways to separate consumers from their spending money, plus the integration of the newly acquired Empire theatres into the Cineplex family, I expect to see earnings continue to grow for the next few years.
Is this a stock I recommend that you run out and buy today? No, not necessarily. Of course you need to do your own due diligence and decide if this fits well into your portfolio based on your own unique situation and goals. It is one of my favorites as it requires little time and attention and the sweet chart makes me happy every time I look at it. As the share price continues to move further from the 50 day moving average, I have hesitated to jump in and double my current position. However, as the stock continues its steady climb, ignoring the endless variety of swirling macro-economic events, I do plan to double my position, but gradually, in several purchases over the next 6 months. I like Cineplex and will continue to invest in this quality, innovative and growing company.
Disclosure: I am long OTC:CPXGF. I wrote this article myself, and it expresses my own opinions. I am not receiving compensation for it (other than from Seeking Alpha). I have no business relationship with any company whose stock is mentioned in this article.