The data keep coming in a getting better for Microsoft (NASDAQ:MSFT). The Surface 2 is pretty well sold out across the country with favourable reviews from all quarters. Even the New York Times thought it was newsworthy in its December 4, 2013 article "Microsoft Produces a Winner in Tablets".
Marketwatch ran a similar article December 12, 2013 entitled: "Microsoft's Surface 2 may be a holiday hit".
Microsoft seems to have cleaned up by clearing out its inventory of the original Surface at Best Buy on Black Friday where the $199 purchase price lured enough customers to make it the best selling product for the chain, beating out the 16GB version of the Apple (NASDAQ:AAPL) iPad 2 which was on sale for $299.
Strong sales of the Surface RT and Surface 2 are a likely tailwind for Nvidia (NASDAQ:NVDA) with is Tegra processor commanding center stage in the device. The Tegra line is a fast growing part of Nvidia and comprises a $723 million business in 2013, more than double 2012 levels.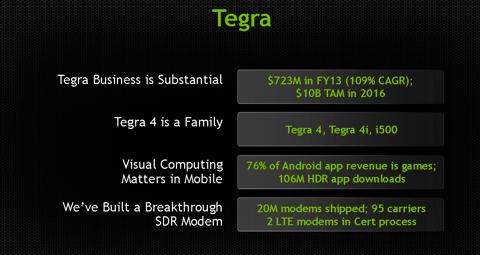 Click to enlarge
Tegra volumes have been steadily increasing, hitting a quarterly high of over 10 million units in Nvidia's fiscal 2013 third quarter.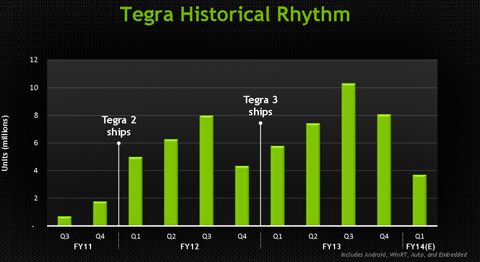 Click to enlarge
The success of the Surface 2 could mean even faster growth for the Tegra chips. Of course, Tegra processors power a lot more than Surface tablets. Nvidia Tegra's are found in the fast selling Xiaomi Mi3 which sold over 100,000 units in less than two minutes when launched; in Coolpads; Toshiba's (OTCPK:TOSBF); and devices from ZTE (OTCPK:ZTCOF), HP (NYSE:HPQ), Asus and Kobo.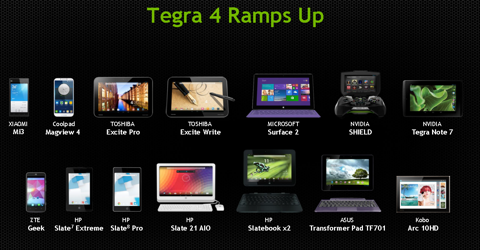 Click to enlarge
Nvidia likes to compare its Tegra processors with Qualcomm's (NASDAQ:QCOM) Snapdragon processors, seen by many as the industry standard in mobile. The comparison suggests Nvidia is competitive.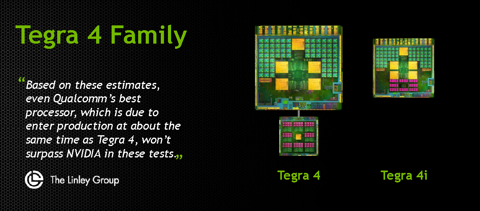 Click to enlarge
Nvidia has a good handle on the rapidly growing smart device market in China. Chinese consumers put a high emphasis on price, processor performance, screen size and resolution and camera in selecting their smartphones. User interface and brand name are secondary considerations.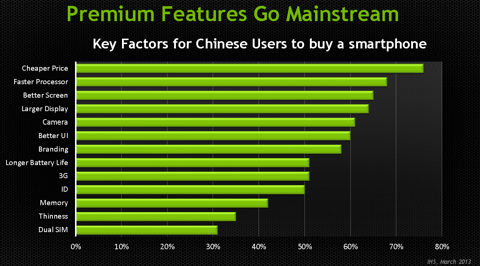 Click to enlarge
As a result, Nvidia has emphasized top of the line performance at a mainstream price in its market positioning, putting itself head to head against Qualcomm.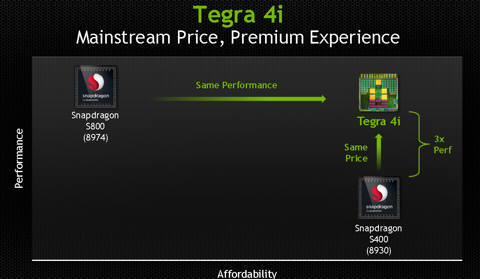 Click to enlarge
The results so far have been pretty impressive. Nvidia has delivered high double digit growth in revenue and earnings over the past 3 years.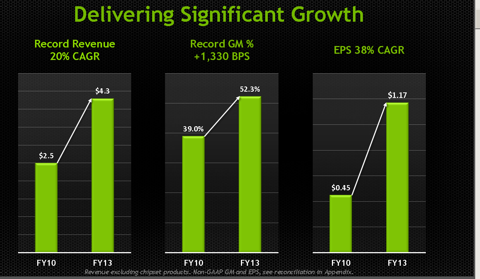 Click to enlarge
By offering a one-chip solution similar to Qualcomm, Nvidia has carved out a place in the smartphone market that merits watching.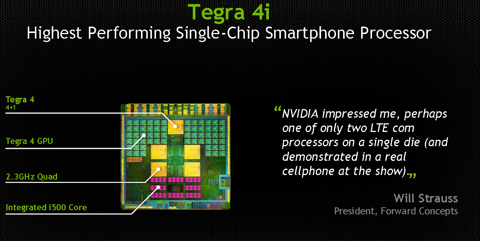 Click to enlarge
Often thought of as tied to the PC market by its history as a provider of graphics cards, many investors neglect the effectiveness of Nvidia's strategy to diversify away from the personal computer. Today, it is demonstrating a lot of success achieving not only reasonable growth in its GeForce graphics lineup but stellar growth in other products most notably the Tegra line all of which combine to yield a 20% compound average growth rate since 2010.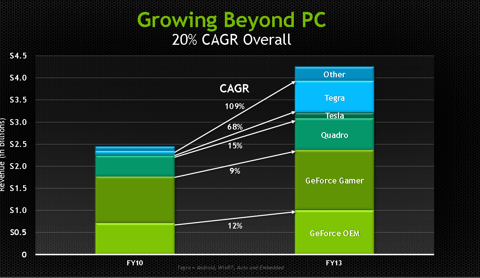 Click to enlarge
This growth seems likely to continue. With Tegra processors priced competitively in the $20 range, and the prospect of high unit sales in a growing number of Tegra powered devices, the momentum seems bound to continue into 2014 and beyond.
Virtually debt free and with $3 billion in cash and short term investments, Nvidia trades at about 20 times 2014 estimated earnings. Most analysts forecast only modest growth and on that basis the stock looks expensive. I am more sanguine about Nvidia's prospects than most, and believe strong sales of the Surface 2 alone will give an unexpected boost to its near term sales and profits.
I don't currently hold any share of Nvidia but will very like add this to my portfolio on any weakness.
Disclosure: I have no positions in any stocks mentioned, but may initiate a long position in NVDA over the next 72 hours. I wrote this article myself, and it expresses my own opinions. I am not receiving compensation for it (other than from Seeking Alpha). I have no business relationship with any company whose stock is mentioned in this article.