By David Russell
Traders are betting against Lamar Advertising (NASDAQ:LAMR), four days before the billboard company reports fourth-quarter results (see transcript here upon availability).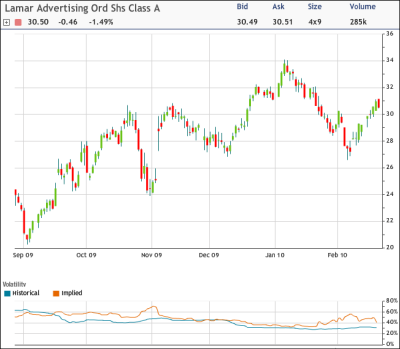 (Click to enlarge)
optionMONSTER's Depth Charge tracking program detected unusual activity in the March 30 puts, which traded 1,726 times against open interest of 925 contracts. Institutional-sized purchases for $1.25 accounted for the bulk of the volume.
LAMR fell 1.49 percent to $30.50 in afternoon trading and has been consolidating around $30 since October. It dipped as low as $5.35 at the depths of last year's market crash.
Some chart watchers may think LAMR is ready to roll over because it's been unable to break above the $30-$32 area that provided support in 2008, suggesting that it's now become resistance. The shares also appear to be forming a potential "head and shoulders" reversal pattern.
LAMR needs to fall at least 6 percent by expiration for today's put buyers to turn a profit. The company's financial report is scheduled for the premarket on Feb. 25.
Overall options volume in the name is about five times greater than average today. Puts account for a bearish 98 percent of the order flow.
Disclosure: No positions