On December 10th, 2013 yet another analyst downgraded IBM (NYSE:IBM), reducing the price target to only $165. The research report stated that "a lackluster outlook for top line growth, combined with Street's appetite for high-beta, 'growth' names could cap IBM's multiple."
IBM's shrinking top line is the most important concern in the bear camp, while the bull camp points out that, while revenues have been shrinking, margins have gone up, delivering overall income growth. However, even the bulls cannot deny that a further shrinking top line would be worrisome. Hence, we should at least try to identify the most important reasons for the shrinking top line, as further shrinkage could also be a sign of structural shifts in IBM's business environment. On the other hand, by identifying the reasons for reduced revenues, it might be possible to already predict renewed top line growth.
The following graph shows segmented revenues for the past 7 years: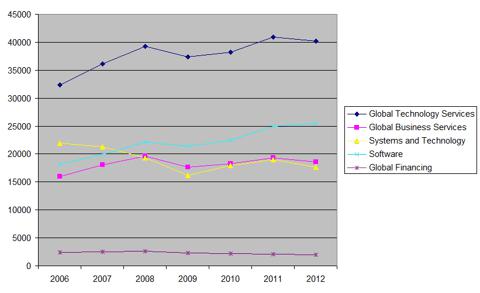 Click to enlarge
We can immediately see that Global Financing and Systems and Technology are the only segments trending down, while all other segments show healthy growth trends. Interestingly, most of the decline in Systems and Technology happened from 2006 to 2009. Afterwards, this segment's revenues move almost in tandem with Global Business Services and not far from Global Technology Services. Global Financing's trend is not very different either, maybe even worse: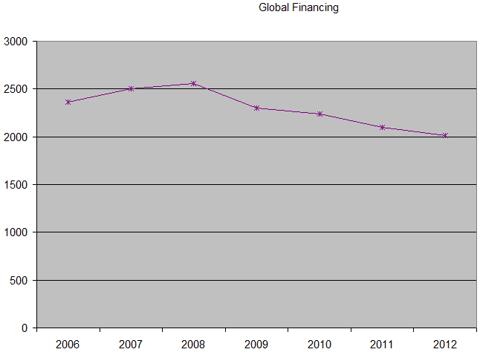 Click to enlarge
We will need to answer the following questions:
1) What caused the rapid decline in Systems and Technology revenues between 2006 and 2009?
2) What caused the decline in Global Financing revenues after 2008?
3) Is there anything we can already spot or foresee that will cause these two to move further downwards (or maybe upwards)?
Let's first take a look at the single components of the Systems and Technology segment. IBM does not provide separate data for the single components but only YoY growth rates. Hence, I have based each component's growth on 2006 = 100 and the result is the following graph: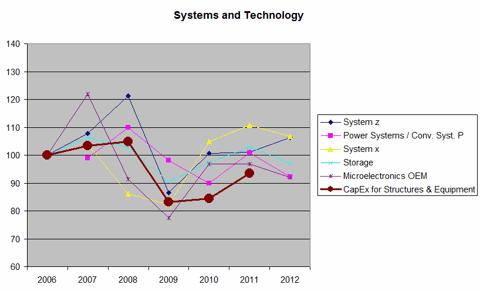 Click to enlarge
I also added a line for corporate capital expenditures (census.gov still has no data for 2012, thus it ends in 2011) which clearly shows that this segment's revenues follow a general trend of reduced capital expenditures. However, IBM does a bit better than average. Even its worst performing segment Microelectronics OEM beats the general trend in 2011.
Now let's get to the answers.
Question #1:
IBM transitioned clients from system i and x to Power systems, with the result that revenues for the former declined while revenues for the latter rose (see graph above). The company also divested its printing business in 2007 and lost these revenues thereafter. Retail stores solutions (which was later on divested and is not included in the graph) lost revenues due to general weakness in the retail sector. In the 2009 annual report, IBM stated the following on its server related revenues:
Although revenue declined, the company continued to gain market share in the midrange and high end of the product line by helping clients increase efficiency in their data centers by leveraging consolidation and virtualization results. This has led to seven consecutive quarters of share gains.
These share gains would later continue until today.
Overall, it seems that the rapid decline between 2006 and 2009 was caused first by strategic divestments and later on by the general economic environment.
Question #2:
In its 2009 annual report, IBM provided the following statement:
The Global Financing business remained focused on its core competencies-providing IT financing to the company's clients and business partners.[…] Interest rates directly impact Global Financing's business by increasing or decreasing both financing revenue and the associated borrowing costs.
So this was an easy one: Reduced capital expenditures directly impact loan originations and reduced interest rates decrease both revenues and, most importantly, also borrowing costs. Thus, we should expect Global Financing income to be impacted less than the segment's revenues. In fact, the final graph (below) shows that income even rose. (Think about it: a financing business that achieved income growth right in the middle of the worst financial crisis since the Great Depression!)
Finally, question #3: Is there anything we can already spot or foresee that will cause Global Financing / System and Technology revenues to move further downwards (or maybe upwards)? - As we have seen, Global Financing should be measured by income, revenues alone are not meaningful. There is no problem whatsoever in this segment and if we can foresee any future development, it would be rising revenues together with growing corporate investments and rising interest rates (as these won't be able to fall much further).
As far as the System and Technology revenues are concerned, first of all we should keep in mind that the segment contributes only 17% of total revenues and 5.1% of total pre-tax income. Total revenues for IBM shrank by roughly $3.5 billion from their peak in 2011 to 2012. Most of the decline or $2.3 billion came from the Systems and Technology Segment and some of it was likely due to the divestiture of the Retail Store Solutions segment. Moreover, as IBM is not losing share in the server market and the revenue trend seems to follow a general trend of reduced capital expenditures (which it beats in spite of several divestitures), I am not concerned about the future. With IBM mainframes deeply embedded in global infrastructure (as I've recently laid out here), once capital spending picks up again, Big Blue will take its share. I would also point out that the above corporate spending figures refer only to the US, but have been likely much worse in Europe and recently also in the emerging economies, where IBM takes in a much larger share of its revenues than in its home country.
And now let's kill the bears! The final graph shows IBM's segmented pre-tax income: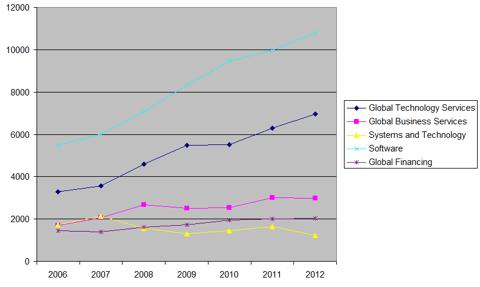 Click to enlarge
While revenues of two segments are shrinking, pre-tax income is shrinking only in the smallest segment (by EBT) of System and Technology. So I think the bulls don't need to worry about the overall state of Big Blue. Looking at the above graph, I would say that even with only stable corporate investments the bulls will most likely have a good time and the bears might run out of honey soon.
Disclosure: I am long IBM. I wrote this article myself, and it expresses my own opinions. I am not receiving compensation for it (other than from Seeking Alpha). I have no business relationship with any company whose stock is mentioned in this article.