Guest post by David Ristau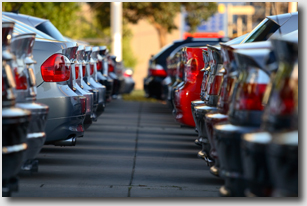 I have a really strong inclination about an Overnight Trade opportunity for today that I could not pass up. The market is down slightly for the day, but the automobile sector is really tanking after a good run over the past couple weeks. Auto dealers, especially, look to be getting the brunt of the force. That is helped to set up what I think is a very good Overnight Trade.
Let's reveal this slipper…
Overnight Trade of the Day: Sonic Automotive Inc. (NYSE:
SAH
)
Analysis: Sonic Automotive is a US auto retailer headquartered in Charlotte, NC. The company releases its financial results tomorrow morning, and I think it is poised for a strong surprise on EPS and will get an added boost upwards from the fact that it is going to turn a profit from one year ago. SAH is estimated to report an EPS of 0.15. The company, one year ago, reported earnings at an EPS of -0.12, missing estimates by 700% and plummeting the stock. One year later, however, I think this is a company that is poised to make a pop.
Let's start with the industry - auto dealerships. This industry has had some interesting ups and downs over the past year. These stocks were red hot during Cash for Clunkers and cooled down a lot since then. Earnings results were exceptional fo Q3 for most of these companies. The Q4 earnings, though, have actually been surprisingly very good in some areas and mediocre in others. Estimates were pulled down a lot from Q3 due to the loss of revenue from the ending of the CFC program. Yet, all the auto dealers continue to beat estimates, led by Carmax (NYSE:KMX), who continues to outshine the rest of the industry. Nearly every dealer has reported a surprise on the upside, and I think SAH will be no different.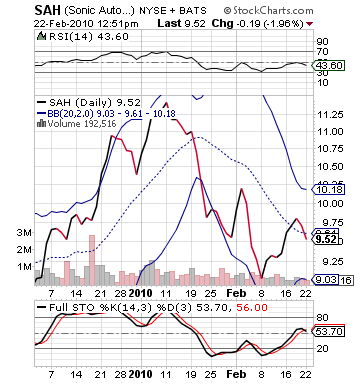 The next thing I like about SAH is that the stock has neutralized itself over the past couple trading sessions. After good earnings from AutoNation (NYSE:AN) a couple weeks ago and moving into the earnings reports industrywide, these stocks all were on the way up. Q3 had been great, and investors were pricing in an impossible beat again. This is why AutoNation and Penske (NYSE:PAG) actually fell after earnings. It was not that their earnings were bad, but the stocks were overpriced. SAH, on the other hand, is reporting after following this downward trend. The stock has lost over 5% in the past two days. It has moved much closer to its lower bollinger band, and the stock has falttened its stochastics right at 50, which shows the stock is neither overbought or oversold. The stock has low volume anyways, so a big beat will be overmagnified anyways.

The fact that the company, one year ago, hit a -700% EPS and one quarter was also in the negative is going to steer investors away. This means that we are getting this stock at a great discount. The company, however, is being way undervalued. All reporting companies have seen a shift down in Q4 over Q3, but it was very slight. EPS estimates are almost halving what SAH will do quarter-over-quarter, and it is just not the case industry wide.

Lastly, I like that in the past couple months, we have seen positive news coming from this company. It was upgraded by UBS back in November, and the company has been doing some very positive credit restructuring. We like to these positive news pieces going into earnings to provide support.

Get in ASAP and let's make some money tomorrow morning!

Entry: We want to enter SAH today in the 9.45 - 9.55 range.

Exit: We will exit tomorrow morning after the earnings report.


Disclosure: None