There's nothing that I love more than a catalyst coming down the pipe. It's usually where some of the best money playing options spreads can be made. In this instance, however, I'm simply bullish on Nike (NYSE:NKE) before earnings. The company is investing in itself and has a bullish outlook for the next three years, so why shouldn't investors?
Nike has performed extremely well over the year, up 57% in the last twelve months alone and up a respectable 12.5% in the last three months. Nike pulled back a little over the last week, as the chart shows, and it looks poised to bounce off of its 50 day moving average.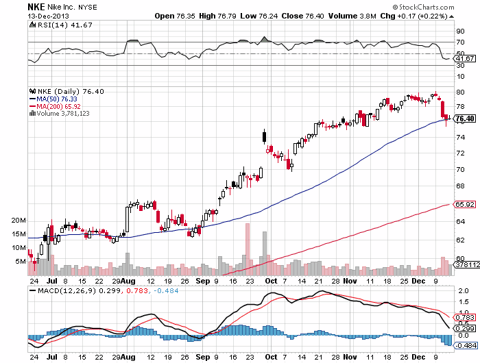 Nike reports Q2 FY 2014 this upcoming Thursday. Analysts are expecting the company to report EPS of .57/share on revenues of $6.43-$6.45 billion. These estimates are compared to .42/share and $5.96 billion the year prior quarter.
Nike has come out during its last investor meeting and has predicted 2017 revenues of $36 billion. Doable? Certainly, but it's going to take some major execution, as that represents an almost 40% growth in revenues over 3 years. But it lends me to think, "if the company, which takes its guidance seriously, thinks they can do it - why shouldn't we believe as well?"
And believe I do. Here's three reasons I would buy Nike before earnings this week - and either hold on good earnings or add on another small dip should they not meet immediate expectations.
1. Nike is Branching Out
In addition to making the products we all know and love, Nike has also spent a significant amount of time and resources branching out in to the health monitoring sector, as anyone who purchased an iPod over the last few years could tell you - they all come equipped with Nike workout and health monitoring software.
The Nike FuelBand is the most recent foray into the health monitoring niche. The Wharton School at Penn acknowledges the FuelBand as a major opportunity going forward for the company:
Nike's FuelBand activity tracker is one of the company's hottest sellers ever. Not only did the product sell out online pre-orders in one day twice, but at one point the eBay price was double the suggested retail price. Last year, Nike's profits leaped 18%, largely bcause of FuelBand - a big turnaround from the 1% year-earlier decline.

Nike introduced the new FuelBand SE this month for $149. Like competitors Fitbit Force and Jawbone, the FuelBand tracks activities such as steps taken, stairs climbed and calories burned. Many users strive to hit fitness goals, notably the 10,000 steps a day recommended by the American Heart Association. Friendly competitions arise among family and friends as these products connect to computers and smartphones to display progress graphically.
New markets for new products mean new revenues - and Nike knows this. Once the new niche is established and overhead is curbed, it presents itself as an opportunity for serious growth. Surely it's part of their growth plan to continue into this niche, and should it continue to outperform like it has, it could bear fruit for both Nike and its shareholders.
2. Nike is Cheap & Appealing to Shareholders
First off, Nike's appeal to shareholders should start with its recent dividend increase, where they bumped up dividends 14% from .84/share to .96/share. That's an annual yield, as priced, of just around 1%. Additionally, Nike continues to grow its dividend (adjusted for stock split):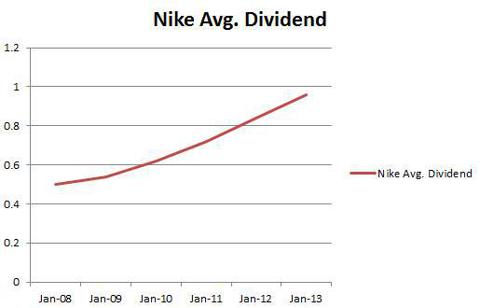 Additionally, Nike is in the midst of an $8 billion share repurchase that the company announced two years ago. The company is going to continue to buy back shares (its already repurchased about $1 billion), and if top line revenues grow, it's going to force Nike's stock price upward.
With a mentality based around providing for its shareholders as well as its business, Nike is showing it can manage both its business and its stock.
3. Nike Will Execute for World Cup 2014
There has been a war going on behind the scenes to have brand names anywhere and everywhere when the world's biggest soccer tournament takes place next year.
If you don't understand the major implications of this event from a sponsorship standpoint, I'd point you to Pim Keulen's recent article, that explores Nike's battle with Adidas over several soccer-concentrated markets - namely Brazil, Argentina, and countries of the like.
The opportunity is going to be capitalized on by the company that is able to hold the Western European market . Although this is traditionally a market that Adidas has owned, Nike has shown growth in the market, which should fare them well through 2014 for the World Cup, and beyond in those particular markets.
Pim concludes, in his article, by echoing my sentiments:
Next year will be an interesting marketing year for both Nike and Adidas with the FIFA World Cup during the summer months. At this point I favor Nike over Adidas, despite the fact that Adidas is cheaper in terms of trailing and forward P/E ratios and provides a higher dividend yield. I have more confidence in Nike's well diversified marketing strategy.
Conclusion
With Nike issuing its recent bullish top line guidance, it's not time for investors to doubt the company. If the company believes that it can execute, why stand in their way? It's arguably a fantastic time to be a Nike bull and I'm bullish leading up to earnings this week. Best of luck to all investors.
Disclosure: I have no positions in any stocks mentioned, but may initiate a long position in NKE over the next 72 hours. I wrote this article myself, and it expresses my own opinions. I am not receiving compensation for it (other than from Seeking Alpha). I have no business relationship with any company whose stock is mentioned in this article.