Over the last month or so, I was one who was recommending shorting technology giant Microsoft (NASDAQ:MSFT) above $38 a share. I did not believe Microsoft's valuation was appealing to investors in the short-term, especially with key questions like the next CEO still up in the air. That valuation, when compared against other large cap tech names, had Microsoft trading at a large premium, which I believed was not deserved. Well, Microsoft shares have now pulled back by more than two dollars. For those that shorted Microsoft, it might be time to rethink your position a bit. Today, I'll explain why.
A key balancing act:
I really stepped up my short argument when I discussed Microsoft as a delicate balancing act. Not only does the company need to decide on a CEO, a decision that some expect to come before the end of the year, but that CEO needs to make some key decisions. The potential list of candidates seems to be declining by the week. Stephen Elop, if chosen, says he might be open to selling Xbox and Bing. I covered in the article how Xbox could lose a billion dollars this year. Analysts believe that the sale of Xbox and Bing could really boost Microsoft's earnings per share going forward. That would ease the valuation concern as Microsoft's earnings per share could really jump.
The other key issue I discussed was Microsoft's dwindling cash position in the United States. While Microsoft has a balance sheet that is extremely strong on paper, nearly all of its cash and investments pile is located outside the US. That foreign cash couldn't be used for the dividend or the buyback. Well, Microsoft did exactly what I thought it would, a huge debt deal. With Microsoft shares coming back down a bit, it might be a great opportunity for the company to execute part of that buyback. Sure, shares aren't in the low $30s like they were a few months ago. But this is a stock that's come down from $38.98 to $36.69, a decline of nearly 6%. That's a better opportunity for the company to buy back shares. Also, at $39, these concerns are a bit more pressing. At $36 and change, I'm not as worried.
A more attractive valuation:
One of the reasons I did not like Microsoft at those high levels (and it went higher after my debt deal article to nearly $39) was valuation. In my "delicate balancing act" article, Microsoft traded at a 17.3% premium to Apple (NASDAQ:AAPL). I thought that was absolutely ridiculous. Now, you could argue that Apple was undervalued, and I understand that completely. However, I also agree that Microsoft was a bit overvalued. When we got to my debt deal article, that premium was down to about 10.5%. That's still a bit rich, but a little more reasonable. Well, the premium has come down further. Here's how the growth and valuation numbers shake out now. I'll also discuss Intel (NASDAQ:INTC), Cisco Systems (NASDAQ:CSCO), and Google (NASDAQ:GOOG) in this comparison.

*EPS growth and P/E numbers are non-GAAP.
Microsoft still slots into a strong third place in terms of revenue growth. However, earnings growth is almost nonexistent, and I detailed above how a sale of certain business segments could help. Even if Microsoft got to say 5% earnings per share growth this year, it would still be in a distant third place. The good news here is that Microsoft has not had some big 2014 warning like Cisco or Intel. Both of those names are struggling right now, so Microsoft, Apple, and Google are separating from the pack.
So let's take a look at valuation. Apple still trades at a discount to Intel, which does not make sense, but that's the market today. The Microsoft premium to Apple has come down to less than 8%. That is less than half of what it was a few weeks ago. Part of that has been Apple's rally, but Microsoft shares have come back a bit too. Microsoft would be a $34 stock if it had the current P/E of Apple from the table above. Again, Microsoft is a bit more reasonable at 13.74 times fiscal 2014 earnings, compared to the 14.65 times shares traded for at the 52-week high.
The other important item to consider is that Microsoft's dividend yield is back above 3.00% on an annual basis. At the 52-week high near $39, the dividend yield was down to 2.87%. That's exactly what a 10-Year US Treasury bond gives you now. However, with the fall in share price, Microsoft's dividend yield is up by 18 basis points. The dividend yield is now 3.05%, the highest it has been since the middle of November. For certain dividend investors, getting back above a 3.00% yield can be very important.
Short interest may be turning:
Microsoft is not a heavily shorted stock. While there are tens of millions of shares short (and the number has climbed over 100 million), this is a company with over 8 billion shares outstanding. Recently, I showed how many tech names had low levels of short interest, except for Intel. Microsoft has less than 1% of its outstanding share count and float shorted, which is the lowest of the major names I've discussed in this article.
However, there was an interesting move in Microsoft's short interest from the middle of August to the middle of November. Over that three month period, as seen in the chart below, Microsoft's short interest jumped by nearly 20 million shares, or 34.5%. In the mid-November update, short interest was at its highest point since the end of June. That might not be too much of a surprise considering how high Microsoft shares were getting.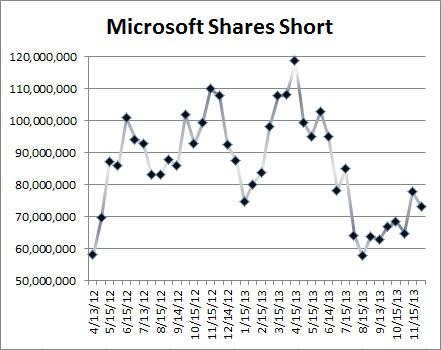 However, the end of November update showed a decrease of about 4.6 million shares in short interest. The recent upward trend has reversed a little, but we'll need another decline at the next update for confirmation of a true reversal. On the flip side, Microsoft's days to cover ratio is at its highest point (2.25) since the middle of July. This is a reflection of higher short interest combined with lower trading volumes. I wouldn't be worried at this point, but if Microsoft's days to cover ratio gets to the 3-4 area, it might be something to discuss further.
Final thoughts:
Microsoft shares have lost more than $2 already from their 52-week high, and those that are short should not be too greedy. Microsoft's valuation, especially compared against other tech names, has become a bit more reasonable. The company has also taken on some additional debt to bolster its US cash position. That will help with the buyback and the dividend, a dividend whose yield is back above 3%. Some short sellers have already started to cover, with short interest declining a little at the latest update. Microsoft shares could still go lower if the CEO announcement isn't what investors are expecting, or it becomes the "buy the rumor, sell the news" event. However, we are getting closer to the point where Microsoft may be a good buy. At $39, I could not say the same, but as we get closer to $35, investors might want to take another look.
Disclosure: I have no positions in any stocks mentioned, and no plans to initiate any positions within the next 72 hours. I wrote this article myself, and it expresses my own opinions. I am not receiving compensation for it (other than from Seeking Alpha). I have no business relationship with any company whose stock is mentioned in this article.
Additional disclosure: Investors are always reminded that before making any investment, you should do your own proper due diligence on any name directly or indirectly mentioned in this article. Investors should also consider seeking advice from a broker or financial adviser before making any investment decisions. Any material in this article should be considered general information, and not relied on as a formal investment recommendation.