Aflac, Inc. (NYSE:AFL), a U.S. supplemental insurance company with a $30+ billion market capitalization, is well known for its very clever duck commercials. Aflac offers one exchange-traded debt security (ETDs) for consideration by preferred stock investors.
ETDs are very similar to preferred stocks and are often labeled as such on brokerage statements. But ETDs are recorded on the company's books as debt, rather than equity, and are actually bonds that trade on the stock exchange (rather than the bond market). As debt, ETDs are often considered to represent lower investment risk than the same company's preferred stocks (see "Preferred Stock Investors: 'Exchange Traded Debt Securities' Offer Same Reward, Lower Risk").
Trading under the symbol AFSD, the security boasts double investment grade ratings (Baa1/BBB) and offers a 5.5 percent coupon.
(Source for preferred stock data: CDx3 Notification Service database, see Additional Disclosure)
Description and History
Aflac was established in 1955 as a family insurance business, its current CEO, Dan Amos, being the son of one of the original brothers that founded the company.
Aflac has a very interesting business model in several ways. Rather than offer primary insurance policies, Aflac offers health and life supplemental policies as additional coverage to a policyholder's existing insurance.
That strategy has served the company very well in recent years. In the U.S., it has allowed them to, at least for now, sidestep much of the teeth-gnashing that has consumed primary health insurance providers over the troublesome Affordable Care Act. And in Japan, being a supplementary coverage provider has allowed them to do a mega-deal with Japan Post. Because of that deal, Aflac now insures one out of every four households in Japan.
(Sources: Aflac website | Yahoo Finance)
Recent Views on Aflac
But the Japan Post deal has become a double-edged sword for Aflac, much like when a small manufacturer of, say, frozen ravioli does a deal to supply Costco. The good news is that your business goes through the roof; the bad news is that you are now totally dependent on that deal and if Costco ever moves to a different supplier, it's back to Rice Krispies for dinner.
The percentage of Aflac's revenue that comes from its Japan operations has grown to about 80 percent, dwarfing its U.S. business.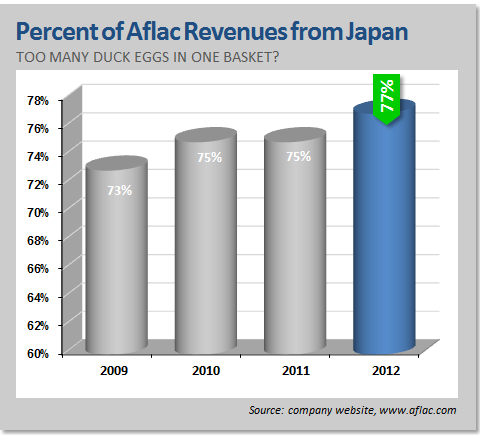 Obviously, the stability of Japan's economy, monetary policies and currency have a lot to say about Aflac's wellbeing.
But Aflac's investment portfolio also raises eyebrows. Like most insurance companies, premium revenues are invested primarily in AAA-rated government bonds and Aflac is no exception. However, a closer look at their portfolio reveals that their holdings are primarily in Japan Government Bonds (NYSEARCA:JGBS). While the company has sought to move away from this "double-down" of their Japan-centric risk, even to the extent of hiring a new investment team a couple of years ago, the portfolio remains pretty much unchanged in this respect.
While reviewing their Q3 2013 results with Wall Street analysts, CEO Dan Amos stated that
We would much rather be much more diversified. We would much rather be doing the things that we told you we're setting up for, but I promise you that this new department...has capabilities in monitoring that we have to have in place before we can take on some of these.
Lastly, in addition to the risks associated with 80 percent of their revenue coming from its Japan Post deal and the proceeds being invested back into JGBs, Japan Post is owned by the Japanese government (despite enormous and very controversial efforts to privatize the agency over the last few years).
(Sources: Aflac's CEO Discusses Q3 2013 Results - Earnings Call Transcript, October 30, 2013 | Aflac: Still Cheap Despite The Recent Price Run-Up, December 4, 2013, F.A.S.T. Graphs | Aflac: An Attractive, 'Buffettesque' Investment, December 3, 2014, Brian Grosso | Wikipedia)
Aflac's Preferred Stock
The U.S. preferred stock market is currently a seven percent market and prices have returned to pre-QE2 levels. There is also growing evidence that preferred stock investors have already "priced-in" the long-awaited Fed withdrawal from its QE rate-lowering program (see "Have Preferred Stock Investors Already Moved Beyond QE?").
Further, there are currently 30 high-quality preferred stocks, most with double investment grade ratings and all with cumulative dividends, offering dividend rates (coupon) of at least 6.5 percent that are trading below their $25 par values (December 11, 2013). And eight of these offer coupon rates of at least 7 percent.
AFSD, Aflac's sole offering to preferred stock investors, was issued in September 2012 at 5.5 percent with a September 2017 call date and a September 2052 maturity.

Trading recently at $21.20 per share, a $3.80 discount to par, AFSD is offering buyers a below-market current yield of 6.49 percent.
Given the alternatives currently available, a compelling case for AFSD seems like it would be hard to make. But Aflac's AFSD trades over 100,000 shares on most days. That's relatively high for this type of security, especially one that is over a year old. Looking at AFSD, lots of preferred stock buyers apparently like what they see.
(Sources: CDx3 Notification Service database, December 11, 2013 | SEC: AFSD Prospectus)
What's Next?
Due to AFSD's relatively low 5.5 percent dividend rate, this security is particularly exposed to the "perpetual ownership trap" (see Preferred Stock Investing, Fifth Edition, page 141). Such securities with a dividend rate of at least 6.5 percent are generally able to ultimately be sold for a capital gain either on the open market or to the issuing company as the result of a redemption (there have only been two exceptions since January 2001). Those holding shares that offer a dividend rate below 6.5 percent, however, have not been as fortunate.
Investing in Aflac's AFSD is attractive to very long-term investors (college fund for a newborn ?) who are looking for the stability implied by a decades-old company with very solid financial performance and management offering a fixed-return ETDs with double investment grade ratings. AFSD's 2052 maturity date re-defines long-term preferred stock investing, but with over 100,000 shares trading every day, stability more than income is apparently the attraction here.
Disclosure: I have no positions in any stocks mentioned, and no plans to initiate any positions within the next 72 hours. I wrote this article myself, and it expresses my own opinions. I am not receiving compensation for it (other than from Seeking Alpha). I have no business relationship with any company whose stock is mentioned in this article.
Additional disclosure: The CDx3 Notification Service is my preferred stock email alert and research newsletter service and includes the database of all preferred stocks and exchange-traded debt securities traded on U.S. stock exchanges used for this article.