As I mentioned in my previous article, few stocks have been as stable and consistent as Prospect Capital (NASDAQ:PSEC). The company is a business development company, or BDC, which typically invests in private company equity, debt, and other high-risk investments. However, Prospect Capital is branching out into other investment categories, especially rental properties. In terms of monthly income, few stocks can beat Prospect Capital. At the current rate of roughly $0.11 per month, Prospect Capital pays out nearly 1% per month at current prices.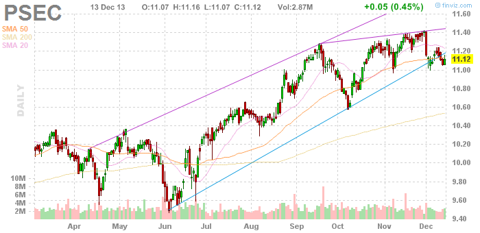 Prospect Capital doubles its investments in rental properties
On December 13, Prospect Capital announced a $144.5M investment into multifamily residential properties. In four transactions, the company bought 19 rent producing multifamily residential properties totaling 5,652 rental units and 5.66M rentable square feet.
Do note that Prospect Capital's rental investments are held under its portfolio company APH Property Holdings, LLC, or APH for short. APH owns a real estate investment trust, or REIT, which offers a tax efficient vehicle for holding the properties. The REIT then works with various other co investors and the operating managers.
Below is a breakdown of Prospect Capital's four new rental investments:
The Oxford portfolio: Six multifamily residential rental properties located in Atlanta, Charlotte, Dallas, and Orlando, totaling 2,271 units and 2.18M rentable square feet. Prospect Capital's operating manager and co investor is McDowell Properties.
The Gulf Coast portfolio: Six residential rental properties located in Birmingham, Mobile, Pensacola, and Tallahassee, totaling 1,537 units and 1.56M rentable square feet. Prospect Capital's operating manager and co-investor is Providence Management Company.
The Stonemark portfolio: Six residential rental properties located in and around Atlanta, totaling 1,350 units and 1.46M rentable square feet. Prospect Capital's operating manager and co-investor is GoldOller Real Estate Investments.
Bexley Apartment Homes: A residential rental property located in Marietta, Georgia, totaling 494 units and 461,890 rentable square feet. Prospect Capital's operating manager and co-investor is Carroll Organization.
These transactions are hardly the only ones. Back in June, Prospect Capital announced a $76.5M investment in The Resort, a prominent multi-family residential community in Pembroke Pines, Florida. The operating manager and co-investor here is also Carroll Organization.
Including previous rental property acquisitions, Prospect Capital has now invested about $288.3M in ten separate transactions for 25 multifamily residential properties with a total of 9,168 rental units and 9.11M rentable square feet.
Why is Prospect Capital expanding into real estate?
These investments into rental properties by Prospect Capital have me quite perplexed as it is a shift from its previous strategy. Typically, most of Prospect Capital's investments are either via senior secured debt or equity in different types of companies. These investments have typically provided high double-digit IRR while using low amounts of leverage. Prospect Capital has generally done a good job in weeding out potential defaulters. In fact, none of its investments have gone into non-accrual in over 6 years.
If Prospect Capital's traditional business has done so well, then why is it putting so much capital to work into rental real estate? I believe Prospect Capital has two goals in mind. The first would be income diversification while the second would be to juice up its declining originations.
As I noted in my previous article, Prospect Capital has been seeing its loan originations stall. For Q4, its quarterly run rate is less than $300M, which is below Q3 levels. This is not good as Prospect Capital has been growing like a weed, with a 60% increase in share count over the past 12 months.
While real estate investments are still small at about 6% of Prospect Capital's enterprise value, they still have made up quite a large chunk of YTD total investments.
Some, including myself, are worried that these rental real estate investments may provide lower IRR than what Prospect Capital typically achieves. The company has generally reassured analysts that rental properties indeed do provide adequate IRR, although sometimes with varying amounts of leverage required.
As an example, Prospect Capital's investment in Pembroke Pine required a higher leverage than normal, largely due to the higher prices in the area. At a purchase price of about $225M and with mortgage debt of $157.5M, this implies a LTV of 70%.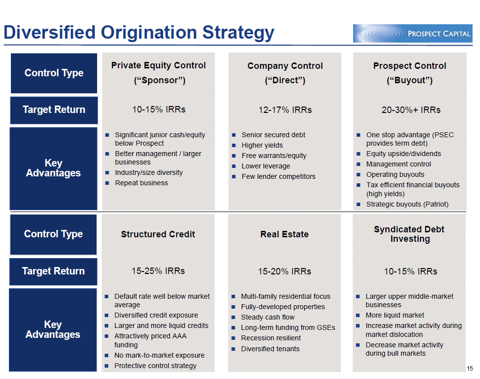 Final Thoughts and Conclusion
In my opinion, investors should give Prospect Capital some benefit of the doubt regarding its move into rental properties. Prospect Capital needs to keep its leverage ratios in check while also maintaining its traditional double-digit IRRs. Lower loan originations continue to concern me. However, I believe the company is just being more choosy as to who it lets borrow as it gets bigger.
Prospect Capital is a very high risk stock and deserves constant monitoring. It is a good place to park some cash due to its very large dividend. However, do not expect any capital appreciation as Prospect Capital issues tons of stock, especially if its shares are trading above NAV, which as of Q3 2013 was $10.72.
Disclaimer: The opinions in this article are for informational purposes only and should not be construed as a recommendation to buy or sell the stocks mentioned. Please do your own due diligence before making any investment decision.
Disclosure: I am long PSEC. I wrote this article myself, and it expresses my own opinions. I am not receiving compensation for it (other than from Seeking Alpha). I have no business relationship with any company whose stock is mentioned in this article.