Investors in Portfolio Recovery Assoc. (PRAA) have to be pretty pleased with the way 2010 has treated them. The stock is up nearly 20% so far this year despite the fact that the market has been sluggish. At issue has been both a positive earnings announcement for the fourth quarter, and a successful stock offering last week. The stock offering allowed the company to raise capital to pay down its debt level and gives the company more flexibility for future strategic purchases.
Portfolio Recovery operates in an industry that doesn't have too many friends. The company purchases receivables from financial institutions and other corporations and then attempts to collect enough of these receivables to cover its purchase price and generate a profit. That's a nice way of saying the company is a glorified debt collector. This business has been profitable for quite some time, but in the last decade many market participants have faced competitive challenges.
As you can imagine, the name of the game is to buy these receivables at a steep discount to face value. PRAA actually focuses on portfolios of defaulted consumer receivables – so they know up front that collecting on these debts will be challenging. During the fourth quarter, PRAA bought $2 billion worth of loans (measured by the face value of debt owed by consumers). The pricetag was a mere $75.1 million – or 3.755 cents for every dollar owed. So with this low price, PRAA could theoretically see 90% of its face value remain in default and still make a nice profit. There are administrative costs to consider of course, but the low purchase price goes a long way towards creating a strong business model.
A few years ago, there was much more competition for these loans. Many financial institutions were holding on to debt longer or launching their own collection agencies. Hedge funds were getting into the game too, buying the portfolios and hiring hourly workers to call and collect the debts. Prices for these portfolios rose to a place where they were increasingly difficult to generate profits. But during the financial crisis, many of these competitors went out of business or lost access to capital. Today, the industry is much healthier and participants are able to generate strong profits. According to the CFO of PRAA, the future also looks bright and should result in earnings growth:
Looking forward, we believe our strong financial position and continued access to capital will help position us well to take advantage of opportunities for continued portfolio acquisitions as we move further into 2010." ~Kevin P. Stevenson, CFO
On February 11, PRAA announced strong earnings of 80 cents per share, and finishing the entire year with $2.87 in profits for every share. Investors celebrated, pushing the stock up 18.3% in a single day. A week later, the company priced a secondary offering, generating $71.6 million in new capital for the firm. Before the offering, the stock had closed at $54.03. The shares were offered at a discount with deal participants paying $52.50. But during market trading the stock quickly rallied above the deal price and has maintained a stable price. That's a good sign considering the dilution effect of the deal.
Raising the capital gives PRAA more flexibility for growth in 2010. At the end of the fourth quarter, the company had cash of $20.3 million and $319.3 million in borrowings. With $45.7 million available for new borrowing, PRAA was getting low on options. But now that an additional $71.6 million has been raised, PRAA has more than $100 million to work with if opportunities for purchases arise. With continued concern over unemployment and weak consumer balance sheets, it is likely that PRAA will be actively buying debt at distressed prices.
Analysts are estimating 2010 earnings at $3.55 and those assumptions are likely conservative, based on the company's current assets. If PRAA makes a strong acquisition or two, these estimates could turn out to be low. But even if the estimates are right, PRAA is only trading at a multiple of 15 which appears attractive considering the company's growth. While I believe caution is the most important trading strategy for the current environment, PRAA could turn out to be one of the better opportunities we have this year.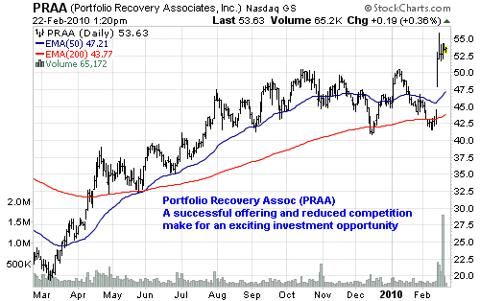 Full Disclosure: Author does not have a position in PRAA