With the U.S. markets near all time highs, many are wondering how to protect their portfolio value against a severe pullback. Now that's not to suggest a pullback is in the works. If I claimed to know where the markets were going, that would mean I have a nose as long as a fictional chap that goes by the name of Pinocchio. Market predictions also share the same category known as fiction.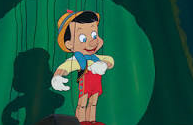 Markets could go up, markets could go down, markets to plod along in a trading range. Or they could do a combination of all three. Now that doesn't discount the need to reduce portfolio volatility. As you may know I am all about managing risk and advising clients and readers to pay very close attention to their own risk tolerance levels and ensure that those portfolios are a risk match. Most money is lost or left on the table as a result of investors taking on way too much risk or volatility. And I will certainly define risk as volatility, and the emotional or human response to that volatility. Too many investors like to buy high and sell low. The correct action of course is to buy and hold, reinvest new monies along the way - and stay the course. One can only stay the course through the cycles if their portfolio matches their risk tolerance level.
Many investors do need to take on risk (that comes with potential greater gains) to reach their investment goals. Those boosted returns above and beyond the savings accounts and CDs typically come in the form of a mix of stocks and bonds, and certainly some more sophisticated products for those who are the 'experts'. The most tried and true way to manage portfolio volatility is the combination of stocks and bonds. Certainly adding more low volatility stocks or adding more diversification doesn't do the trick. You'll find more on that in my article Sorry Guys Stocks Are Not Bonds. And if you've listened to the boo birds saying bonds are too risky, well IMHO Asset Allocation is Alive and Well as this article suggests. Asset allocation never goes out of style.
Adding more asset classes along with bonds can certainly do the trick. I somehow created a freakishly low beta portfolio. I translated my Canadian asset mix into U.S. holdings in this article here. It may have a very low beta, but it may also have a very low everything. I like to call bonds shock absorbers. In the next sentence I will always acknowledge that those shock absorbers are heavy, and the more you put on your investment vehicles, the more they slow you down. That said, it's better to be moving at 30 miles an hour in the right direction than moving at 100 mph and then crashing into the guardrail.
Anyway back to the next correction. It is coming, I just don't know when it's coming or if it will be shallow or a doozy. The last major correction in 2009 was the most severe market correction since the Great Depression, that's certainly why the economic event earned the handle of the Great Recession. What market history tells us is that when the markets correct big time, and even in recessionary events, bonds are there big time to pick up the slack. Stocks and bonds are not always inversely correlated, typically bonds provided that long term stability in a portfolio. But when the you-know-what hits the fan, bonds and especially long term Treasuries are there to come to the stock portfolio's defense. Bonds have help up their end of the bargain in every recession and severe market correction since the Great Depression, and the Great Recession was no exception.
Here's how (NYSEARCA:TLT) the 20 year plus Treasury ETF reacted in 2009 and that little blip in 2011. The chart reflects TLT with (NYSEARCA:SPY).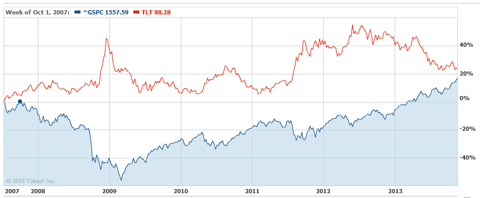 That's simply incredible. They are the mirror image of each other. That's inverse correlation at its finest.
But here's another twist; if we use the power of TLT's inverse correlation in tandem with a broad based bond ETF such as (NYSEARCA:AGG) we can reduce portfolio volatility even further beyond the singular effect of TLT.
Here's a mix of TLT, AGG, SPY and the lower volatility Dividend Appreciation ETF (NYSEARCA:VIG) held in equal amounts through the market correction. The start date is January of 2007, the period moves through to November of 2013.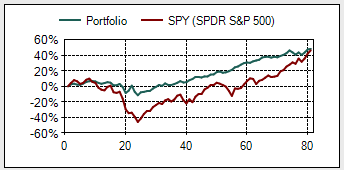 Incredibly that asset mix fell by only 10% or so from its inception date. Now that's a level of volatility that most investors can handle. The returns are equal to the broader market, with reinvested dividends and income.
That's a mix built for reducing portfolio volatility. What would be the cost of that safety over the last 5 years of stock market bull run? Here's that same asset mix from November 2008 to present vs the S&P 500.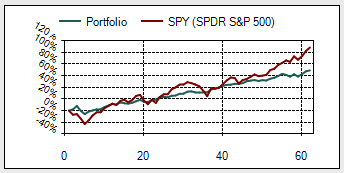 It's still an asset mix that delivers some very decent returns. Here are a few points on that ETF asset mix from low-risk-investing.com the site that calculates total return with income reinvestment.
Portfolio Total Return: 69%
The above portfolio's total return was 69%, under-performing the SPDR S&P 500 ETF's total return of 108.2%. The total return includes stock price appreciation and dividends.
Portfolio Volatility: 7.7%
The portfolio's volatility was 7.7% which was lower than the S&P 500 volatility of 16.1%.
Portfolio Diversification:
The portfolio's average correlation value is 0.83. This is a measure of the degree to which stocks in the portfolio move together.
That diversified mix of stocks and bonds is delivering 11% per year. Think that the results were worse for this asset mix over the last two years and one year as the markets went on a very impressive run? Nope, we're still above that 11% per year average return.
Maybe that's a timeless low risk, decent return asset mix? I'll leave that up to you and your portfolio.
But if you feel your portfolio does not match your risk profile - Act Now! Or if you feel you want to protect your gains but stay in the markets, this article may offer up some ideas on diversification and volatility reduction.
RISK
Please, please, please understand the risks of all of your investments. Stocks have risks. Bonds have price risks, especially on the longer terms. Heck, the U.S. could even default. Who knows? Then again, they have them fancy electronic printing presses.
Happy investing, happy holidays and be careful out there.
Disclosure: I am long DIA, SPY, VYM, EFA, EWC. I wrote this article myself, and it expresses my own opinions. I am not receiving compensation for it (other than from Seeking Alpha). I have no business relationship with any company whose stock is mentioned in this article.
Additional disclosure: Dale Roberts aka cranky is a Streetwise Coach at ING Direct Mutual Funds. Dale's commentary does not constitute investment advice. The opinions and information should only be factored into an investor's overall opinion forming process.