Realty Income (NYSE:O) shares have had two weak months in a row. Shares were trading at a three month High at $43 at the end of October and have subsequently lost 11%. The main reason for this correction appears to be the anticipated tapering of the Federal Reserve that ultimately will mark the end of ultra-low interest rates.
Realty Income as well as other REITs have consolidated quite a bit in 2013; most notable is the steep decline in share values in May and June 2013 when the market began to adjust its views about long-term interest rates.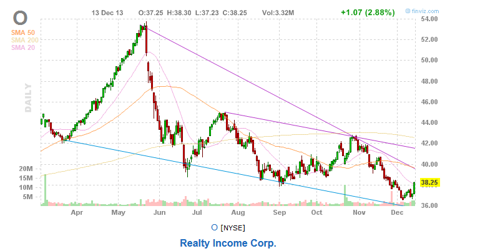 I never really understand the obsession of investors with short-term events. It is clear that rates across the maturity spectrum will increase simply because they have stayed so low for so long and rates will eventually have to reflect the economic conditions on the ground. In the long-term, REIT investors will do well in the US despite short-term challenges that could always come from a multiple of fronts.
I believe that investors purchasing Realty Income today will get outstanding bang for their buck in the long-term. In fact, I think Realty Income is one of the most attractively priced REITs in the market place right now and I have used the decline in share values in the last week to double down on my Realty investment. Realty Income is not only an attractive investment because of its obviously high dividend yield of 5.71% but also because the company has an impressive growth record, superb management and the US real estate is an attractive investment asset class going forward.
Favorable business drivers
The US is one of the few industrialized nations that will exhibit strong population growth in the future. In fact, net migration to the US will not merely be a marginal factor in population growth but instead be a significant driver of such growth. Higher international migration in the coming decades will represent significantly higher demand for goods and services and migration-driven population growth will ultimately provide boosts to the US real estate sector (both residential and retail) of the economy.
(US Census Bureau)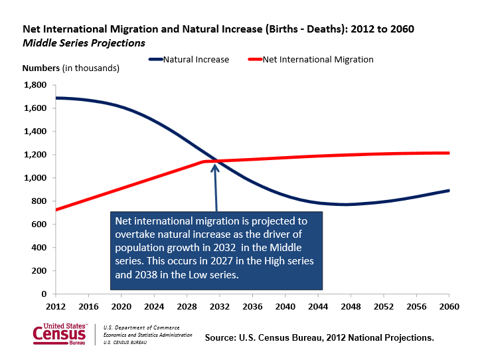 Additional benefits of investing in real estate
Real estate also offers investors a variety of benefits that are independent of the managerial competence at any individual company. First, they provide investors with an inflation hedge as rents usually are linked to consumer price indices. I assume that inflation will increase over the next five years as the US economy digs itself out of the hole left by the financial crisis. As US GDP expands and the employment situation improves, inflationary pressures should increase as well. Real estate companies like Realty Income provide investors with decent inflation protection as rents and portfolio values increase over time. I am not going to make specific predictions about the appreciation potential of Realty Income's real estate portfolio, but I ams sure that the company's portfolio will be worth substantially more in 20 years than it is today. Secondly, REITs provide diversification benefits to investors who predominantly hold equities and bonds in their portfolios.
Historical performance
After describing the positive long-term effects of immigration on the US real estate sector and laying out the benefits of real estate investments in general, it is time to look at Realty Income's diversified asset footprint and performance.
Diversification
The company currently has 3,866 net lease properties across the United States and focuses on single, free-standing commercial properties. The REIT has about 161 properties in California which account for roughly 10.1% of rental revenue. Texas is the second most important commercial market and is responsible for generating 9.9% of revenues. Florida, the third most important market, accounts for 5.8% of its revenues. Realty Income is geographically highly diversified and might even expand outside the United States at some point in the future. Realty is also diversified business when it comes to its customer base: The top 15 largest customers account for 44.4% of total rental revenue and the top 5 customers for 22.30%. The largest contract partner is FedEx (NYSE:FDX) accounting for 5.1% of rental revenues. The bottom line is: Realty Income is a retail focused REIT with high degrees of diversification in terms of geography, industry and customer base.
Portfolio growth and industry-leading occupancy rates
Realty Income pursues an aggressive acquisition strategy. The table below depicts Realty's portfolio growth since 2000: The company has nearly tripled its properties over the last 12 years. As of September 30, 2013 the REIT owned and operated 3,866 properties which represents an increase of 262% over the property count in 2000 (1,068 properties).
At the same time Realty Income posts extremely good occupancy rates for its property portfolio. Over the last twelve years occupancy in percent has consistently been in the high 90s and the picture wouldn't change if the data period is extended to the foundation date in 1969.

Superior Performance reflected in rising dividend stream
Clearly, Realty Income is a dividend champion. From 1990 until 2012 the company has increased its annualized dividends by a compound annual growth rate of 4%. The company currently pays an annualized dividend of $2.182 which equates to a 5.71% yield. The REIT pays on a monthly basis ($0.1818542 per share) and I would highly recommend for investors to immediately reinvest those proceeds in more Realty Income shares for two reasons: First, compounding effects are magnified and secondly, falling prices allow investors to average down and purchase shares at an even higher yield than the one depicted in this article.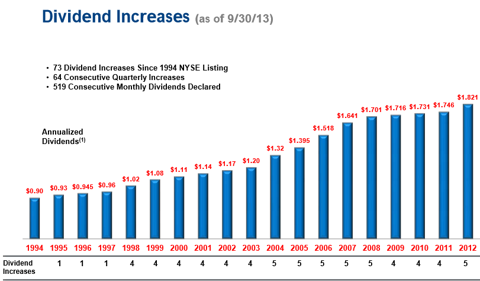 Summary
Volatility and temporarily falling prices offer investors the opportunity to purchase this dividend champion at discounted prices. Instead of giving in to volatility and short-term uncertainty, investors should react opportunistically and purchase shares of Realty Income when it is on sale. The long-term real estate dynamics in the US are favorable and justify an allocation to real estate businesses such as Realty Income. The company is highly diversified in terms of geography, industry and tenant base and has proven over and over that it can grow its business in a variety of economic climates. Realty Income is a superbly managed company with not only a high yield but with a long track-record in paying shareholders which lends the company a great amount of credibility. Investors who desire real estate exposure get a healthy monthly dividend (which should best be reinvested), an outstanding payment record as well as an aggressive growth strategy. The company has proven time and again that it can acquire properties in bulk and integrate them into its portfolio. In addition, investors get a fair amount of inflation protection (which I think will be needed in the coming years) and diversification benefits. In my opinion, Realty Income is the best diversified REIT alternative in the market and I think long-term oriented investors with a horizon of 20+ years will do very well with this compounding machine.
Disclosure: I am long O. I wrote this article myself, and it expresses my own opinions. I am not receiving compensation for it (other than from Seeking Alpha). I have no business relationship with any company whose stock is mentioned in this article.