The Japanese equities market is on fire this year. The Nikkei 225 Index is on pace for its best annual gain in over 40 years - since 1972. So far it's up over 48% in 2013, besting both the Dow Jones Industrials ETF (NYSEARCA:DIA) and S&P 500 SPDR ETF (NYSEARCA:SPY) which track the two major U.S. indexes by more than double - quite a healthy margin.
(click to enlarge) (source: Google Finance)

That's quite an impressive one-year gain for an index. Normally investors would be taking some profits after a year like that and looking elsewhere for value, but plenty of analysts and investment firms actually suggest doing exactly the opposite. A number of recent reports and articles in the financial news realms have surfaced, recommending going underweight U.S. securities next year and instead looking for continued gains in Japan. In this article, I'll highlight a few of the most recent reports suggesting this by some of the biggest firms in the industry - Goldman Sachs, Bank of America, Credit Suisse, Reuters. We'll discuss what's driving Japan's market (their monetary policies). Then I'll offer my take on a few Japanese stocks that U.S. investors can look to add to their portfolio to capitalize on the bright future of our island neighbor across the Pacific.
Why Not The U.S.?
Despite a great year here in the States, the ongoing quantitative easing that's been driving the markets seems due to begin tapering off anytime now. It's definitely had a pronounced positive impact on the markets over the past few years, and now the economy has finally begun to show sustained signs of recovery these past few months. That's led many people to point to newly appointed Chair Janet Yellen to begin tapering the Federal Reserve's $85 billion/month fiscal efforts. If U.S. demographics continue to improve, this will happen without a doubt; there will simply be too much pressure from both Washington and Wall Street to scale it back for her not to comply. This will result in a number of things - rising rates being the chiefest among them. The rise in rates will deflate the U.S. markets as investors take profits and rotate their money into less riskier investments such as bonds, CDs, etc. Even the mention of rates rising and QE tapering cause the S&P to drop 6.6% in a matter of weeks back in mid-May of this year. When it really does start happening I think we'll see a correction in the ballpark of 10% that's spread out over a couple of months. That's not the time to be overweight in U.S. equities.
So that brings us to the point we're at now - where many are hesitant to claim the U.S. markets are in a "bubble" because of the insinuation that goes along with that (it could pop). Call it what you want - bubble or not - the bull run in the markets is losing steam. The amount of recent chatter from investment firms and financial institutions that are calling for a bad 2014 in the U.S. markets is alarming to some degree:
Last week BofA Merrill Lynch issued a letter to investors cautioning them about the future of the U.S. equities markets, then followed that up with an appearance on CNBC claiming their analysts see a 20% correction coming to U.S. markets in 2014.
Additionally, Goldman Sachs sees a 10% correction looming next year for the S&P 500. Specifically they think investors could see a 6% drop in the first 3 months of 2014, with a 67% probability that the market goes 11% lower at some point over the next 12 months.
Whether or not investors should give any bit of credence to the opinions of firms such as these -and that is what they are: opinions - is debatable. There are also a number of bullish reports coming out making the case that the U.S. is not in a bubble and the markets will continue to climb throughout 2014. However, I believe the amount of negativity, especially recently coming out, should serve as some caution to investors and suggest paying "extra-special-close" attention to what their portfolios as well as the overall markets are doing in the U.S. next year. Combine that with the number of recent bullish reports on Japan's outlook and I think you have a legitimate case for a rotation of some of your portfolio into the Japanese equities markets.
Why Japan?
Thanks to "Abenomics," business is good in Japan. As I pointed out earlier, the markets are way up this year thanks largely to massive and aggressive monetary and fiscal policies - somewhat similar to what's been taking place in the U.S. over the past few years. However, with Japan still posting largely unimpressive economic growth numbers it would seem that these policies will remain in effect for much longer than in the States. The Bank of Japan and Prime Minister Shinzo Abe are determined to hold down the value of the Yen and offset a slight raise in consumption tax next year by stepping up their already substantial levels of monetary easing. Also offsetting the tax increase in April will be increased mortgage loan tax cuts and a projected rise in Japanese home values.
This all comes together allowing Japanese equities to continue their impressive run at least into the near-term future as company earnings keep growing thanks to a weaker yen and their stocks respond positively. A recent Reuters poll of analysts and advisors from selected investment firms showed that on average they expect the Nikkei to cross the 16,000 level by June 2014 and hit the 18,000 mark by the end of next year - a 16% increase from today's level. One really optimistic analyst, SMBC Securities' Ryota Sakagami put it this way:
"The Japanese market will likely fare strongly in the first half of the next year and the Nikkei could be flirting with the 20,000-mark."
A Bloomberg article published December 13th highlights the most recent bullish call on Japan by Barclays, who sees the Nikkei 225 hitting the 22,000 mark next year. That would represent another 43% gain in the markets for 2014, on the heels of the already monumental year they've had in 2013.
A look at the recent technical activity in the Nikkei 225 would seem to confirm what many of these analysts are saying, as it appears the index has broken out from a bullish symmetrical triangle and appears to be on its way toward the 10-year high levels of 2007. Perhaps it can reach those ambitious 20,000 and above numbers that analysts are calling for. Also, the most recent dip over the past week suggests that now is a great entry point as the RSI has dropped below 40.
(click to enlarge) (source: Yahoo! Finance)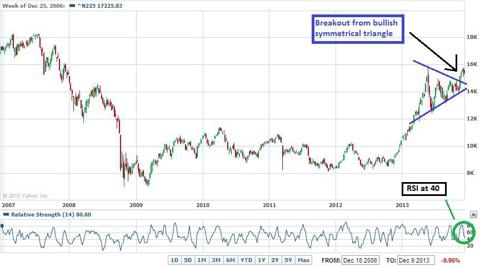 Credit Suisse strategist Andrew Garthwaite says Japan has the most to gain from a global recovery because they were the hardest to be hit when the markets went south in 2008, and suggests we're already seeing evidence of this by looking at the huge year the Nikkei is having vs. the other major indices around the world. He likes Japan to continue to outperform the other major markets of the world in 2014 not only for the obvious fiscal policy reasons pointed out earlier, but notes that:
"In addition, Japan relies heavily on producing machinery and transportation equipment - the kinds of things that businesses and governments invest in when times are good. Which they are."
Highly respected and well known chief equity strategist of Mizuho Securities, Kikuchi Masotashi, sees the Nikkei hitting 16,000 by April and 17,000 by May/June. Mizuho is also projecting a (-0.8%) annualized GDP growth rate for the April-June quarter. The stagnant economy will continue to push the Bank of Japan to loosen monetary policy and continue weakening the yen, driving the markets even higher.
Japanese Stocks That Are Worth A Look
So which stocks are worth consideration from investors who want to get in on the positive 2014 that lies ahead for Japan? As the yen remains weak, Japanese exporters will benefit the most from a cheaper currency when they repatriate overseas earnings. A majority of the large-cap companies in Japan fall into this category. Domestic-focused firms, however, face higher bills for imported goods and materials. That should be taken into account when evaluating the following companies further, as a few of them focus operations more within Japan's borders than outside them.
Analysts suggest going either way when it comes to basing decisions on the market cap size of Japanese companies. "Japanese small-cap stocks recently traded at about 14.8 times this year's consensus earnings expectations, while large-cap stocks traded at about 14.1 times," according to Mr. Alec Young of S&P Capital IQ. "But Japan's small-cap companies are expected to experience earnings growth of 13% over the next year, while the expectation for large-cap stocks is 10%."
Here's a list of a few of the more well-known, large cap Japanese stocks that analysts think investors should consider purchasing to play the continuing run in the Japan markets next year, in no particular order (data sourced from Zacks as of 12/15):
1. Nippon Telegraph & Telephone (NYSE:NTT) provides a variety of telecommunications services, including telephone, telegraph, leased circuits, data communication, terminal equipment sales and other services. The Company provides both local and long distance telephone services within Japan, but it does not provide service in the international markets.
| | | | |
| --- | --- | --- | --- |
| Share Price: | $26.08 | Sales Growth (YoY): | (-20.56%) |
| Market Cap: | 60.78B | Proj. EPS Growth (2014): | 5.04% |
| Div. Yield: | 2.80% | Current Ratio: | 1.38 |
| P/E (forward): | 10.15 | Net Margin: | 5.06% |
| P/Book: | 0.56 | Debt-to-equity: | 0.30 |
| P/Sales: | 0.53 | PEG Ratio: | 2.01 |
NTT is currently rated an average 1.00 "strong buy" by 1 analyst covering, with a target price of $32.26 representing a 23.7% upside from the current share price.
2. NTT DoCoMo (NYSE:DCM) is the world's leading mobile communications company. The company provides a wide variety of leading-edge mobile multimedia services. These include i-mode, the world's most popular mobile Internet service, which provides e-mail and Internet access, and FOMA, launched in 2001 as the world's first 3G mobile service. The company is expanding its global reach through strategic joint ventures and other alliances with mobile and multimedia service providers in the Asia-Pacific region, Europe and North America.
| | | | |
| --- | --- | --- | --- |
| Share Price: | $16.03 | Sales Growth (YoY): | (-18.14%) |
| Market Cap: | 69.97B | Proj. EPS Growth (2014): | 3.51% |
| Div. Yield: | 3.51% | Current Ratio: | 2.23 |
| P/E (forward): | 12.62 | Net Margin: | 11.29% |
| P/Book: | 1.23 | Debt-to-equity: | 0.03 |
| P/Sales: | 1.54 | PEG Ratio: | 3.60 |
DCM is currently rated a 3.00 "hold" by 1 analyst covering, with a target price of $17.74 representing a 10.7% upside from the current share price.
3. Canon, Inc. (NYSE:CAJ) is an industry leader in professional and consumer imaging equipment and information systems. Canon's extensive product line enables businesses and consumers worldwide to capture, store and distribute visual information. Canon products include full-color as well as black and white copiers; color laser printers; facsimile machines; micrographics and optical disk filing systems; word processors, typewriters and calculators; camcorders, and lenses; semiconductor, broadcast and optical equipment; and other specialized industrial products.
| | | | |
| --- | --- | --- | --- |
| Share Price: | $31.65 | Sales Growth (YoY): | (-9.15%) |
| Market Cap: | 36.49B | Proj. EPS Growth (2014): | 10.35% |
| Div. Yield: | 3.86% | Current Ratio: | 2.60 |
| P/E (forward): | 13.32 | Net Margin: | 6.23% |
| P/Book: | 1.25 | Debt-to-equity: | 0.00 |
| P/Sales: | 0.94 | PEG Ratio: | 1.30 |
CAJ is currently rated an average 1.00 "strong buy" by 4 analysts covering, with an average target price of $40.23 representing a 27.1% upside from the current share price.
4. Honda Motor Corp. (NYSE:HMC) manufactures a wide range of products, including motorcycles, ATVs, generators, marine engines, lawn and garden equipment and automobiles. Historically, Honda has been an industry leader in fuel-efficiency and low-emission technology.
| | | | |
| --- | --- | --- | --- |
| Share Price: | $40.35 | Sales Growth (YoY): | 1.02% |
| Market Cap: | 72.72B | Proj. EPS Growth (2014): | 28.43% |
| Div. Yield: | 1.80% | Current Ratio: | 1.26 |
| P/E (forward): | 11.83 | Net Margin: | 3.61% |
| P/Book: | 1.27 | Debt-to-equity: | 0.53 |
| P/Sales: | 0.63 | PEG Ratio: | 0.42 |
HMC is currently rated an average 1.00 "strong buy" by 3 analysts covering, with an average target price of $47.15 representing a 16.9% upside from the current share price.
5. Sumitomo Mitsui Financial Group, Inc. (NYSE:SMFG) is a financial holding company established through a share transfer from Sumitomo Mitsui Banking Corporation. As a holding company, SMFG has functions such as strategic planning, management, resource allocation, strategic planning of information systems, financial management, investor relations, risk management, human resource management for group executives, and business auditing of the group as a whole.
| | | | |
| --- | --- | --- | --- |
| Share Price: | $9.80 | Sales Growth (YoY): | (-11.34%) |
| Market Cap: | 69.29B | Proj. EPS Growth (2014): | (-8.10%) |
| Div. Yield: | 3.36% | Current Ratio: | 0.89 |
| P/E (forward): | 8.87 | Net Margin: | 20.96% |
| P/Book: | 0.76 | Debt-to-equity: | 1.18 |
| P/Sales: | 1.39 | PEG Ratio: | -1.10 |
SMFG is currently rated an average 1.00 "strong buy" by 2 analysts covering, with an average target price of $11.51 representing a 17.5% upside from the current share price.
6. Mizuho Financial Group (NYSE:MFG) is a bank holding company which operates and manages its banks, long-term credit banks, specialized securities companies and other companies which the Company may own by law as its subsidiaries, and engages in business appertaining to the management and operation of such companies.
| | | | |
| --- | --- | --- | --- |
| Share Price: | $4.10 | Sales Growth (YoY): | (-16.37%) |
| Market Cap: | 49.56B | Proj. EPS Growth (2014): | -2.47% |
| Div. Yield: | 2.68% | Current Ratio: | 0.83 |
| P/E (forward): | 8.72 | Net Margin: | 26.63% |
| P/Book: | 0.61 | Debt-to-equity: | 1.79 |
| P/Sales: | 1.53 | PEG Ratio: | -3.56 |
MFG is currently rated an average 2.00 "buy" by 2 analysts covering, with an average target price of $4.73 representing a 15.4% upside from the current share price.
7. Sony Corporation (NYSE:SNE) develops and manufactures consumer and industrial electronic equipment. The Company's products include audio and video equipment, televisions, displays, semiconductors, electronic components, computers and computer peripherals, and telecommunication equipment. The Company is also active in the worldwide music and image-based software markets.
| | | | |
| --- | --- | --- | --- |
| Share Price: | $17.51 | Sales Growth (YoY): | 5.36% |
| Market Cap: | 17.72B | Proj. EPS Growth (2014): | 55.84% |
| Div. Yield: | 1.27% | Current Ratio: | 0.86 |
| P/E (forward): | 72.96 | Net Margin: | 0.94% |
| P/Book: | 0.63 | Debt-to-equity: | 0.33 |
| P/Sales: | 0.23 | PEG Ratio: | 1.31 |
SNE is currently rated an average 1.67 "buy" by 3 analysts covering, with an average target price of $22.00 representing a 25.6% upside from the current share price.
Potential Risks
1. Theoretically, Japan's GDP numbers could improve much quicker than they expect. As a result a case for tapering of their monetary easing programs could be made much sooner than originally projected. This would in turn lead to a rise in rates and strengthened yen which would cause the markets to react by losing steam or even reversing their course.
2. A slowdown in consumption is fairly likely to result when the government increases the sales tax from 5% to 8% in April (Japan's fiscal year ends March 31st). This is likely why many analysts think the majority of the increase in the Nikkei will take place during the first 3 months of next year. While Japan's PM Abe has vowed to mitigate this effect on consumers by maintaining his "Abenomics" monetary policies and keeping rates low, it's only natural that there will be at least some initial reaction in the form of less consumer spending, weakening the market's efforts to move higher during the summer of 2014.
3. Another perceived risk that has shown to be especially true this year is the high volatility of Japan's market vs. other markets around the world. The Nikkei has had 59 sessions where intraday swings exceeded 2.5 percent, compared with four such days in the whole of 2012 - though still way off 101 sessions in 2008 during the global financial crisis. (source: Yahoo! Finance)
4. Japanese stocks are sometimes hard to follow. The exchanges operate while most U.S. investors are asleep. Sometimes the best information about them, including earnings reports, releases and presentations are in Japanese which not all investors read or speak. They usually get translated fairly quickly, but that delay can sometimes be costly to the owner of the stock.
5. Currency risk. As the yen weakens against the US Dollar (or whatever the primary currency of the investor) this will take away from the gains the stock makes or add to its losses. So while a weakening yen is a plus for Japanese companies to help enhance their profits it can pose risk to the foreign investor. Currency-hedged ETFs such as WisdomTree Japan Hedged Equity Fund (NYSEARCA:DXJ) aim to mitigate some of that risk, making them my favorite ETF to buy to gain exposure to Japanese companies.
Conclusion
There isn't anything organic about the market rally in Japan. It is not a rally where prudent fiscal and monetary policies aided by positive demographics fuel consumption and an investment boom that lasts for many years. In fact, it is exactly the opposite - and also very different from the quantitative easing policies being used by the Federal Reserve in the U.S. Japan has seen mild deflation and a stagnant economy since the mid 1990's. Whereas the goal of the Fed's recent fiscal policies has been to grow the economy and combat inflation, Japan's current policies are aimed at growing inflation, devaluing the national currency and specifically boosting their equities market. That's exactly what we've seen this year and exactly what analysts expect to continue happening into next year.
Despite what you may think about the country's economic future and current fiscal policy, markets are up and investors are loving Japan right now more than ever before. Japanese companies are some of the most technologically savvy in the world, and they pride themselves on meeting consumer demand and need. The 48% rise in the Nikkei this year naturally presents investors with the difficult task of finding Japanese companies that may still be undervalued. A safe way to play a continued turnaround in Japan would be to invest in a mutual fund or ETF such as the Japanese iShares Fund (NYSEARCA:EWJ) or DXJ. This requires a lot less work than evaluating and selecting individual stocks. Also, some ETFs trade commission free which can save the prudent investor some money on the front and back ends of the investment. One must take into account the expenses of these funds, some of which can be quite high, slightly reducing the amount of return on investment.
However, for the investor with a higher appetite for risk and willing to put in the work, it appears as though there is still plenty of time to make money, and plenty of money to be made, in Japanese stocks as the Nikkei continues to charge ahead. I'm not as bullish as some of the analysts are, but I do plan on rotating about 30% of my portfolio into the Japanese markets for the next 3-4 months. As far as individual stocks go, my favorite picks from the included list of stocks in this article are HMC, DCM and SMFG:
I like Honda for a continued turnaround in the automotive industry as well as their much improved 2014 lineup of vehicles, especially the Acura brand. They are currently priced attractively for their projected growth and technically shares look to be at buy at current levels. They're also investing a lot of capital in Japan's economy and workers by building their newest factory which is supposed to change to future of the way cars are made.
I like NTT DoCoMo due to their huge market share of wireless service in Japan as well as their recent decision to finally offer subscribers the iPhone devices, which has already helped them to boost sales and stop losing subscribers to competitors like Softbank.
I like Sumitomo Mitsui Financial Group as a financial play that will benefit from the current fiscal policies in Japan. They also posted an impressive earnings release last quarter in which they saw net profit up 53% and sales up 14%. They also raised their earnings guidance forecast for the total year up 29%.
Note: A full list of Japanese ADRs that trade on the U.S. exchanges and over-the counter markets can be found here. I encourage all readers to do the necessary research and due diligence before making any investment decision based on what you've read here today.
Disclosure: I have no positions in any stocks mentioned, but may initiate a long position in HMC, DXJ, SNE over the next 72 hours. I wrote this article myself, and it expresses my own opinions. I am not receiving compensation for it (other than from Seeking Alpha). I have no business relationship with any company whose stock is mentioned in this article.