Altria Group, Inc. (NYSE:MO) is facing several challenges. The group is the dominant player in the U.S. tobacco market. As profitable as that may be, it's also the company's Achilles heel. With the U.S cigarette industry in a decline, it seems unlikely to reverse its course, and therefore, virtually impossible for the group to maintain current cash flow through its core business.
Morningstar expects industry volumes to fall by 3%-4% annually. That turns Altria into a story of a cash cow paying out 70% of profits to shareholders while fighting to squeeze the last bit of value from its business. Legal and regulatory uncertainty muddy the waters. However the story becomes interesting, because Altria holds approximately 26.8% of the economic and voting interest of SABMiller Plc. (OTCPK:SBMRY), which Altria accounts for under the equity method of accounting. I think many investors in Altria are aware of the investment in SABMiller and adjust Altria's value accordingly. However, the market fails to correctly value this stake. Most likely, as a population, analysts are relying too heavily on Altria's filings, which understate value, because an in-depth evaluation of the SABMiller stake makes it increasingly complex to value Altria correctly.
Business Summary:
Altria Group, Inc., through its subsidiaries, engages in the manufacture and sale of cigarettes, smokeless products, and wine in the United States and internationally. It offers cigarettes primarily under the Marlboro brand; smokeless tobacco products under the Copenhagen, Skoal, Red Seal, Husky, and Marlboro Snus brand names; cigars principally under the Black & Mild brand; and pipe tobacco. The company also produces and sells blended table wines under the Chateau Ste. Michelle and Columbia Crest names; and distributes Antinori and Villa Maria Estate wines, and Champagne Nicolas Feuillatte in the United States. In addition, it maintains a portfolio of leveraged and direct finance leases in aircraft, rail and surface transport, electric power, real estate, and manufacturing.
The company sells its tobacco products primarily to wholesalers, including distributors; large retail organizations, such as chain stores; and the armed services. Altria Group, Inc. markets its wine products to restaurants, wholesale clubs, supermarkets, wine shops, and mass merchandisers. The company was founded in 1919 and is headquartered in Richmond, Virginia. Source: Yahoo Finance
Insider ownership
Over the past 12 months, insiders have increased their ownership in Altria by ~12%. I'm quite pleased with the stake held by Martin J. Barrington (Chairman and CEO) with a market value of $27 million and that held by President and COO David R. Beran of $29 million. Other key executives and board members also hold shares with a market value that is material in relation to executive pay.
Dividend
During the third quarter, Altria paid $883 million in dividends and purchased shares valued at approximately $156 million. The dividend yield sits around 4.8%, and in addition, the company is buying back shares. Buybacks are usually more volatile than dividend yields, but at least the company is actively engaging in them. Overall cash returned to shareholders will most likely continue to be between 5% and 6% per year for the near future.
Risks
With the U.S. cigarette industry in a long-term decline because of health concerns and strict marketing regulation, the company faces significant headwinds. If regulators step up the pressure or the industry accelerates its decline, this will hurt the company. This remains a clear risk.
Valuation
To put a reasonable value on Altria, I relied on my standard method of valuation: the discounted cash flow. Because I don't use earnings numbers as a base but cash flow instead, I didn't have to take out the volatile quarterly earnings attributed to SABMiller over the past four quarters. First, I valued Altria based on its free cash flow and business prospects as described above. Next, I mark the SABMiller stake to market.
Altria has been around for almost a hundred years, but now it is a company with a slowly dying core business. Because its core products have addictive qualities and the company products benefit from the competitive advantage of customer captivity, I plot Altria's cash flows up to ten years into the future. Most likely it won't sell anywhere near today's number of cigarettes, but I think it will manage to retain dominant market share in the market that remains at that time.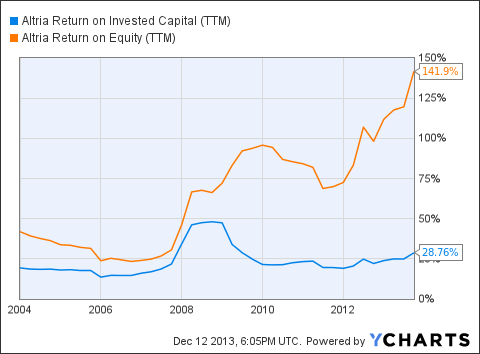 MO Return on Invested Capital (TTM) data by YCharts
Calculating the company's net present value is very difficult, because the company's core business is dying, but it's throwing of tons of cash. Returns on equity and returns on capital have been phenomenal over the past ten years. Ultimately, I think the current market value of Altria's business, without its SABMiller stake, is $36 per share. Today Altria is trading at $37, so that's pretty close. However that's without the 26.8% interest in SABMiller, the world's second-largest brewer. When we mark this stake to market, it is worth $21 Billion. That brings the value of a share of Altria up to $46.5 or a 25% premium over today's share price.
Conclusion
It's extremely hard to invest in a company in a dying industry that is facing regulatory and legal risks. However, the company's management group has significant equity stakes in the company, and over the past ten years, has shown to be made up of capable capital allocators. The best thing about Altria is the huge stake it has in SABMiller. This stake is accounted for with the confusing and volatile equity method of accounting. When you take cash flow or operating cash flow and value Altria without the stake separately, it becomes clear the stake is undervalued.
Disclosure: I have no positions in any stocks mentioned, and no plans to initiate any positions within the next 72 hours. I wrote this article myself, and it expresses my own opinions. I am not receiving compensation for it (other than from Seeking Alpha). I have no business relationship with any company whose stock is mentioned in this article.