Editors' Note: This article covers a stock with less than a $100 million market cap. Please be aware of the risks associated with these stocks.
Ladies and gentlemen, start your engines. Yes, that season is finally upon us. No, I'm not talking about the holiday season, but the season that IP investors and traders have been waiting for. That my friends is the catalyst season, bringing with it, tidings of great joy.
Over the next couple of hours, weeks, and months, there will be many catalysts for companies such as Vringo (VRNG), VirnetX (NYSEMKT:VHC), Document Security Systems (NYSEMKT:DSS) and Parkervision (NASDAQ:PRKR) just to name a few. Without further ado, let us look at some of the upcoming catalysts.
Upcoming Catalysts
Vringo: This IP play has quite a bit of short term catalysts coming its way. As I talk about this later in the article, Vringo was awarded an injunction against ZTE. This certainly now puts even more pressure on ZTE as they await to hear from a court in Germany regarding whether or not they have infringed on Vringo's European Patent (0,748,136). The patent covers devices including those with hotspot functionality, that provide data services between two different wireless/cellular networks.
Also, it was recently announced that Vringo and Google (NASDAQ:GOOG) et al, were ordered into a settlement conference by Magistrate Lawrence R. Leonard. It has been a year since a jury found Google liable for infringing on Vringo's patents. Luckily for investors, it looks as though there will be finally some resolution to this case.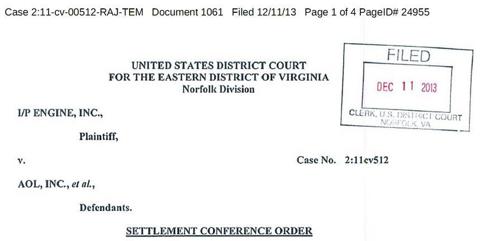 The settlement conference will take place on January 22, 2014, at 9:30 a.m. in which all parties and their lead counsel are required to appear to conduct discussions towards a compromised resolution of this case.
Document Security Systems: After DSS completed its previously announced merger with Lexington Technology Group on July 1, 2013, shares tumbled and set a 52-week low in October. However, the Company has been making a lot of noise lately as shares have more than doubled. I believe shares have risen because of a couple of things.
First, shares spiked because of announcement that the Company had filed a lawsuit against Apple. Second, investors are getting in because of the Markman hearings that will take place in the next couple of months. The first one is set for February 26, 2014, with regards to the Bascom case. The second one is set for April 2, 2014, with regards to the VirtualAgility case. Lastly, because of the many technical points the stock has passed, many investors have jumped on board.
Parkervision: The Company is now playing the waiting game. During the trail against Qualcomm, the Company received news that the jury had awarded $173M in past damages. Investors in Parkervision are now waiting to see if the Company will receive enhanced damages as well as an injunction against Qualcomm to go along with pre and post judgment interest.
VHC: VHC has struggled as of late because of the lack of news as you can see in the chart below. Shareholders are still waiting on the royalty rate to be decided in the case against Apple. VHC has argued for a royalty rate close to 1.5%. Like most IP plays, the longer the wait, the more likely investors get out as they look for profits elsewhere.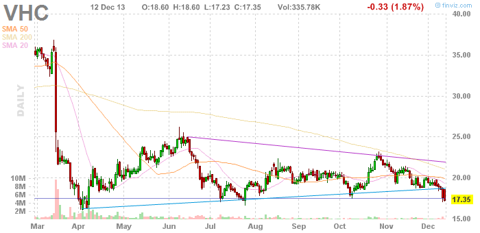 * Image taken from FINVIZ.com
Staying Patient
It's one of the hardest skills to master when it comes to investing. It takes time, discipline, perseverance, diligence and trusting yourself. So what am I talking about? That my friends is called patience.
Watching a stock move up and down every day, coupled with reading numerous buying and selling reports can urge investors to take action. With so much information available these days, it's easy to have your thinking swayed, causing the feeling to take action.
In order to be successful in the market, patience is needed. Patience is needed in all phases of buying and selling securities. Investors need patience to wait for their desired entry point, holding the stock once they've purchased the security, and waiting to exit when their target finally hits.
Not all investments are created equal. Some stocks are undervalued while some are overvalued. Some are more on the volatile and speculative side. Stocks in the IP space tend to be more on the volatile and speculative side due to many binary events that take place much like the biotech space.
A tough thing for investors in the IP space is correctly valuing a company. Why is it so hard? Because patents are intangible assets, it can be difficult to assign a monetary value to IP companies.
Because some investors are not well-versed in the legal process, it's hard for them to correctly evaluate the ramifications of certain events. On the bright side that means there are plenty of profits to be made because of it.
Look no further than Parkervision, who in October experienced the highest of highs ($7.78) and lowest of lows ($2.16) in just a two week span. Talk about a roller-coaster ride! Shareholders of Vringo know exactly what that feels like as they experienced the same type of event back in October of 2012, during its case against Google et al.
Just last month, shares of Document Security Systems more than doubled as it filed a new lawsuit against Apple (NASDAQ:AAPL). I urged investors to seriously consider averaging down in an article on September 30, 2013. Why did I tell investors this? Well, because of two things. To simply capitalize on the market's inability to correctly evaluate the Company, as well as investors inability to be patient.
Document Security Systems, which has already reached a settlement agreement with three of the five defendants in the Bascom case, (BroadVision, Jive, and Novell) have only tech giants Facebook and LinkedIn left, with a rescheduled Markman hearing set for February 26, 2014. Are investors patient enough to wait that long? For the time being, it looks so as the stock has stayed rather stable after the massive run last month.
Good Things Come To Those That Wait
1) I'm not much of a fisherman or a hunter by any means, but I do know that it requires a lot of time, preparation and patience if you want to be successful.
2) For you college football fans, take a good look at the Auburn Tigers. The Tigers this year have had miraculous plays at the very end of their football games as they continue their magical season. Could you imagine being some of the fans that left early because you weren't patient enough to stick it out, only to miss out on plays that will go down in Auburn history. Now the Tigers are playing for a national championship.
3) You surly remember the whole Facebook (NASDAQ:FB) fiasco last year right? Investors who sold Facebook in its early trading days and who weren't patient enough, missed plenty of profits as shares have hit new highs this year.
Conclusion
A recent SA author wrote about Vringo and how discouraged he was with the Company, and how slow things were going with the whole litigation process. The author ended up selling all of his/her shares.
Two things investors can learn from this. First, litigation takes time. Everybody should know this before investing in the IP space, it's just common sense. Second, patience is needed if you want to reap the rewards.
Over the next couple of hours, days and months, there will be many catalysts that have the potential to drive shares in these companies a lot higher. Many of these companies had events postponed in 2013, and 2014 is setting up to be one heck of a year in the IP space.
Looking deeper at Vringo, we can see the Company has many catalysts going forward which makes absolutely no sense for investors to get out of the stock right now. It would be like going to see a fireworks show on the fourth of July, only to leave 5 minutes before the show takes place. Why would you leave right before the big show?
Just two weeks ago, the High Court of New Delhi awarded Vringo an injuction against ZTE. ZTE is now restrained from manufacturing, importing, selling, advertising (either directly or indirectly through third party websites) associated with the`980 patent in India. With the injunction, as well as the looming court decision on December 17, 2013, (9:00 a.m. German local time) ZTE might be settling for a global license sooner than most people think.
Now that the earnings season is winding down, investors who are looking for big plays will turn their attention to the IP space. Timing couldn't have been better as the catalyst season is upon us. Vringo will kick everything off this week as they await to see if a German court agrees that ZTE has been infringing on its patents. With more than 27 percent of the float short, Vringo is more than ripe for a short squeeze.
As always, I'm providing you with my track record and other particular stocks that I like. The link provided will show you all of my picks, how they have fared, and where I think they will be going in the near future. I think you will find my track record to be very impressive and useful.
Disclaimer: Investors are always reminded that before making any investment, you should do your own proper diligence on any stock mentioned in this article. Have a great day and as always, I look forward to hearing your thoughts or questions that you might have.
Disclosure: I am long VRNG. I wrote this article myself, and it expresses my own opinions. I am not receiving compensation for it (other than from Seeking Alpha). I have no business relationship with any company whose stock is mentioned in this article.