There are many investors who will be just beginning their retirement investment portfolios in 2014. Consider that millions of Americans who have good jobs will be turning 45-50 years of age in 2014, and are waking up to the fact that the time horizon to set up a portfolio for future financial security is getting shorter.
Incomes are just about stagnant, and the savings that retired folks have amassed is rather dismal, and more regular folks will be looking for some answers on where to start to help themselves. Here is a quick chart of what someone might need with a 20 year and 30 year time horizon: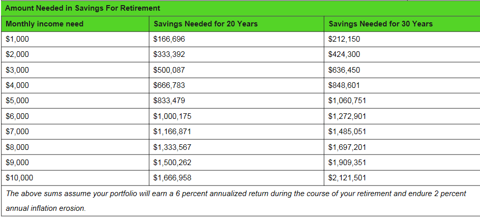 Click to enlarge
The bad news is that if you are waking up at age 50 and have little to no savings, you will need to get THAT part of your strategy into high gear right now, before investing a dime. Here are just a few suggestions:
Cut back on spending, even if it means downsizing and eliminating luxury spending completely.
Increase your savings level to more than 20% of your income by a combination of spending cuts and saving deposit increases.
Spend less than you have, AFTER you put your savings away.
Realize that you will not live, or work, forever. These are realities not fairy tales. When you are 85 will you be able to do your job?
Pay yourself FIRST, no matter what. Even if that means that your kids will need to get their own student loans. Your kids will have 60 years to make it up, you have 30 years of life without a paycheck staring you in the face.
Forget about leasing that Lexus, buy a 3 year old Toyota and drive it until it falls apart.
Do you really need 3 iPhones and 2 iPads?
Stop dining out every weekend and have a once a month night out.
Do you really need another pair of shoes?
Get out of debt completely. Pay off all credit cards and tear them up.
Get healthy, and stay in shape to help defray soaring health care costs.
There are far too many ways to increase your total savings every month to list, but I am sure you can find ways that suit your particular situation.
Where To Start An Investment Portfolio Now
Many investors in the age category I described above, actually do have money socked away and are ready to make the plunge. As I have stated on so many occasions, if an investor defines their goals and seeks a more secure financial future and or retirement, blue chip, mega cap, dividend paying winners are far less risky and offer the best opportunity for a beginning portfolio.
Since you still have a 20-30 year time horizon, you would also be wise to reinvest the dividends for exponential growth over time. Keeping the portfolio simple and easy to manage at first will be helpful as you begin your personal journey.
If you have saved $50,000 or more to invest I would suggest the following stocks to build your portfolio around:
These companies are among the largest on the planet and will pay you a dividend to own the shares. Apple is perhaps the "wild" card of the group because it fluctuates between being a growth stock and value stock. I happen to believe that it will become another dividend champion (25+ consecutive years of dividend increases) and does offer considerable capital appreciation potential.
These stocks are all part of our Team Alpha Portfolios, and will absolutely be a great start for those of you who want to open a portfolio for retirement right now.
The real "surprise" here, is that there are no surprises at all! The initial look at the basic fundamentals will give you the kick start you might need:
| | | | |
| --- | --- | --- | --- |
| Stock | Fwd PE | Div. Yield | ESS Rating |
| APPLE | 13 | 2.30% | Bullish |
| T | 14 | 5.25% | Neutral |
| XOM | 12.9 | 2.75% | Bullish |
| GE | 16.6 | 2.85% | Bullish |
| JNJ | 17.2 | 2.70% | Bullish |
Once again, no surprises. The way I would begin would be to place an equal percentage of investment dollars into each stock. From there, as time moves along, you can branch out to other stocks by rebalancing and/or adding freshly saved cash.
The average forward PE yield of the S&P 500 is roughly 16 right now and as you can see, these stocks are mostly below the average. I also believe that 2014 will be another strong year for these dividend payers, both in capital appreciation and increased dividends.
If you notice, I left the share amount out. I did that on purpose because quite frankly, it does not matter over the long term. The reason you are investing for a secure financial future is not based on today's share price. Yes, we want a good deal, but more importantly we want the best of the best for less risk and dividend growth.
Plus, we need to start right now.
Here Is A Look At What The Analysts Say (ESS Rating)
The current ranking by many of the top research analyst firms have given these companies rather strong numbers. Aside from a neutral rating on T, the others are either bullish or very bullish.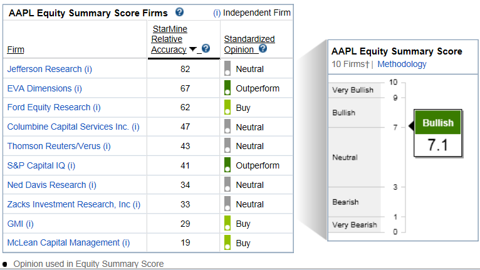 Click to enlarge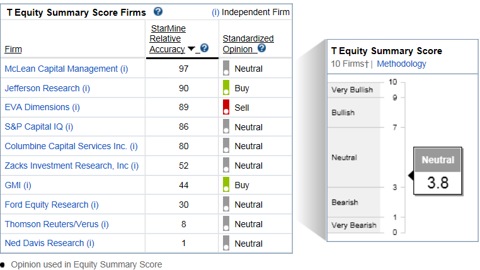 Click to enlarge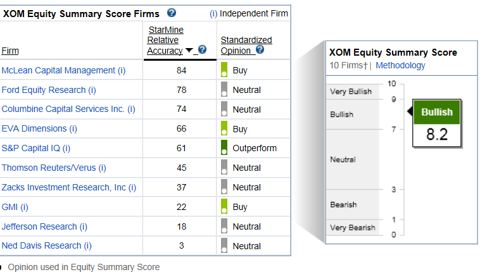 Click to enlarge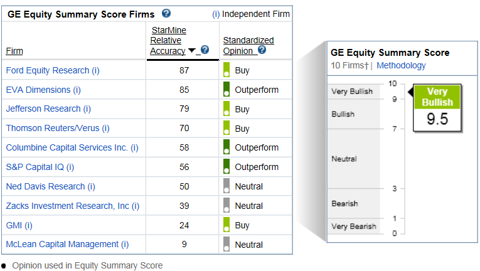 Click to enlarge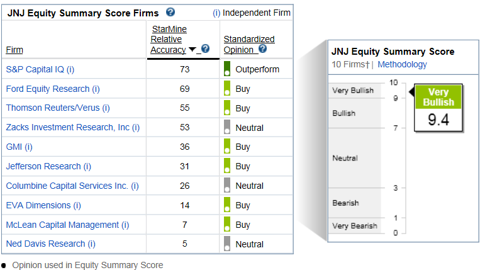 Click to enlarge
The Bottom Line
I believe that there is not a day that goes by that a person wakes up and decides that today is the day to begin planning for the future. That day differs for everyone, but we all face that day. If you take a prudent approach, and invest in well known brands that are less volatile and less risky, you will be on your way to creating a more secure financial future.
Best of luck to all of our "newbies".
Disclosure: I am long AAPL, T, GE, XOM, JNJ. I wrote this article myself, and it expresses my own opinions. I am not receiving compensation for it (other than from Seeking Alpha). I have no business relationship with any company whose stock is mentioned in this article.