2013 has been a good year for General Electric (NYSE:GE). Over the past few months, the stock has been trouncing the broader S&P 500, nearly doubling its performance. General Electric has also benefited from massive aviation orders in Q4, largely thanks to Boeing's (NYSE:BA) success at the Dubai Air Show. However, what really has income investors excited about General Electric is its return to dividend growth.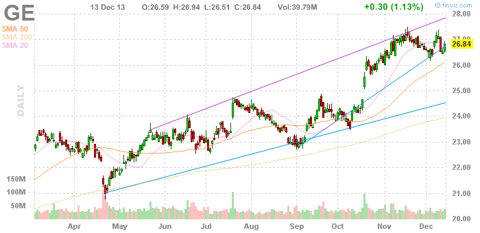 A 16% Dividend Increase
On December 13, General Electric announced that it was boosting its quarterly dividend payout by $0.03, or 16%, to $0.22 per share. This breaks a recent trend of $0.02 per share dividend increases for the company. The new dividend payout equates to $0.88 per year and puts General Electric's forward yield at about 3.28%.
This would mark the 6th dividend increase for General Electric since Q3 2010. From its 2010 low of $0.10 per share, General Electric has now boosted its dividend by 120%. However, do note that General Electric's quarterly dividend is still below its pre-crisis level of $0.31 per share.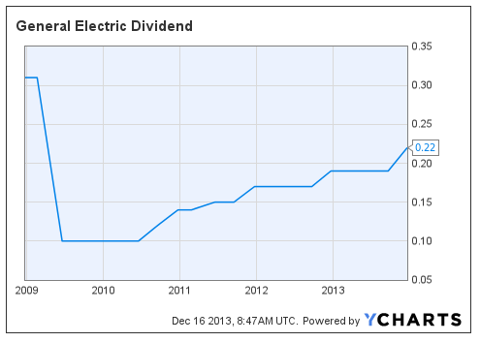 In my previous articles, I have argued that General Electric was likely to continue its trend of $0.02 per share quarterly increases. My argument was that this would be inline with current EPS growth trends, thus preserving the current payout ratio. General Electric's actual dividend increase to $0.22, or $0.88 annually, may indeed impact its payout ratios. General Electric's TTM EPS has grown only about 3% to $1.33, much less than the 16% increase to the dividend. Assuming flat EPS growth next year, General Electric's TTM payout ratio would balloon to about 66%, well above the current 55%. A 66% payout ratio is quite high, but still not dangerous. I would generally consider payout ratios above 80% to be suspect. However, when using the average 2014 EPS estimate of $1.74, the payout ratio becomes a much more reasonable 51%.
Do note that General Electric is divesting portions of GE Capital. These divestitures are likely to lower EPS short-term as that segment currently accounts for nearly 33% of earnings and even a larger share of FCF.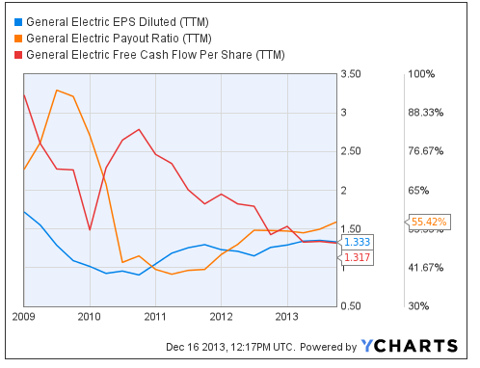 A large dividend increase was telegraphed earlier in the year
While some sort of dividend growth for 2013 was expected, the size of General Electric's dividend increase left many pleasantly surprised. However, I would argue that investors should have seen this coming. Earlier in the year, General Electric's CEO Jeff Immelt estimated that the company will return $100B of capital via dividends and share buybacks over the next few years. In addition, General Electric has previously noted that it planned to distribute most of the $16.7B in proceeds it received from Comcast (NASDAQ:CMCSA) for its minority stake in NBC Universal. YTD, General Electric is on track to return roughly $18B to shareholders via dividends and stock buybacks.
Final Thoughts and Conclusion
General Electric seems to be trying to reclaim its former status as a "safe" dividend paying stock. While some may argue that it lost this title with its near collapse in 2008, its recent stock performance shows otherwise. General Electric's dividend is still 30% off its 2008 level, but it has still more than doubled since 2010. The company is slowly crawling back to favor among dividend growth investors. Double-digit dividend growth is always a good thing, especially for a blue chip such as General Electric.
Disclaimer: The opinions in this article are for informational purposes only and should not be construed as a recommendation to buy or sell the stocks mentioned. Please do your own due diligence before making any investment decision.
Disclosure: I have no positions in any stocks mentioned, and no plans to initiate any positions within the next 72 hours. I wrote this article myself, and it expresses my own opinions. I am not receiving compensation for it (other than from Seeking Alpha). I have no business relationship with any company whose stock is mentioned in this article.