A portion of my portfolio is comprised of turnaround plays. These are investments in companies which have seen better days but have catalysts in the pipeline that could lead them back to greener pastures.
This is one of the most volatile parts of my portfolio, but it has yielded great results over the longer term. I particularly like turnaround plays with a solid dividend. An activist pushing for changes also is beneficial. The dividend pays an investor to be patient and the presence of an activist ensures pressure to change will be applied to management.
A perfect example of this during 2013 was Apple (NASDAQ:AAPL). I increased my significant investment in this beaten tech stock after David Einhorn started to agitate for more of the company's cash hoard to be returned to shareholders. This eventually led the company to increase its dividend by more than 15% and raise its stock repurchase program by $50B to $60B.
In addition, and possibly more importantly, Apple was near the end of a product cycle earlier this year. When the stock pushed under $400 a share in late June, investors should have known that the upcoming launches of Apple's iconic iPhone and iPad rollouts would soon boost the company's fortunes again. This indeed is what happened.
Apple has rallied more than 40% from its lows of the summer. I still like and hold the shares. The company has a coming "official" announcement of a distribution deal with China Mobile (NYSE:CHL) and it's over 700mm subscribers this week. The shares are still selling at under 9x forward earnings after subtracting its substantial cash and market security balances.
A couple of other turnaround stories with solid dividends were profiled in Barron's this weekend. The first was restaurant operator Darden (NYSE:DRI), which has lost favor in the investment community after disappointing quarterly results and declining same store sales at its core Olive Garden & Red Lobster restaurants.
I noted on TheStreet.com blog recently that I believe the stock has value as a turnaround play. Now Barron's is of the same opinion. The catalyst to both our outlooks is that activist Barington has taken a substantial stake in Darden and is agitating for changes. Barron's believes the shares have 35% upside and I think significant shareholder value can be unlocked in the coming year as well.
Darden currently sells at 16x forward earnings which is right in line with the restaurant sector and the overall market right now. In addition, it pays the highest dividend (4.4%) of any operator in this space that I know of currently.
Barron's believes Barington can push Darden to create value in several different ways:
Spin off its slower growing chains such as Olive Garden & Red Lobster to concentrate on its faster growing concepts such as Capital Grille, Yard House and Bahama Breeze. This makes a lot of sense given the disparity in growth from higher end consumers and the low and middle tier in this country. As someone that lives within 6 blocks of the second highest grossing Capital Grille in Darden's network, I can attest that these higher end consumers are doing just fine.
Barron's also believes the company could add $6 to $9 by converting its company-owned sites into a real estate investment trust (REIT). Finally, Barington will be pushing management to cut operating costs by $125mm to $150mm annually which Barron's believes can boost the stock by $6 to $8 a share.
The weekend industry magazine also profiles Innophos Holdings (NASDAQ:IPHS), a material manufacturing concern that provides precursors to phosphates that goes into flavor enhancers in beverages, leavening agents in bread and a variety of other mundane products. Innophos has vastly underperformed the market this year and the stock also recently plunged on the back of disappointing earnings results.
However, the shares now yield a robust 3.4%. Barron's believes the shares have 30% upside as business conditions improve. The company is upgrading a core facility in Mexico which has been a source of a variety of breakdowns leading to productivity losses.
In addition, the company has the No. 1 or 2 market share positions in all of its core products. The price for the core inputs for its main products has also been coming down recently. This should bolster margins. Finally, it has been hurt by the losses from its non-core fertilizer operations. The company could spin off or sell these operations or benefit as demand strengthens in this segment.
In addition to its dividend yield, the shares sell for just over 13x forward earnings, 25% below the overall market multiple. Management should attempt to turn around in 2014 or it could draw the attention of activist investors. The stock also has technical support at these levels (See Chart).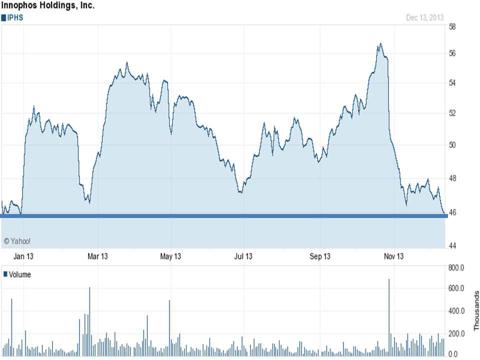 Disclosure: I am long AAPL, DRI. I wrote this article myself, and it expresses my own opinions. I am not receiving compensation for it (other than from Seeking Alpha). I have no business relationship with any company whose stock is mentioned in this article.