By David Russell
BB&T hasn't traded over $30 since December 2008, and some traders apparently think that will continue to be the case.
optionMONSTER's tracking programs detected heavy call selling in the North Carolina lender as investors accepted premium in return for surrendering future gains. The April 30 contracts traded 4,480 times, with institutional-sized transactions pricing for $0.35 to $0.42.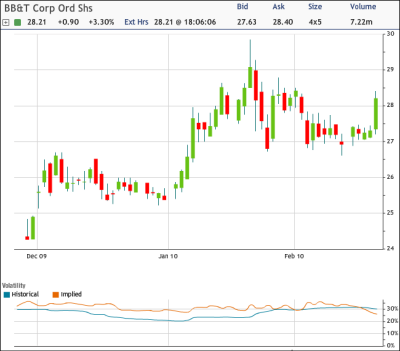 BBT rose 3.30 percent to $28.21 yesterday. The stock is up 11 percent so far this year and is trying to hold support above the $26.50 area where they peaked in December.
The shares have been unable to regain the levels where they traded before the last earnings report on Jan. 23, when profit came in better than expected because fewer loans were going delinquent. BBT stock failed to hold the $29.85 level where it traded before the release and formed a "shooting-star candlestick" formation, which some chart watchers may interpret as evidence of a top.
Other investors wrote about 2,000 April 29 calls, mostly for $0.68 to $0.73, according to optionMONSTER data. There was also heavy selling of the April 28 calls for $1.56 to 1.93.
In another potentially bearish trade, money flowed into the April 26 puts for $0.56 to $0.83. None of the April strikes had any open interest coming into the session.
Overall options volume in BBT was about five times greater than average in the session.
(Chart courtesy of tradeMONSTER)