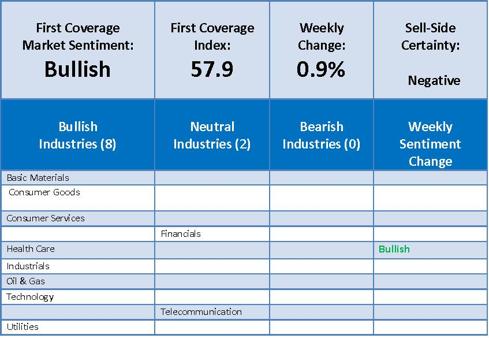 Click to enlarge
Economic Announcements have Favourable Impact on Market
The market registered gains last week due to a flurry of mostly favourable economic announcements. If foreign problems stay out of the news for a while, maybe the market can resume its upward direction this week.
Technology, the Most Positive Industry
The one place where fundamentals and sell-side sentiment seem to be in great accord is Tech. The sell-side sentiment in Tech popped a big 6% last week, the same as the week before. Tech has now been in a strong upward channel for over two months. It has clearly broken out the prior seven-month flattish channel. The current peak in sell-side sentiment for Tech is near the peak recorded before the economic downturn. The sell-side is strongly suggesting to their buy-side clients that Tech is the place to be. That could prove to be true, even if the economic recovery in the U.S. slows down.
Sell-side Sentiment in Consumer Services Remains Strongly Positive
Sentiment for Consumer Services was barely above flat last week and hasn't changed much in recent weeks, but it is still very much in the strong upward trend that began in October 2008. No reason yet to get off this train.
Telecomm and Industrials are the Leading Candidates to Establish Positive Trends
After a huge drop in December 2009 in sell-side sentiment for the Telecomm industry, the rebound that began in mid-January 2010 continued with an impressive 4% gain last week. Industrials also appear to be breaking out on the upside, restoring what are now a three-month uptrend and a broader 12-month trend. Sell-side sentiment for Industrials is now at the highest level since January 2008. It may be time to consider both of these two industries.
The Financial Industry Remains at the Bottom
Sell-side sentiment for Financials took another big hit last week with a 7% drop. There appears to be no hope for a reversal of the sharp downtrend that began in December 2009.
Stocks to Watch
Over the last week, the following stocks had the largest bullish and bearish sentiment shifts amongst the sell-side.
Bullish:
| | | | |
| --- | --- | --- | --- |
| Symbol | | | |
| | | | |
| | Wells Fargo & Company Ord Shs | | |
| | Medco Health Solutions Ord Shs | | |
| | | | |
| | | | |
Bearish:
Symbol

Research In Motion Ord Shs

Rio

Tinto ADR Each Reptg Four Ord Shs
Until next week …
Disclosure: No positions