Hovnanian (NYSE:HOV) released its fourth quarters earnings last Thursday. While the homebuilder reported year over year gains and beat the Wall Street net income estimates, if you examine the quarter to quarter data on a sequential basis going from Q3 to Q4 for both 2012 and 2013 it is clear that Hovnanian experienced a significant slow-down during its fourth quarter, which ended on October 31. The numbers further verify my view that the housing market has rolled over and is headed back into its bear market trend that began in mid-2005. To make matters worse, more data on the looming home equity loan problem has been made public which could cause the housing market downturn to accelerate.
Starting with HOV, I broke out some specific operating data which show a marked slowdown in the rate of unit deliveries and new contracts both year over year and quarter to quarter sequentially in comparing Q3 and Q4 for 2012 and 2013. I've prepared the following chart, which shows an analysis of HOV's unit sales and contract volume for Q3 and Q4 for 2012 and 2013 (the source for the data is here: 2013 Q3 8-K and 2013 Q4 8-K):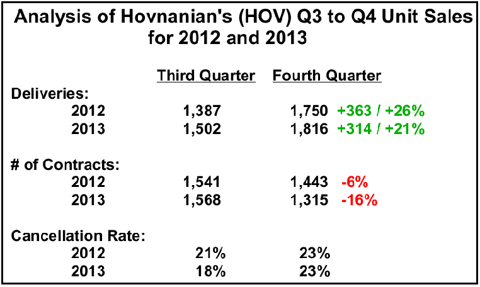 As you can see from the comparison provided above, not only did the rate of HOV's deliveries from Q3 to Q4 slow down going from 2012 to 2013, but the decline in the number contracts signed declined at a considerably faster rate in going from Q3 to Q4 sequentially in 2013 than in 2012.
As an indicator that business is slowing down more than I think anyone expects, especially those still overweighted in or still buying the homebuilder stocks, note how the number of new contracts year over year for Q3 increased slightly from 2012 to 2013 in Q3, but actually dropped 8.9% from 2012 to 2013 (1,443 in 2012 vs 1,315 in 2013) in Q4.
While data for the deliveries show us the level of business activity that has occurred already in the homebuilder market, it is the new contract signings that give us a peek at what business will look like going forward. Not only has the rate of deliveries slowed down both year over year and quarter to quarter for HOV, but the level of deliveries going forward for the next couple of quarters will drop off dramatically.
Even more troubling is the big spike in the cancellation rate from Q3 to Q4 in 2013. As you can see, the cancellation rate increased slightly in 2012 from Q3 to Q4 - and it even dropped year over year in Q4, but spiked up six percentage points going from Q3 to Q4 this year. Again, the big increase in the cancellation rate is consistent with the same trend that I noticed in 2005-2008 with the homebuilders, both in direction and magnitude. In 2005 HOV's Q4 cancellation rate was 25% and it spiked up to 2006 35% in Q4 2006. I would not be surprised to see the same rise in cancellations this time around.
What this operational data for HOV tells me, and it's consistent with the data I've reviewed for other homebuilders - some of which I've reviewed in previous Seeking Alpha articles - is that demand for new homes is starting to decline in a meaningful way.
What will likely cause the slowdown and decline in the housing market to get worse is the impending wave of home equity loan re-sets, which I discussed previously and for which I've dug up some new data. Over the next four years starting in January, $221 billion in HELOCS will begin to convert into fully-amortizing 2nd lien loans. While default rates on mortgages in general have been declining, the year-to-date serious delinquency rates on HELOCS that have already converted in amortizing loans are up 11%.
Unless the Fed decides to start monetizing HELOCS (which it could) or the government initiates a tax-payer funded restructuring program like it has done for primary mortgages in trouble (which is highly doubtful), we will start to see an avalanche of foreclosures driven by HELOC lenders who will seek get some portion of their principal back by foreclosing and forcing the sale of these homes. With the fact that home prices are starting to decline again, the data for which I detailed in previous articles, it will likely hasten this foreclosure process once it gets started. This is the same dynamic that started a severe cycle of widespread foreclosures and price/plunges in the housing market when the big bubble popped back in mid-2005.
Right now is an ideal time to either sell out of your homebuilder stocks and/or get short (or add to existing short positions). Here is a 5-year graph I prepared of the DJUSHB, which I use to proxy the homebuilder stocks (it's not 100% homebuilders):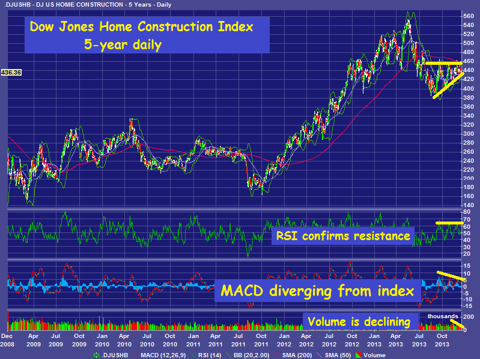 As you can see, the homebuilders have gone almost straight up in price since October 2011. Bravo to anyone who went long back then. As you can see from edits in yellow, the index is forming a bearish rising wedge. These formations have a high probability of breaking to the downside. The bearish characteristics of this chart formation are reinforced by RSI and MACD momentum indicators, as I've noted on the graph, and by the declining volume. In other words, this bounce off of 400 in the index recently is not confirmed by the technicals.
Furthermore, the move since 2011 is not supported by fundamentals. Notwithstanding the GAAP accounting games the homebuilders are playing to boost their reported net incomes - I've reviewed this in past articles on Seeking Alpha - the unit volume of new home sales, in relation to the stocks, has barely risen off the bottom it hit after the big housing bubble burst in mid-2005 (source of chart: St. Louis Fed website):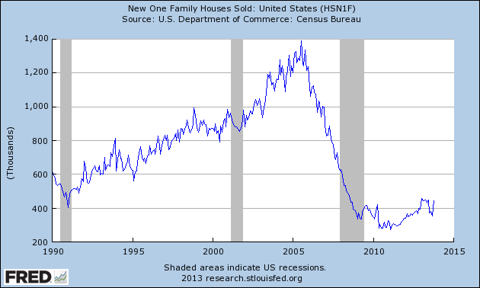 If you look at the data behind the graph (source link), you'll see that unit home sales are up 58% off the bottom. But the DJUSHB is currently up 275% off its bottom and it has been up as much as 340%. In my view, there is a stock price bubble in the homebuilder sector. The organic sales fundamentals just do not justify the stock valuations. Moreover, if you apply the current reported homebuilder cancellation rates to the current data, which I did in my last article, you can see the current forward run-rate is well below the reported run-rate of 444k (seasonally adjusted, annualize rate) reported last week for October.
Because the bearish fundamental data as laid out above, in my view, is nowhere close to being reflected in stock prices of the homebuilders, I continue to recommend using every market bounce in the homebuilder stocks as an opportunity to sell longs and add to or establish shorts. I continue to like my short position in DR Horton (NYSE:DHI) - which is currently up just under 28% - and my short in KB Homes (NYSE:KBH) - which is more recent and is up 4%. I also like shorts in Beazer (NYSE:BZH), Lennar (NYSE:LEN), Pulte (NYSE:PHM) and NVR (NYSE:NVR). I plan on doing some analytic work on those names, which I will share as I do it.
One caveat with shorting, if the Fed increases QE at some point, the homebuilders, which already have a high level short interest, will likely experience a fear-driven short-cover bounce. However, if the Fed tapers a little at its next meeting (which I do not expect), the homebuilders will do a cliff dive. It is my view that regardless of monetary policy, the housing market is headed back into the bear market that began in mid-2005. The risk/reward probability is thus heavily skewed toward the short-side of the trade.
Disclosure: I am short DHI, KBH. I wrote this article myself, and it expresses my own opinions. I am not receiving compensation for it (other than from Seeking Alpha). I have no business relationship with any company whose stock is mentioned in this article.