There's plenty to be excited about regarding the recently listed Enanta Pharmaceuticals (ENTA). Its lead compound, ABT-450, is a component of Abbvie's (ABBV) promising hepatitis C virus (HCV) combination therapy. Through a partnership agreement with the Abbott Laboratories (ABT) spinoff, Enanta will likely pocket over $300 million, and risk very little in the process. The Watertown, Massachusetts company recently inked a similar deal with Novartis (NVS), and also has a potentially lucrative government contract developing a new class of antibiotics. Since its initial public offering at $14 in March 2013, the company's shares have more than doubled following extremely positive top-line data from two of six Phase 3 trials associated with Abbvie's HCV combination therapy.
The HCV market is getting crowded
Christmas came early this year for Gilead Sciences' (GILD) in the form of an accelerated approval from the FDA. Sofosbuvir was the third breakthrough therapy allowed to bypass traditional, extensive clinical trials. Its fifth year sales have been estimated at just a hair under $3 billion by the Evaluate Group. That makes every day of post-approval exclusivity worth millions.
Days later, Gilead investors were forced to jam the cork back into their champagne bottles, when Abbvie released top line results from the second of six Phase 3 trials involving its HCV combo. The interferon-free combination also earned a breakthrough therapy designation, months earlier than sofosbuvir.
Normally I say "never bet on an approval," but the top-line data from both completed Phase 3 trials attached to Abbvie's New Drug Application (NDA) are very impressive. The 96% twelve month survival rate in both treatment naive and treatment experienced trials appears even better than the data that won an approval for Gilead.
Finding a fair value for Enanta's contribution to Abbvie's HCV combination therapy
Hot of its initial public offering in March 2013, Enanta is one of several young biotechs taking advantage of Big Pharma's willingness to shoulder development risks in return for milestone payments and potential royalties. It sold rights to ABT-450 in 2006 and completely washed their hands of its development expense. So far, it has pocketed about $92.5 million in milestone payments and reimbursements. Upon approval, Enanta stands to earn an additional $195 million, plus an undisclosed royalty on net sales.
The last of the six clinical trials associated with the NDA should be completed in March, 2014. Given the speed with which the FDA approved sofosbuvir, I'll assume Enanta records all $195 million in potential milestone payments before the end of 2015.
The trick here will be estimating royalty payments. Enanta's contribution, ABT-450, to Abbvie's combination treatment makes up just one quarter of the drugs being administered in the trials associated with the NDA. Further clouding the projection is a lack of detail on a royalty percentage. Enanta is "eligible to receive tiered royalties ranging on a blended basis from the low double digits up to the high teens on worldwide net sales."
Projecting receipt of eligible milestone payments and modest royalty revenue the initial offering at $14 was optimistic, but reasonable. The company's recent price of $37 per share has a frightening amount of optimism regarding ABT-450 baked in. I went a bit further into the company's other existing contracts to see if they could support Enanta's valuation.
Under its contract with Novartis, the company stands to earn a potential $406 million based on the success of another HCV treatment, EDP-239. Similar to the deal with Abbvie, Novartis is responsible for covering nearly all of the development costs. Currently Novartis is recruiting for a Phase 1 proof of concept study. The odds of Enanta receiving all eligible milestone payments are slim, but for the sake of argument I've assumed they record the whole lot, plus royalty payments.
Expanding beyond HCV, Enanta has discovered a new class of antibiotics called Bicyclolides, to treat multi-drug resistant bacteria. The National Institute of Allergy and Infectious Diseases (NIAID) is tentatively funding development of EDP-788. Currently a Phase 1 safety trial is planned, but not yet recruiting. The first contract is drawing to a close, and could be extended for an additional 30 months for a potential $28 million. So I went ahead and threw that in as well.
Discounted at 25%, the royalty stream from Abbvie's not-yet-approved HCV combination needs to quickly reach over $200 million annually, on top of full recognition of all eligible payments from current contracts in order to support a fair value of $37 today. Typically when a company like Enanta relieves itself of development costs in a lead or preclinical stage, potential royalties are a single digit percentage of net sales, its higher than usual royalty percentage is a plus, but still not likely to get it there. Enanta's contribution is a single component of the combination therapy containing ABT-450, ABT-267, ABT-333 and ribavirin. ABT-450 is arguably the most important contribution, but on a blended basis I think surpassing $200 million annually is unlikely.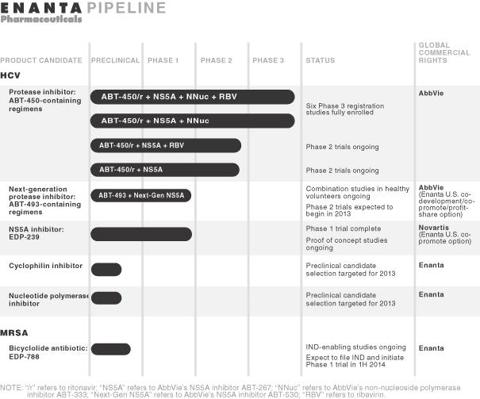 Looking at the rest of Enanta's pipeline, the furthest along is another HCV therapy partnered with Abbvie, ABT-493. This next-generation protease inhibitor is likely to be effective against a wider range of HCV genotypes, most notably strains that have shown resistance to first generation protease inhibitors. ABT-493 is currently recruiting patients for a Phase 2 trial to determine safety and antiviral effect. The rest of the company's pipeline is composed of additional HCV candidates in lead and preclinical stages.
Conclusion
The risk-to-reward profile of its current partnerships, make Enanta just the sort of well managed biotechnology company I would recommend owning for the long haul, but I wouldn't start a position now at $37 per share. Given the lack of late stage candidates beyond ABT-450, the recent price is too dependent on a blended percentage of royalties from a not-yet-approved therapy for an increasingly competitive indication.
Enanta is certainly worth a spot in a watch list. It doesn't need Abbvie's combination to succeed, or even win approval, to remain buoyant. The risk is entirely on Abbvie. Enanta has no debts and is producing positive net income on a trailing twelve month basis. With four of the six Phase 3 trials associated with the Abbvie NDA to be completed by March 2014, an entry opportunity may present itself fairly soon. In the mean time I recommend keeping a close eye on this promising upstart.
Disclosure: I have no positions in any stocks mentioned, and no plans to initiate any positions within the next 72 hours. I wrote this article myself, and it expresses my own opinions. I am not receiving compensation for it (other than from Seeking Alpha). I have no business relationship with any company whose stock is mentioned in this article.