Today is "Merger Monday" with a flurry of deals getting done over the weekend and some future deals rumored. What is interesting is that some of the deals announced today were not even rumored to be in the works and had no leaks over the past few weeks. The deals are a welcome sign, because this year has been a rather dismal year for M&A activity outside of a few rather large deals - with the Verizon Wireless acquisition moving the numbers dramatically for the quarter even though it was consolidating a position. True M&A activity has lagged and the prevailing thought throughout the market is that the wave of activism has had an effect.
With our thinking that the Fed does not taper until 2014, especially with the Republicans once again bringing up the debt ceiling, we think that next year could see an uptick in consolidation. Companies have spent years buying back their shares, now it might be time to use that cash to buy competitors or do some all stock deals to set the table for future growth.
Chart of the Day:
With the bounce off of the all important 1,775 level we think that the market is headed for a rally into the close of the year. The Federal Reserve shall help, but the fundamentals are stacking up nicely in our opinion. An improving economy here in the U.S. and foreign economies also appearing to gain strength are all setting the stage for a solid 2014. It will not be as good as 2013, but should be an above average year.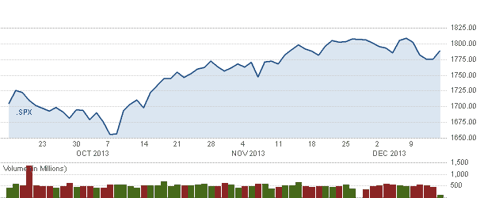 Click to enlarge
(Click to enlarge)
Source: CNBC
We have economic news today and it is as follows:
Empire Manufacturing (8:30 a.m. EST): Est: 5.0 Actual: 1.0
Productivity - Rev (8:30 a.m. EST): Est: 2.7% Actual: 3.0%
Unit Labor Costs (8:30 a.m. EST): Est: -1.3% Actual: 1.4%
Net L-T TIC Flows (9:00 a.m. EST): Est: N/A Actual: $35.4 B
Capacity Utilization (9:15 a.m. EST): Est: N/A Actual: N/A
Industrial Production (9:15 a.m. EST): Est: N/A Actual: 0.0%
Capacity Utilization (9:15 a.m. EST): Est: 78.4% Actual: 79.0%%
Asian markets finished lower today:
All Ordinaries -- down 0.17%
Shanghai Composite -- down 1.60%
Nikkei 225 -- down 1.62%
NZSE 50 -- UNCH
Seoul Composite -- down 0.09%
In Europe, markets are trading higher this morning:
CAC 40 -- up 1.31%
DAX -- up 1.69%
FTSE 100 -- up 0.98%
OSE -- up 0.57%
Telecoms
Friday there were once again rumblings about M&A activity in the telecommunications sector, but this time it was not one of the large U.S. carriers targeting an attractive foreign player but rather some of the smaller U.S. carriers looking to team up to create a truly competitive third national player.
Much of the speculation over the past year has focused on the two giants in the US, AT&T (NYSE:T) and Verizon (NYSE:VZ). Verizon actually did manage to pull of the deal to bring Verizon Wireless under their full control which caused many analysts to speculate that AT&T would look to Europe for a deal. All the while rumors have also swirled about Verizon looking to enter the Canadian cellular market.
What many investors have paid less attention to is the possibility of the number three and four carriers, Sprint (NYSE:S) and T-Mobile (NASDAQ:TMUS) respectively, teaming up to create a much more formidable competitor to take on the duopoly (we use this term very liberally here) of AT&T and Verizon. There have been rumors of a potential deal before but each time it seems that the fear of U.S. regulators blocking the deal have quickly ended whatever may have been in the works.
Now the rumors are appearing to gain traction and credibility, with news outlets such as The Wall Street Journal and CNBC reporting on the matter. Numerous reports surfaced Friday and over the weekend there was a lot of coverage on the topic. A deal appears doable when one looks at the numbers, because it is clear that a stronger third player would emerge in the industry. What is not clear is the desire of U.S. regulators who blocked earlier consolidation moves by the larger players in order to maintain four decent sized national carriers. The question which is emerging now is whether two smaller national carriers are better for the consumer or one larger third place competitor that could build a better network and remain competitive long-term.
T-Mobile shares are lower this morning, but did move strongly higher on Friday when the story first broke.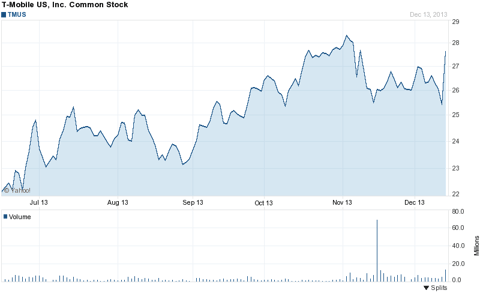 Click to enlarge
(Click to enlarge)
Source: Yahoo Finance
Our guess is that if Sprint were to formalize an agreement with T-Mobile that the deal would get the blessing of regulators. Yes, consumers would face higher prices but in the long-run they would be better served with a larger entity that would have a better network and better finances. Investors should also consider the fact that the barriers to entry are not at all what they once were. In fact, it does appear likely that a new player will be entering the market in the very near future and that company, DISH Network (NASDAQ:DISH), has some very good spectrum assets and a customer list which should aid them in quickly building a revenue stream.
In any case, one should expect DISH to fight a deal between T-Mobile and Sprint if the two companies get that far as it is also a natural fit with its deep pockets and ample spectrum. Whether the acquirer of T-Mobile is ultimately Sprint or DISH, expect there to be a large break-up fee and reverse break-up fee, so that all parties involved in the deal are protected.
Disclosure: I have no positions in any stocks mentioned, and no plans to initiate any positions within the next 72 hours. I wrote this article myself, and it expresses my own opinions. I am not receiving compensation for it (other than from Seeking Alpha). I have no business relationship with any company whose stock is mentioned in this article.