Bankers Petroleum (OTCPK:BNKJF) has been a favorite of mine for quite a while. On April 10, 2013, I wrote an article suggesting it as a name investors should consider in the small cap oil & gas space, pointing out that it was a pure play on oil; displayed good production growth; had a clean balance sheet; and, benefited from pricing linked to Brent rather than West Texas Intermediate.
That suggestion proved profitable for me. I held 150,000 shares of Bankers at the time and they have risen from a price below $2.66 on April 10, 2013 to $4.05 December 13, 2013 for a gain of just over 50% for an 8-month hold.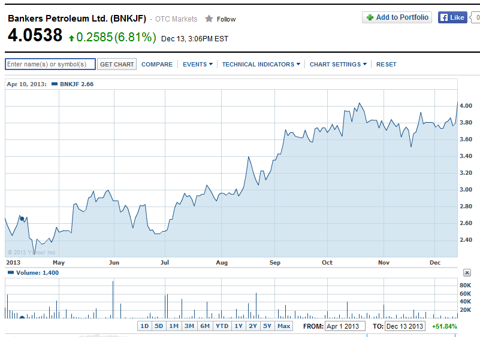 I have since sold 100,000 of my Bankers Petroleum shares leaving me long 50,000 shares.
The outlook for the company remains strong. The company just announced a record $313 million capital budget for 2014 all funded from internally generated cash flows, existing credit lines and cash on hand.
The company has a strong balance sheet with $41 million cash as at September 30, 2013 and available credit of $124 million.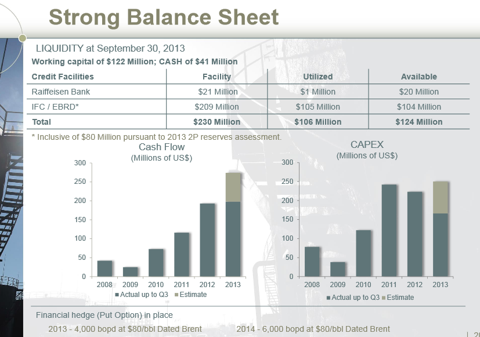 Bankers has a long record of consistently increasing production from its Albanian oil & gas operations. Production rates have risen from less than 3,000 barrels of oil a day in early 2006 to over 18,000 barrels a day at this time.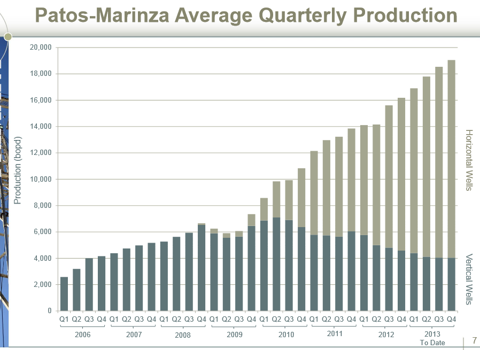 A typical well drilled by Bankers costs about $1.2 million and yields about 156,000 barrels of oil & gas reserves. With a 50% decline rate in initial production the company pays out its capital cost of a well on average in about 10 months during which some 28,000 barrels of oil are produced, leaving it with an annuity of about 128,000 barrels of reserves to be produced over another ten years or so with annual declines on the order of 15%.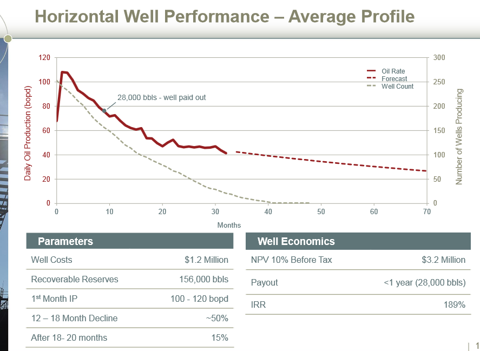 Operating net backs of more than $40 a barrel make Bankers a highly effective cash generator.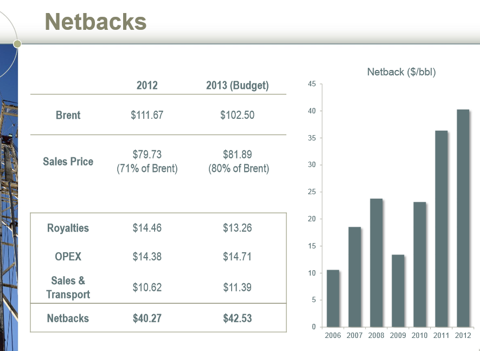 Bankers' capital efficiencies of $19,215 per barrel of oil per day in 2013 give it robust economics to continue to grow with a lot of runway as it develops its almost 400 million barrels of proven and probable reserves.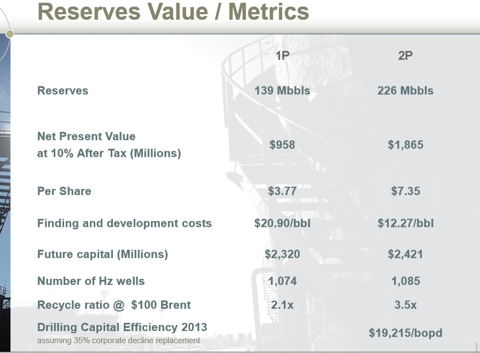 Barring a major decline in world oil prices, I would expect Bankers Petroleum to continue to build both production rates and reserves and over time to reward patient investors long the stock.
I continue to hold 50,000 shares of Bankers Petroleum.
Disclosure: I am long OTCPK:OTCPK:BNKJF. I wrote this article myself, and it expresses my own opinions. I am not receiving compensation for it (other than from Seeking Alpha). I have no business relationship with any company whose stock is mentioned in this article.