I featured an interesting piece Monday by Tom McClellan regarding real yields and the dollar. His analysis indicated a dollar bottom later this year followed by a significant rally in 2011 followed by a further low.

Recently, the dollar and equity markets have shown a strong tendency to remain inversely correlated. As the dollar falls, equity markets rally and vice versa. If we assume McClellan's long term projections hold true and the relationship between the dollar and equities holds, then we could project further equity strength this year, followed by a significant decline in 2011.

However, I personally wouldn't bet my portfolio on the 'carry trade' continuing to predict future equity returns over the long term. When the Fed raise rates to more significant levels, the cost of borrowing dollars to bet on riskier assets such as equities will increase. This will discourage the carry trade as it becomes more expensive and could weaken the inverse relationship that has existed between the dollar and equities.

Perhaps the simplest option is to keep an eye on both the dollar and equities, watch the 'tape' and protect yourself with some basic trend analysis and stop losses such as those I featured in-depth here.

Below is a 1 year daily chart of the U.S. Dollar Index and the S&P 500 Index with a 200 day moving average: (Click to enlarge)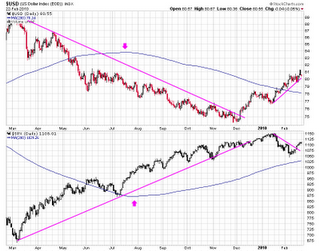 In the short run, it could still pay to watch the dollar and its relation to equities. Currently UUP (U.S. Dollar Bullish Index ETF) has a perfect trend score of 100, meaning a strong uptrend is intact. Meanwhile, SPY also has a strong bullish trend score of 90. However, until SPY clears 115 in the short-term, my money would be on the U.S. Dollar.
Disclosure: No positions in equities mentioned